The Allure of GameStop's Stores
This article by Joshua Brustein for Bloomberg may be of interest to subscribers. Here is a section:
Shankar, director of the Center for Retailing Studies at Texas A&M University. "There were two forks in the road. They could have scaled up online, or they could have moved into adjacent brick-and-mortar businesses. They chose brick-and-mortar, because it was lower risk in the short term," Shankar said. "It was a missed opportunity and they're still hurting from that."

If GameStop knew what its problem was, why didn't it do more to address it? Cohen and Shankar both cite internal resistance to change. That may be right, but it's not as easy as turning down the "physical retail" dial and turning up the "digital commerce" one. I've spent enough time in GameStops to come to appreciate their strange charms, and I can tell you that the company's unique advantages don't necessarily translate to the internet.

GameStop locations don't seem like local bookshops or bike stores, but they bear similarities. Gaming remains enough of a niche interest that GameStop can create a sense of community just by employing people who know about video games and not chasing away the young men who make up a big proportion of their patronage. I'm now a lapsed gamer and wouldn't exactly describe GameStop locations as pleasant. But there's a kind of magic in a place completely dedicated to the activity that makes me want to clear my schedule, grab a controller and house a few Jolt colas. Plus the ability to pay for new games with old ones isn't a checkout option that is easily recreated in a mobile app.
As the world comes out of the pandemic it is worth considering that if a brick and mortar store chain has survived this long, they might have something that is not easily replicable online. GameStop's trade-in service is an example. So is the fact it is a place ignorant parents can go to ask about the game or apparatus their child has been badgering them to get. I'm increasingly of the opinion that some retail stores will persist because they offer to take cash which is impossible online.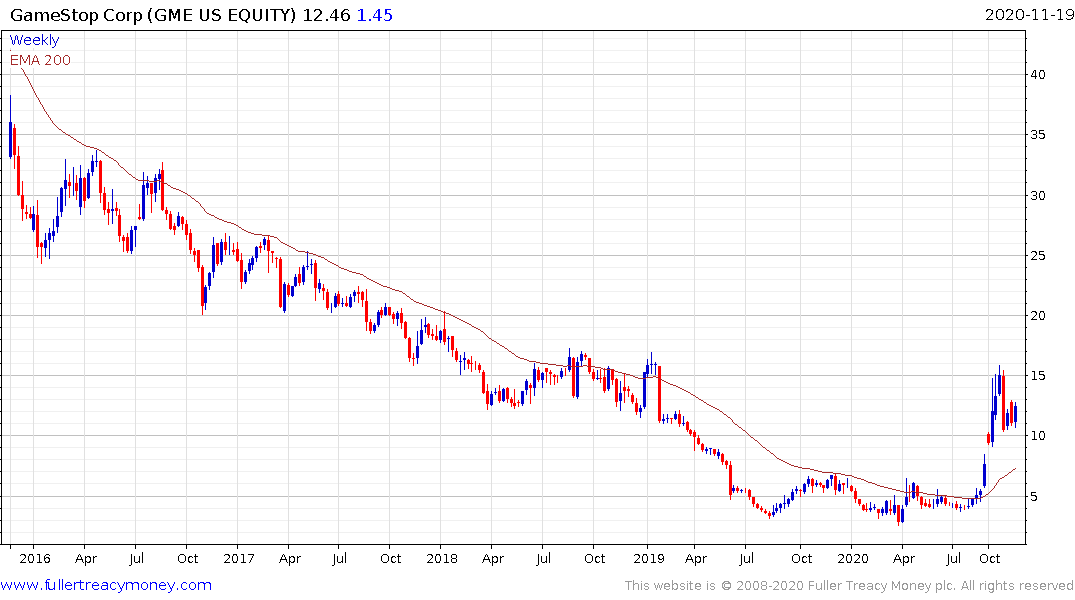 GameStop has rallied to break its seven-year downtrend and firmed this week from the $10 area.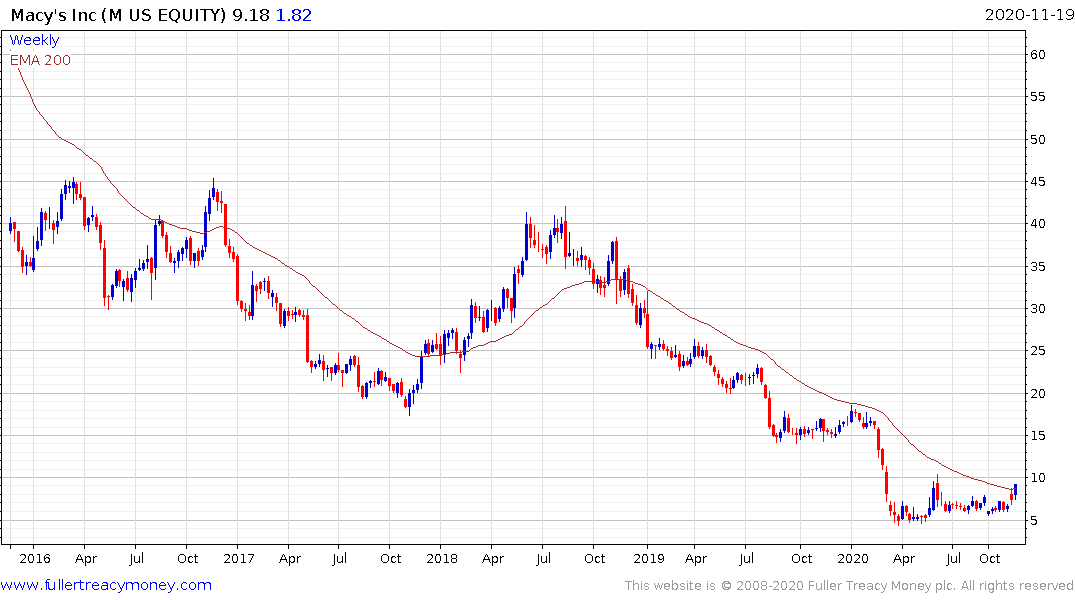 Macy's Inc.'s New York real estate is probably worth more than the entire company at present. The share popped back above the trend mean this week and was down 90% from its 2015 peak before the rebound.
This report from William Blair may be of interest. Here is a section:
One of the stranger things to have happened during this crisis is that U.S. households in aggregate will be emerging from this crisis in better shape than they entered it. We can see this across a number of different gauges of the consumer balance sheet. For example, chart 2 shows that households' debt as a percentage of disposable personal income fell to its lowest level in a quarter of a century in the second quarter. Meanwhile, newly released data from the New York Fed shows only a small uptick in debt accumulation in the third quarter.
A study by the New York Fed, which looked at what consumers did with their CARES Act stimulus checks, showed that 36% of the funds was used to pay down debt, 36% was saved, 18% was used to purchase essential goods, and less than 8% was used to purchase nonessential goods. The Fed study also showed that of the expanded unemployment insurance funds received 50% was used to pay down debt, 23% was saved, 24% was spent on essential items, and only 4% was used on nonessential items.
There is a great deal of pent up demand and we may be close to the end of the retail apocalypse. The survivors have an opportunity to capture market share as the global economy moves towards reflation. Some businesses will inevitably still fail but the remainders will come out stronger.
Back to top