The 5G Race: China and U.S. Battle to Control World's Fastest Wireless Internet
This article from the Wall Street journal may be of interest to subscribers. Here is a section:
The new networks are expected to enable the steering of driverless cars and doctors to perform complex surgeries remotely. They could power connected appliances in the so-called Internet of Things, and virtual and augmented reality. Towers would beam high-speed internet to devices, reducing reliance on cables and Wi-Fi.

At the Shenzhen headquarters of Huawei Technologies Co., executives and researchers gathered in July to celebrate one of its technologies being named a critical part of 5G. The man who invented it, Turkish scientist Erdal Arikan, was greeted with thunderous applause. The win meant a stream of future royalties and leverage for the company—and it marked a milestone in China's quest to dominate the technology.

At a Verizon Communications Inc. lab in Bedminster, N.J., recently, computer screens showed engineers how glare-resistant window coatings can interfere with delivering 5G's superfast internet into homes. A model of a head known as Mrs. Head tested the audio quality of new wireless devices. Verizon began experimenting with 5G in 11 markets last year.

Nearby, in Murray Hill, N.J., Nokia Corp. engineers are testing a 5G-compatible sleeve that factory workers could wear like an arm brace during their shifts to steer drones or monitor their vital signs. The company began its 5G-related research in 2007.
You might remember a great deal of enthusiasm about the internet of things or the internet of everything a few years ago. Everything has gone quiet on that front of late not least because in order to reach commercial utility the billions of connected devices planned to enter service are going to need to be able to connect to the internet on a constant basis and current networks are incapable of handling the load. That means a whole new architecture is required to enable the next iteration of connected devices and 5G is the answer.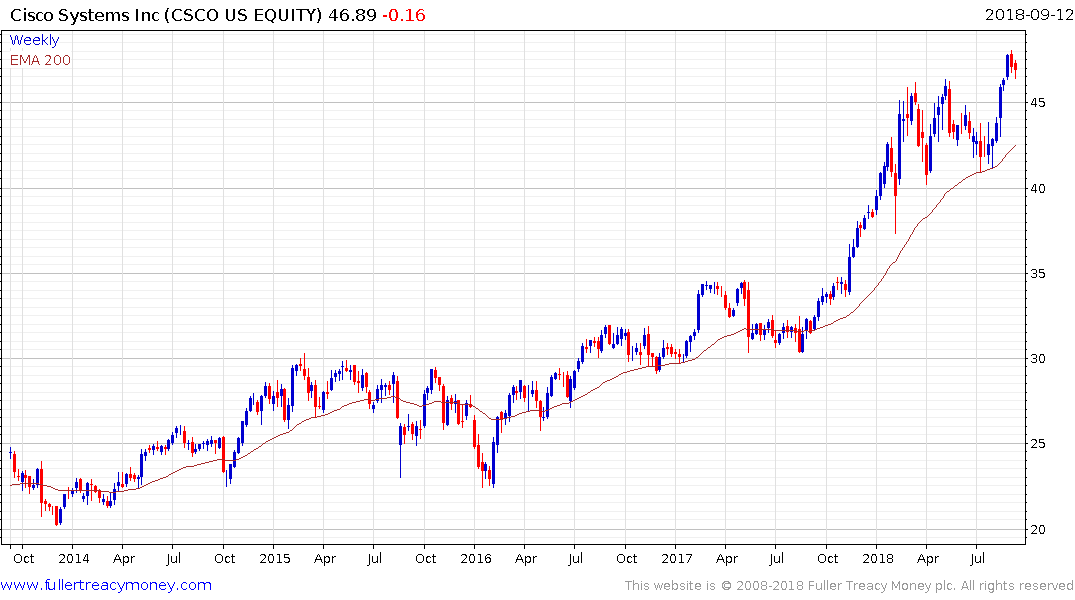 Cisco Systems was the go-to stock in the internet bubble because it was literally helping to build the architecture that made the whole thing work. It spent 16 years in the wilderness not least because once the network was built there was no new growth story to ignite investor interest. 5G and a subscription business model have been the catalysts which have sustained the breakout from its long base.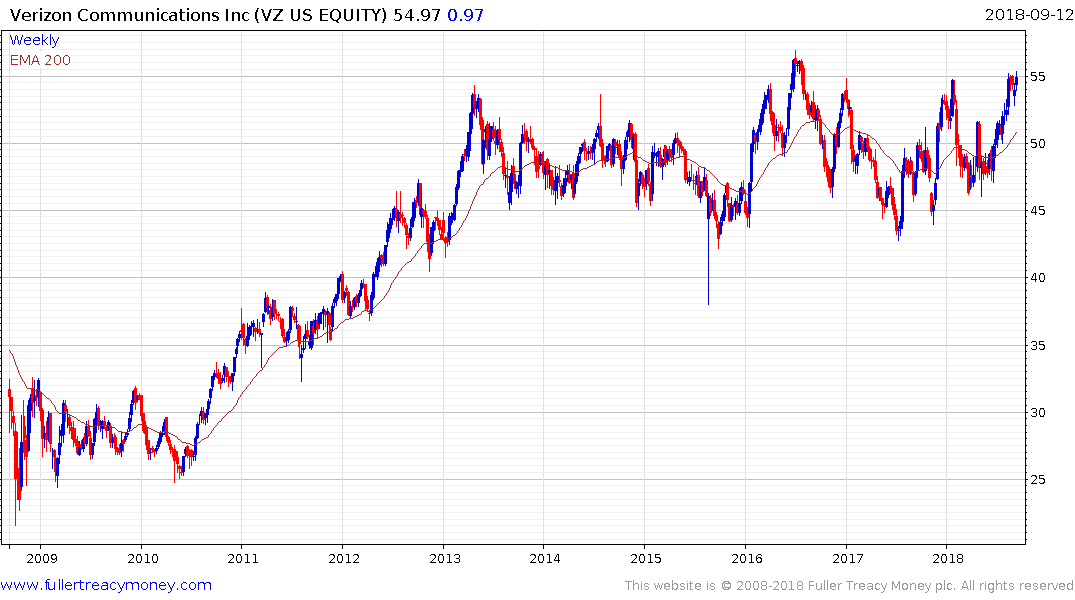 Verizon has been ranging mostly below $55 since 2013 but is due to introduce 5G on a limited basis at the end of this month with internet speeds starting at 100GB. That has the potential to act as a catalyst for a breakout.
The portion of the article quoted above also helps to temper some of the initial enthusiasm about 5G since there are still bugs that need to be worked not least with range and security. This article from Bloomberg carries some additional information on the security status of these new networks. Here is a section:
"This new architecture provides a way to circumvent traditional security controls by exploiting equipment in the edge of the network – exploitation which may affect overall network integrity and availability, as well as the confidentiality of customer data," according to the statement. "Government has found no combination of technical security controls that sufficiently mitigate the risks."
The Chinese equipment makers have also come under fire in the U.S., where regulators have proposed banning telecom companies from using federal subsidies to buy from companies like Huawei and ZTE that they say pose a national security risk. Huawei and ZTE have disputed they represent any such risk.
Subscribers may remember a couple of years ago there was an article about how the NSA had built a backdoor into the firmware of just about all computers. This news was a contributing factor in encouraging China to throw the full backing of the government into the Made in China 2020 project. It also alerted China to the potential for deploying similar code in the products it manufactures and exports which is obviously a security risk for anyone buying them.
Back to top