Tesla Supercharging Its Model 3 Means Less Cobalt, More Nickel
This article by James Attwood for Bloomberg may be of interest to subscribers. Here is a section:
Tesla Inc. may have some bad news for those betting on cobalt to continue its record-breaking rally, and good news for nickel bulls.

While the weight of its Model 3 is on par with gasoline- powered counterparts, its battery cells are of the highest energy density used in any electric vehicle, the Palo Alto, California-based company said Wednesday in a letter to shareholders.

"We have achieved this by significantly reducing cobalt content per battery pack while increasing nickel content and still maintaining superior thermal stability," Tesla said.

Cobalt prices have more than tripled in the past couple of years as companies like Tesla strive to bring electric vehicles into the mainstream car market, and with supply largely dependent on a few mines in the politically volatile Democratic Republic of Congo. Nickel, which has gained about 50 percent in the same span, is far more widely available.

Tesla says the cobalt content in its nickel-cobalt-aluminum cathode chemistry is already lower than next-generation cathodes that will be made by other cell producers with a nickel- manganese-cobalt ratio of 8:1:1.
In the last six months I have seen estimates for when the 8:1:1 ratios of nickel : manganese : cobalt would be achieved in commercial batteries that ranged from 5 to 10 years from now. Tesla has these batteries in the limited number of Model 3 cars it is putting out today. That is a testament to exponential pace of technological innovation because it represents another powerful enhancement to energy density.
It also highlights how high-priced commodities incentivize consumers to come up with more efficient ways of using them. Everything I have read suggests cobalt is a necessary component in lithium batteries but the intensity of its use is likely to trend lower over time.
There is another point that is relevant to cobalt in that it is a byproduct of nickel mining. Right now, the primary source of cobalt is as a byproduct of copper mining. However, if nickel prices recover, and new battery chemistries are a potent additional source of new demand, the supply of cobalt should also increase. The other important point is that the nickel required for batteries is in short supply. Nickel sulfate is a purer form of the metal than currently accepted for settlement by the LME. That is what the exchange is exploring splitting the contract.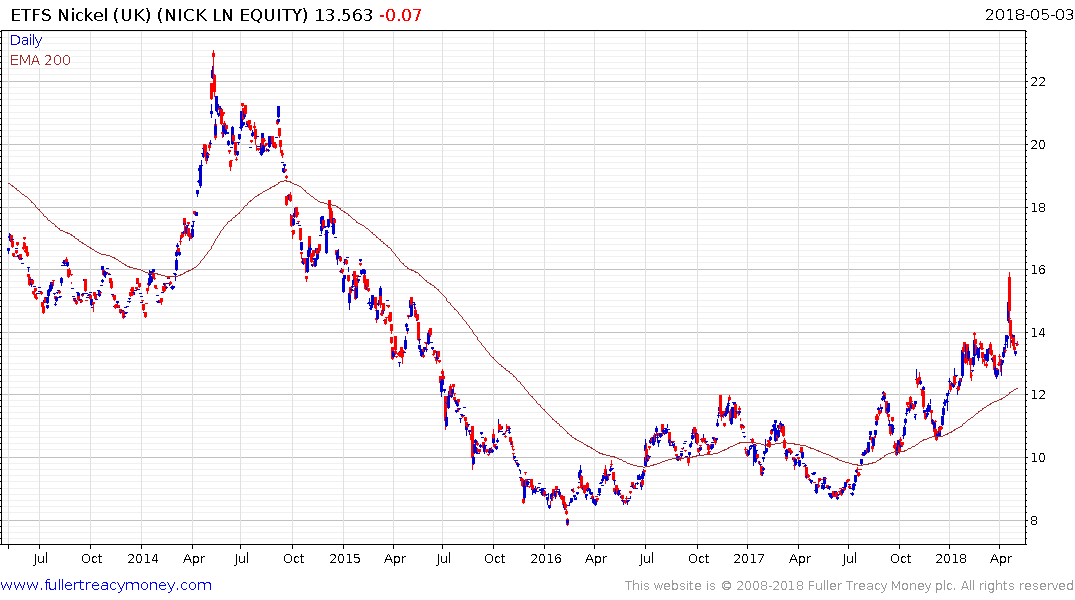 The ETFS Nickel price surged higher in sympathy with aluminium following the sanctions imposed on Russia and has now returned to test the region of the underlying trading range.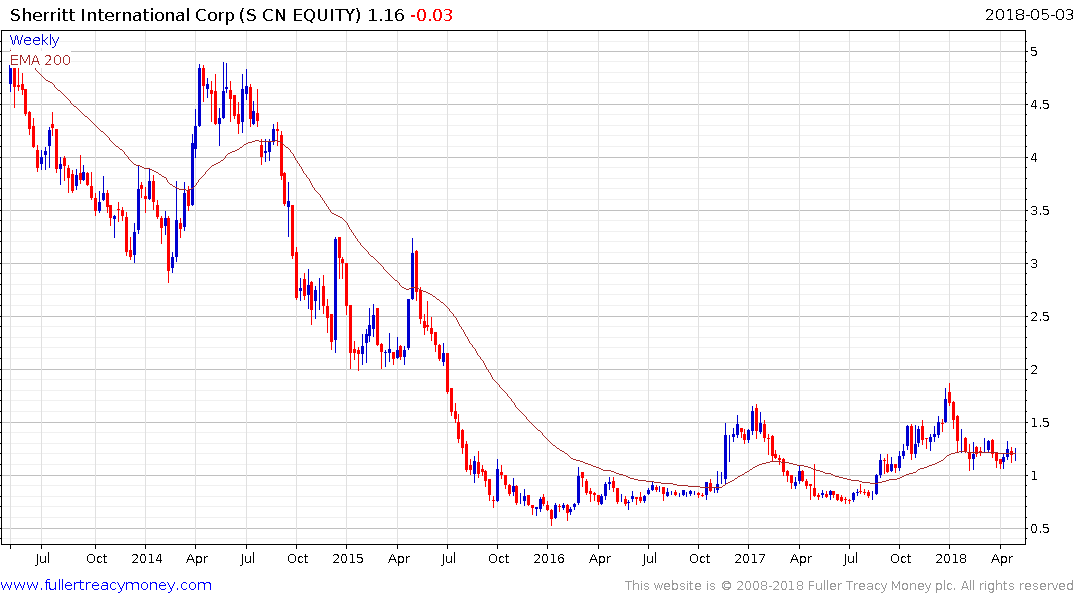 Sherritt International has been ranging above C$1 since February and needs to sustain a move above C$1.40 to confirm a return to demand dominance.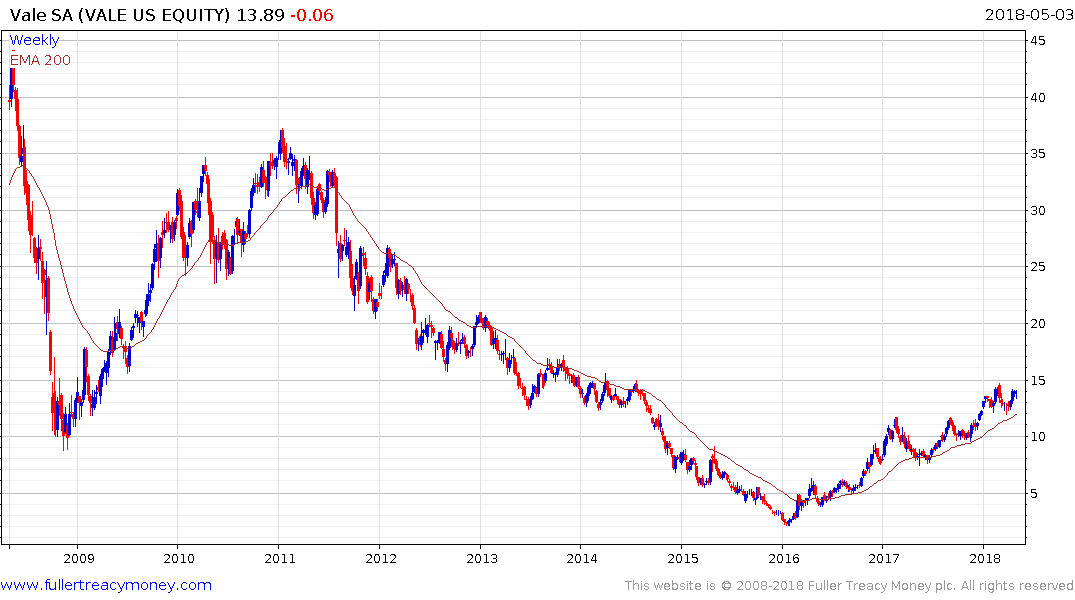 Vale generates about 14% of revenue from nickel production and continues to hold a progression of higher reaction lows.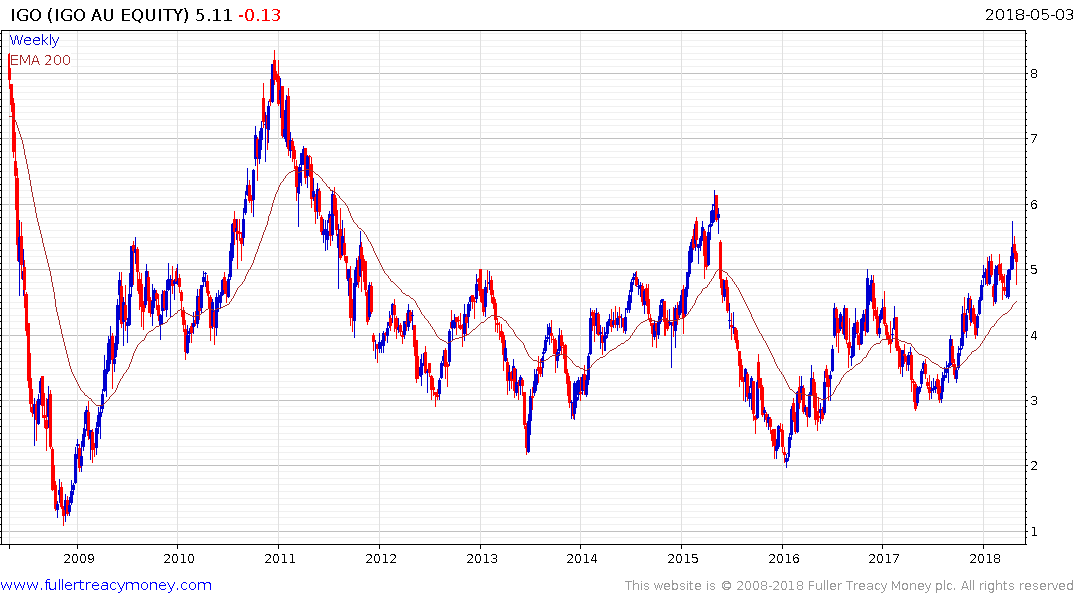 Australian listed Independence Resources explores for nickel and gold in Australia. The share has held a progression of higher reaction lows since mid-2017 and is now testing the upper side of a six-year base formation.
Back to top