Tesla shares jump after Morgan Stanley raises price forecast
This article by Thomas Franck for CNBC may be of interest to subscribers. Here is a section:
Shares of Tesla jumped Tuesday after Morgan Stanley's Adam Jonas, a widely-followed analyst on Wall Street, raised his 12-month price forecast on the electric vehicle maker.

General Motors recently announced plans to roll out a line of 20 all-electric vehicles over the next six years. Ambitious plans like these from traditional automakers have raised fears about more competition ahead for Elon Musk's company, but Jonas said Tesla's existing infrastructure "footprint" will be a "key differentiator" over the coming years, further boosting the stock.

"Infrastructure (of lack thereof) is the 'elephant in the room' of the EV revolution," wrote Jonas in a note late Monday. "Compared to other OEMs (Original Equipment Manufacturer), Tesla has made the biggest proprietary investment in superchargers and destination chargers globally. In most communities, we believe this infrastructure is larger than it needs to be in preparation for the expansion of the serviceable and charge-thirsty fleet. Other OEMs will closely watch how consumers react to this infrastructure."
Hardware is hard. GoPro is in search of a savior and Fitbit is languishing. Both rely on OEM manufacturers to produce their products while Tesla has broken the mold for new hardware companies by building manufacturing capacity from scratch. It helps that the company is building big ticket items like cars instead of trinkets but still manufacturing is fraught with complexity.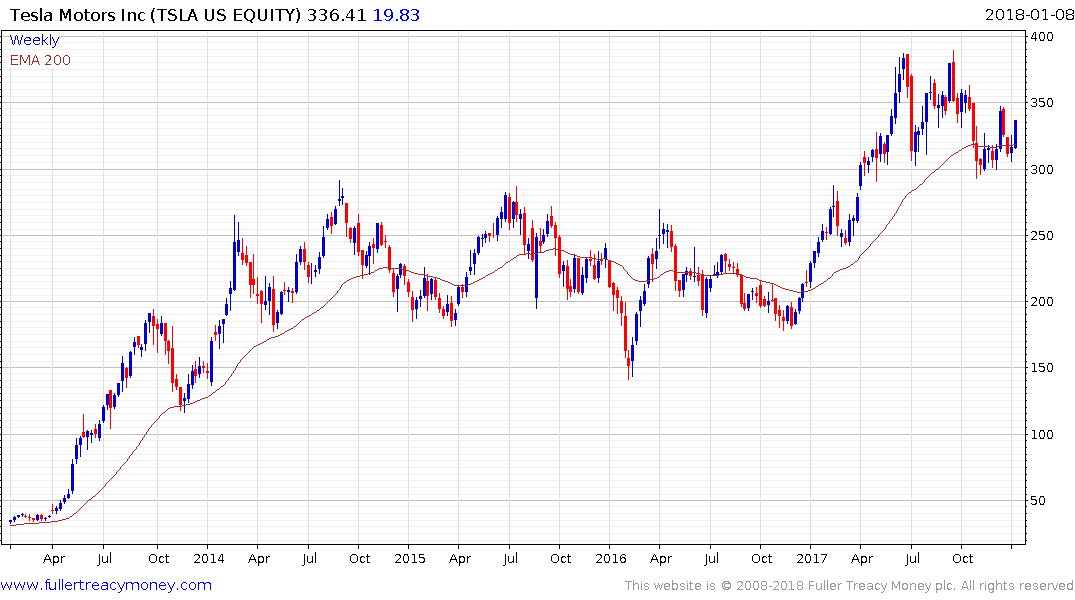 The share bounced emphatically from the $300 region today and a sustained move below that level would be required to question medium-term scope for additional upside.

I regard Tesla, and Netflix to a lesser extent, as canaries in the coal mine for the liquidity fueled expansion that has been underway since 2009. These are companies that have been extended extraordinary largesse by the credit markets and are still a long way from breaking even. They can continue to prosper because credit spreads are still tight and liquidity is abundant. When those conditions change it is in highly leveraged businesses that we are likely to see the first signs of stress. Today's bounce suggests the canary is still singing.
Back to top