Tesla's Model 3 Arrives With a Surprise 310-Mile Range
This article by Tom Randall for Bloomberg may be of interest to subscribers. Here is a section:
Three hundred ten.

That's the electric range of a $44,000 version of Tesla's Model 3, unveiled in its final form Friday night. It's a jaw-dropping new benchmark for cheap range in an electric car, and it's just one of several surprises Tesla had in store as it handed over the keys to its first 30 customers.

Tesla has taken in more than 500,000 deposits at $1,000 a piece, Chief Executive Officer Elon Musk told reporters ahead of the event. This has created a daunting backlog that could take more than a year to fulfil—and that was before Musk took the stage in front of thousands of employees, owners, and reservation-holders to lift the curtain on the
company's most monumental achievement yet.

"We finally have a great, affordable, electric car—that's what this day means," Musk said. "I'm really confident this will be the best car in this price range, hands down. Judge for yourself."
This graphic from the above article is perhaps the most relevant part of the story. The cost per mile of range continues to trend lower while range is trending higher. The range of 310 miles is making headlines but the cost of $160 per mile for the battery is also a record and more important from the wider spectrum perspective of the growth of the energy storage sector.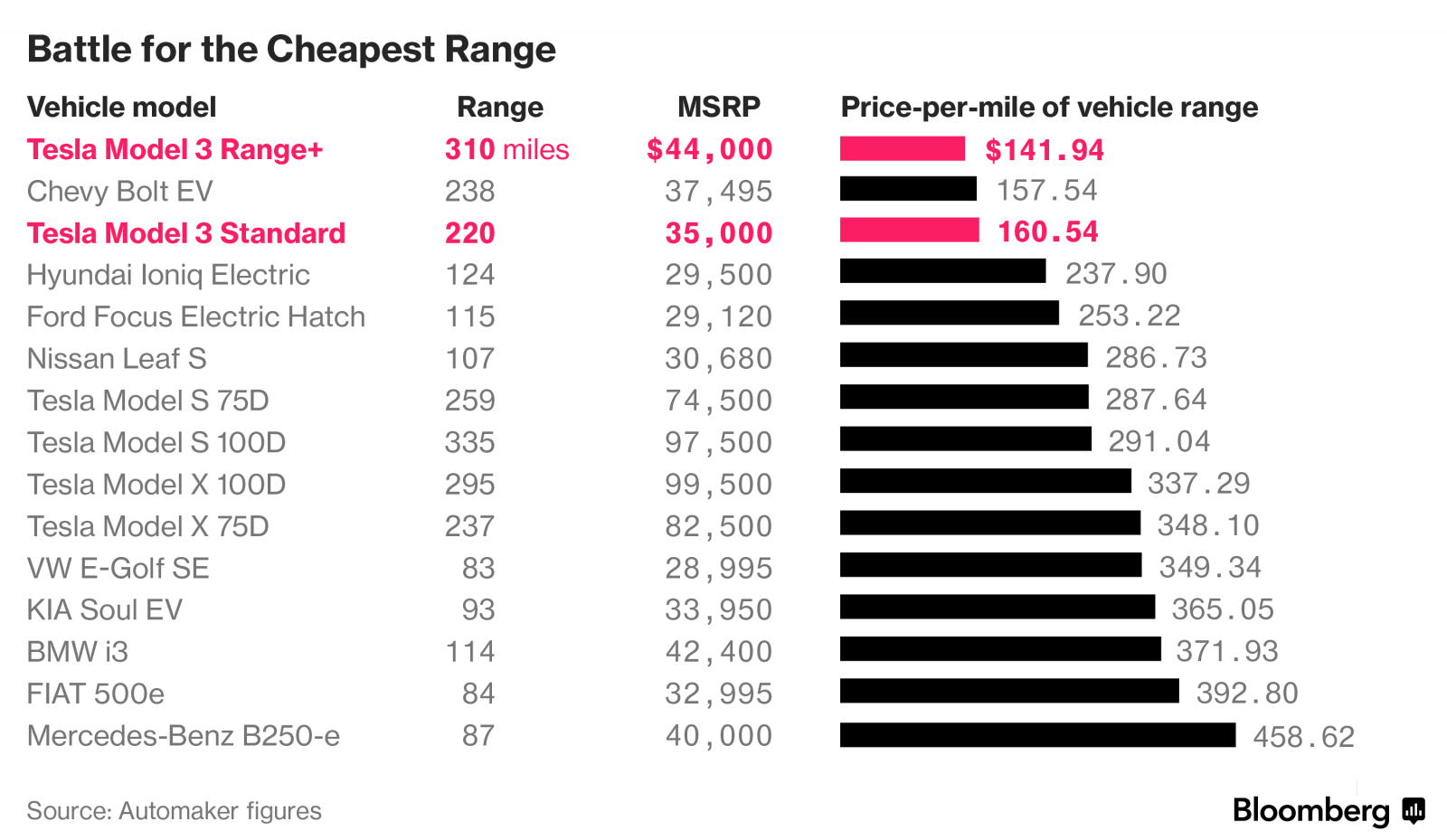 Tesla's copycats are investing massively in additional battery manufacturing capacity, particularly in China, South Korea and Japan. Quite apart from expected advances in technology, increasing economies of scale will improve the economics of owning an electric vehicle. Most of the objections to electric vehicles centre on range, cost and recharging times.

310 miles is a sufficient range for the majority of commuting and day trips but is not going to suffice for cross country journeys. From talking to people at rental car companies many people who lease cars will rent a car for longer journeys so that they do not exceed the mileage balance on their commuting vehicle. Since most households have two cars, in the developed world at least, the most likely trajectory is to have an electric vehicle for everyday use and an internal combustion vehicle for occasional longer journeys once the economics make the decision a no brainer.

Additional technological advances are going to be required to improve charging times. Fisker's upcoming vehicle claims to deliver on both extended range and recharging times assuming of course they are more than marketing fluff.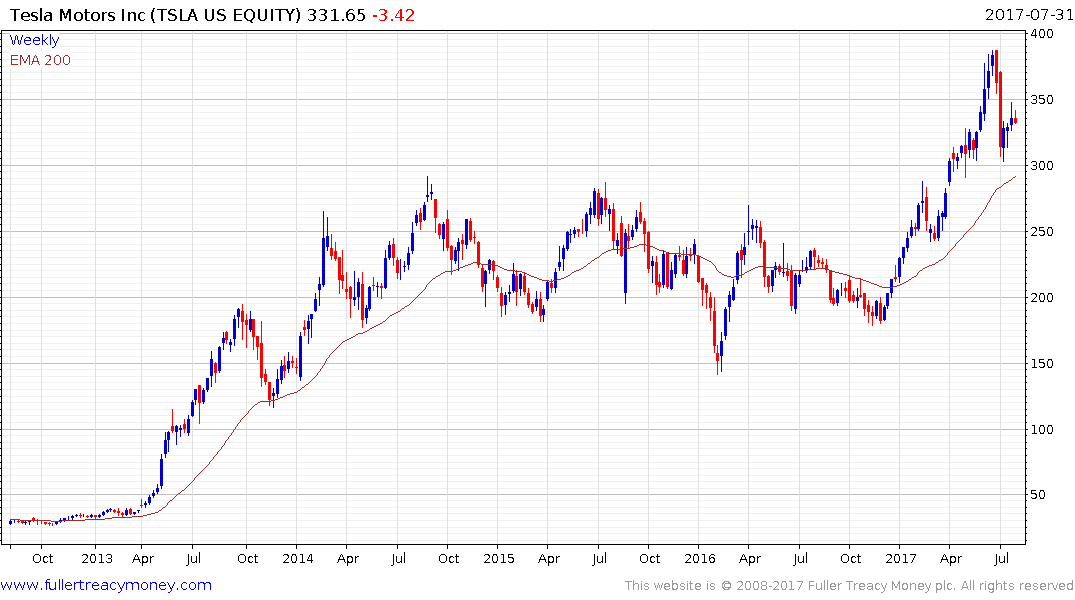 Tesla bounced from above $300 earlier this month and a sustained move below that level would be required to question medium-term scope for additional upside.
Back to top