Tesla Faces Several 'Irreversible Negative Catalysts
This note by Esha Dey for Bloomberg may be of interest to subscribers. Here is a section:
Tesla now faces a steady stream of severe and largely irreversible negative catalysts, including tax- credit expiration, broad competitive entry and platform quality issues, Hedgeye writes in a note.

Says TSLA's demand is at risk; while the bull story is that "people want these cars," delays, competition and reliability are likely to jeopardize this assumption

Notes battery degradation, quality issues; says aging platforms are likely to become an increasing issue for would-be buyers

TSLA shares have dropped 11% since reporting 4Q results on Feb. 7 post-market vs the S&P 500 Index (SPX) falling 2.9% over the same period.

TSLA short interest 21.6% of free float vs year-low of 18.8% in Oct., high of 29.2% in April: Markit data
Tesla doesn't make money so every source of fresh capital is important to the company. Having tapped the bond and equity markets the company began taking deposits for its Model 3 which the company counts as revenue. One might rightfully question the accounting integrity of that decision since these are deposits based on the assumption a car will be delivered.
Additionally, one of Tesla's primary sources of income are clean air rebates but these are going to expire as the company outgrows them.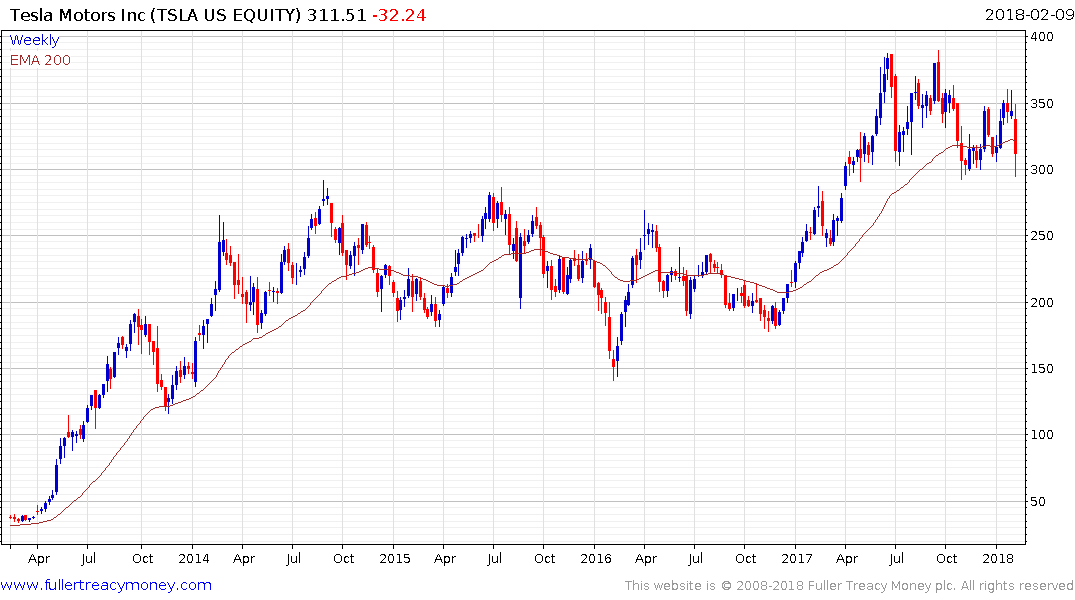 As a B- rated credit how well Tesla's share performs is something of a barometer for the highly leveraged junk bond market. It dropped below the psychological $300 level today and will need to rally soon if a meaningful degradation of uptrend consistency is to be avoided.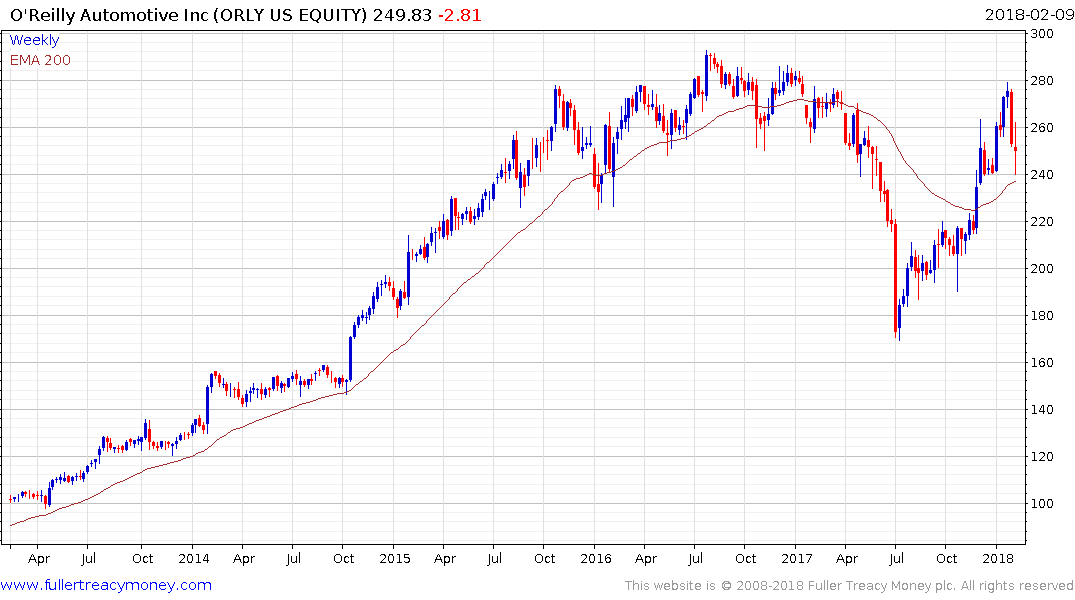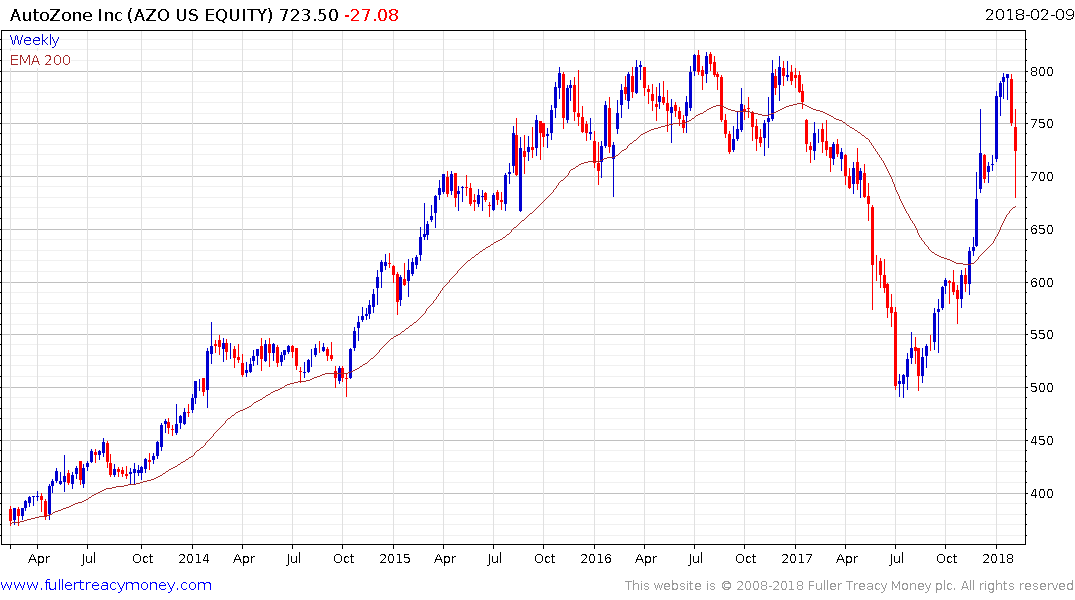 Meanwhile elsewhere in the auto sectors some of the worst performers last year were the retail auto supply companies. O'Reilly Automotive and AutoZone dropped precipitously in the first half of the year and recovered the majority of the advance by the end of the year. They are now rolling over and clear upward dynamics will be required to question medium-term top formation completion characteristics.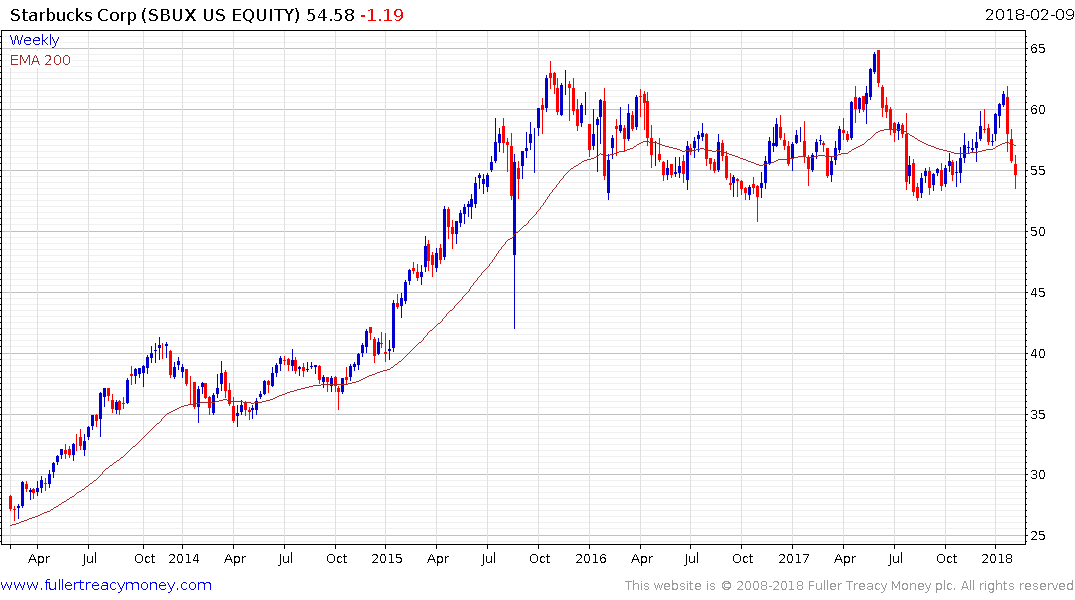 In the broader market Starbucks has Type-3 top formation characteristics as it tests the lower side of an almost three-year range.
Back to top