Tesla Earnings: The Moment of Truth
This article by Stephen Russolillo for The Wall Street Journal may be of interest to subscribers. Here is a section:
Using generally accepted accounting principles, Tesla is expected to log a loss of 59 cents a share. Since going public in 2010, Tesla only has reported one profitable quarter under this basis. That came in 2013, when the stock surged from the mid-$30s to nearly $200. It has been volatile ever since, currently still trading around $200 with a silly valuation.

Whether or not the quarter is profitable, investors will want to hear about future production, which they are counting on to justify Tesla's share price. Earlier this month, Tesla reported third-quarter deliveries of its vehicles more than doubled from a year earlier to 24,500. It also reiterated its forecast earlier this month that it would produce 50,000 vehicles in the second half of 2016. And it maintains it will deliver 500,000 cars by 2018, thanks to the Model 3 mass-market sedan.

But Tesla has repeatedly overpromised and underdelivered. In the past five years, Tesla has failed to meet more than 20 of Mr. Musk's projections, according to an analysis by The Wall Street Journal.
This is a big week for earnings with Apple yesterday, Tesla today, Alphabet tomorrow and Amazon on Friday. Tesla makes cars people aspire to own and want to be seen driving. That's something not many car manufacturers can brag about. However there is nothing easy about starting a car company from scratch even if electrc cars have nearly two thirds fewer parts than conventional vehicles.
I'm constantly reminded of Charlier Munger's comment at the Daily Journal AGM a couple of years ago when asked about Elon Musk. He said "I'm always wary of someone with an IQ of 160 who thinks its 190".The success the company has had in delivering a luxury sedan is really only outshined by the hype machine pioneered by Musk on which the company's high valuation is based. In the category of being the biggest bull in a bull market he has to take the prize for the most exagerated claim with his pitch for Mars colonisation. I hope I'm wrong but I fear this is nothing more than fluff to paper over Tesla Motors' failure to deliver solutions on time.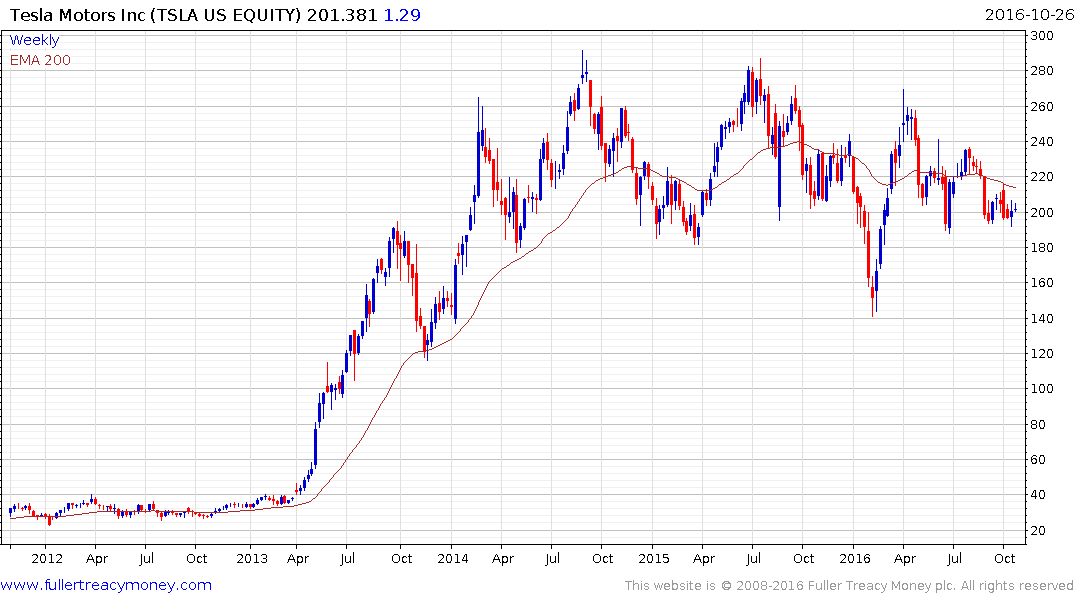 The share has been ranging for nearly three years and today's surprise announcement of the first profit in eight quarters is likely to add support as it hovers near the psychological $200 level. It will need to sustain a move above the trend mean to signal more than temporary support in this area.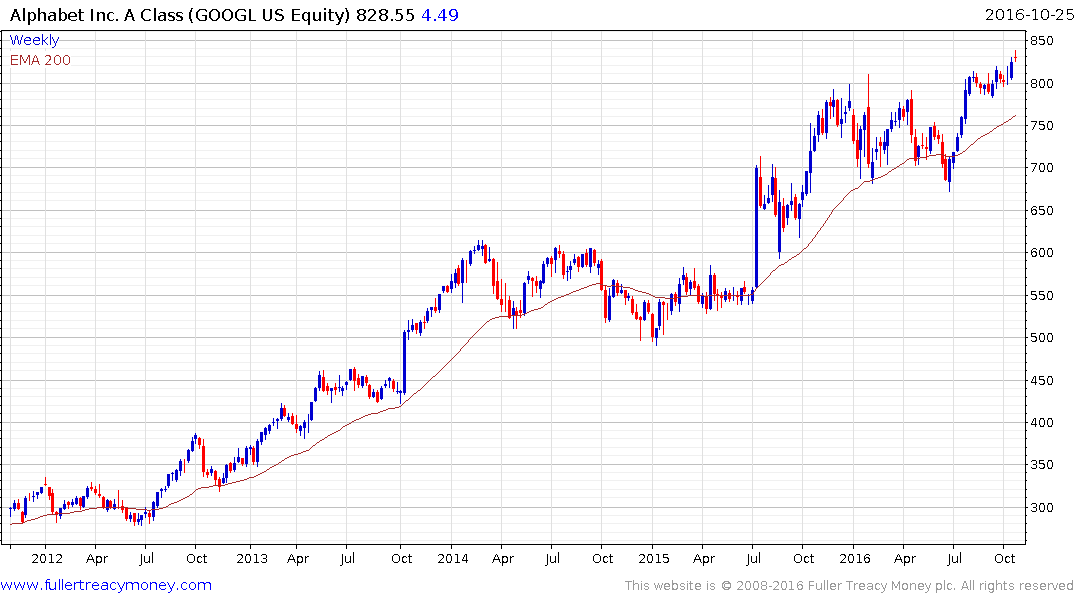 All eyes will be on Alphabet tomorrow with its earnings. The share posted a small downside key day reversal yesterday. It followed through on the downside today to suggest at least a pause in the region of its all-time high, and potentially an unwinding of the short-term overbought condition relative to the trend mean.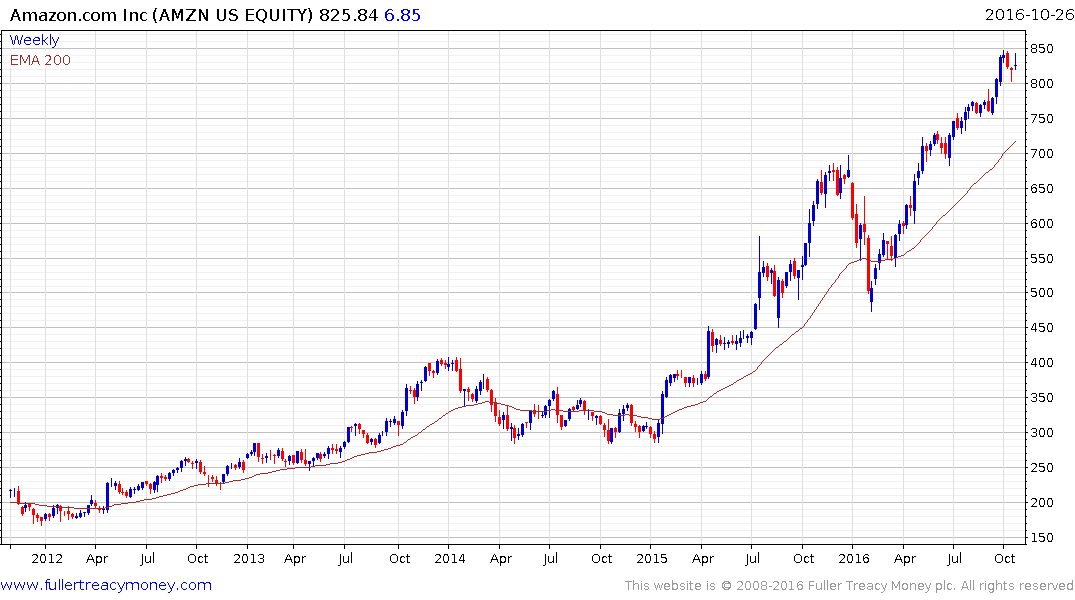 Amazon has been setting records almost all year but has paused below $850 and is looking increasingly susceptible to mean reversion.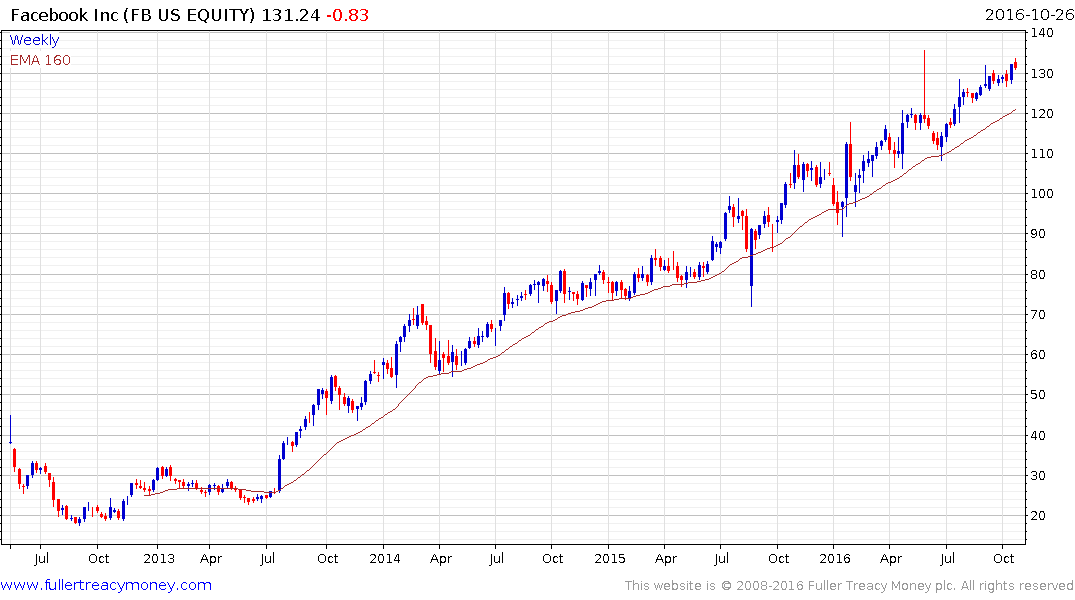 Facebook announces earnings on November 2nd and is somewhat overextended relative to the trend mean at present.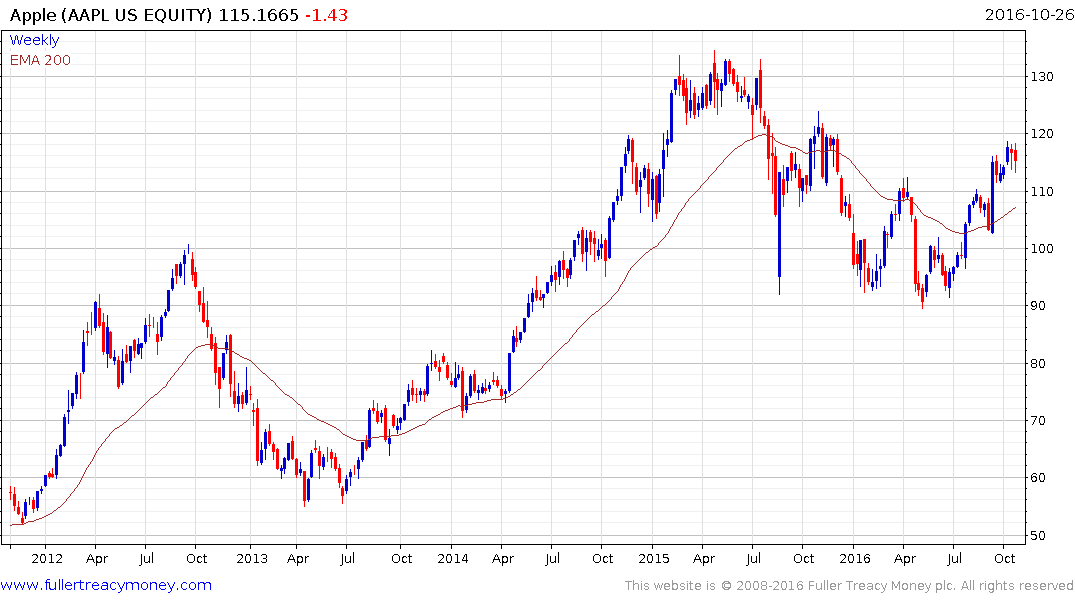 Apple pulled back on disappointment that it doesn't expect a large bump in earnings from the holiday season. However the reaction is still smaller than that posted in August/September and a sustained move back below the trend mean, currently near $107, would be required to question current scope for continued higher to lateral ranging.
Back to top