Tesla Bets Big on Bitcoin, Plans to Accept Cryptocurrency
This article by Chester Dawson for Bloomberg may be of interest to subscribers. Here is a section:
Tesla Inc. invested $1.5 billion in Bitcoin and signaled its intent to begin accepting the cryptocurrency as
a form of payment, sending prices to a new record after the vote of confidence from the electric-car market leader.

The Palo Alto, California-based manufacturer said in a filing Monday it made the bet on Bitcoin after updating its investment policy last month to allow the company to invest in digital assets as well as gold bullion and gold exchange-traded funds.

"We expect to begin accepting Bitcoin as a form of payment for our products in the near future, subject to applicable laws and initially on a limited basis," Tesla said in the securities filing.

The leading electric-car maker's embrace of Bitcoin lends increased legitimacy to electronic currencies, which have become more of a mainstream asset in recent years despite skepticism from some. The embrace of a digital currency fits the maverick image of Tesla Chief Executive Officer Elon Musk, who upended the automotive industry with battery-powered vehicles and disrupted the equities market with the stock's ascension to the blue-chip S&P 500 index last year.
During the bitcoin bull market of 2017, Lamborghini began taking bitcoin as a form of payment. Sales jumped appreciably as young traders cashed in. The lure of a chance to own a marquee vehicle overcame the holdr mentality for a while. Very little was subsequently said about what Volkswagen did with the bitcoin. We can assume they were immediately turned into cash since there was no response from the share price.
Today's announcement that Tesla bought bitcoin some time last year is a significant leveraging of its cash. The company has about $2 billion in free cash flow and $20 billion in cash. Allocating 7.5% to such a volatile asset class is a leveraged bet for a highly leveraged company.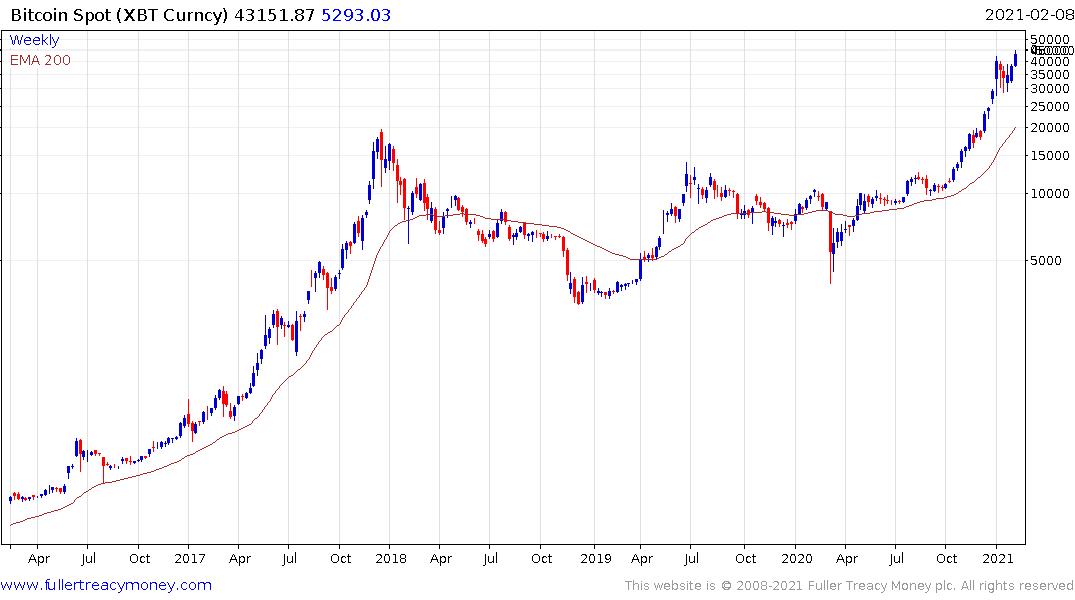 Bitcoin broke out to new highs on the news to complete the one-month range.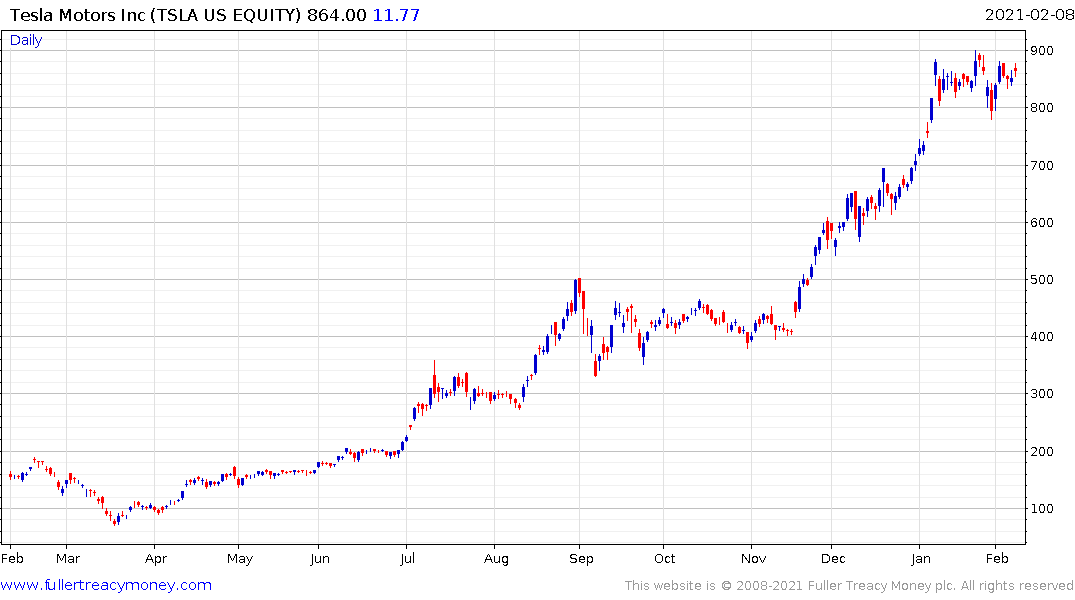 Tesla's share price continues to pause. The company is seeing Chinese consumers complain about the quality of its products and that is risking intervention from the Chinese government at its Shanghai plant. There is no room for bad news in Tesla's valuation even as it continues to act as a lightning rod for speculation.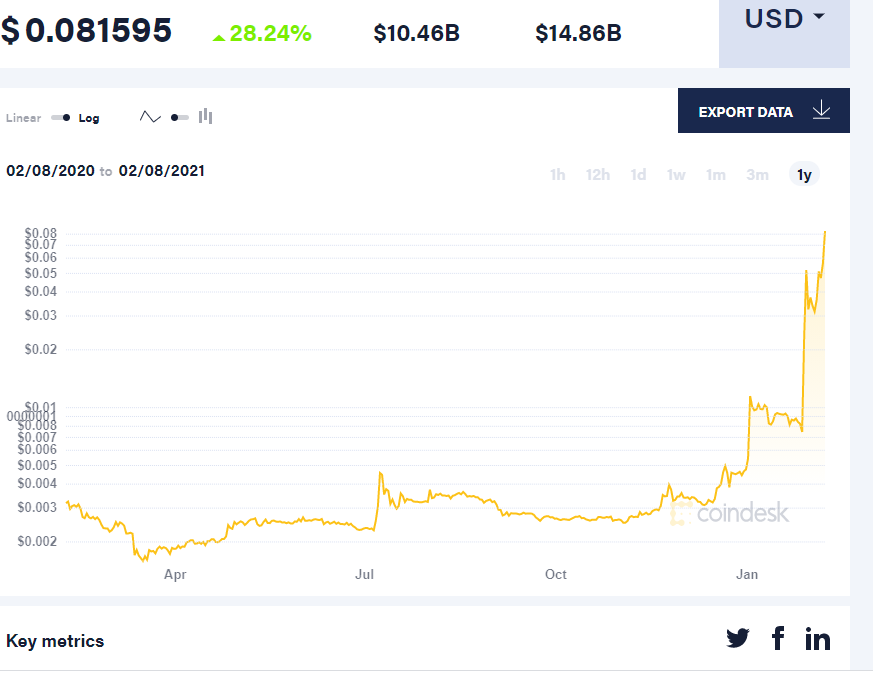 Dogecoin continues to bask in the attention of Elon Musk and rapper Snoop Dogg. Here is the description of the coin from coindesk:
Dogecoin emerged in 2013 as a joke. It was created by Jackson Palmer and Billy Markus to satirize the growth of altcoins by making the doge internet meme into a cryptocurrency. While it was birthed as a joke, it actually led to some practicality as its large supply and low price facilitated efficient micro-tipping content on social media. It is a derivative of Luckycoin which forked from Litecoin and uses a Scrypt algorithm. Dogecoin has 1 minute block intervals making it faster than other blockchains. There is no cap to the supply of coins and thus the coin can inflate infinitely.
No one seriously thinks there is value in dogecoin, it's simply a vehicle for speculation.
Back to top