Tencent Quashes Talk of New Crackdown as Tech Wipeout Deepens
This article from Bloomberg may be of interest to subscribers. Here is a section:
Chinese technology shares had their worst two-day drop since July due to renewed fears Beijing may roll out more restrictions for private enterprise. Traders pointed to everything from regulatory warnings over the weekend about scams in the metaverse -- a virtual-reality based social media concept -- to unsubstantiated talk about more curbs on the gaming industry. Tencent is a leader in metaverse development.

On Monday, a screenshot detailing the alleged new gaming curbs made waves on China's internet. But Wang Guanran, an analyst with Citic Securities, clarified that the content was originally posted by him last year when regulators hosted study sessions on gaming regulations.

"I didn't post anything today," he said on his WeChat. The screenshot flagged more oversight of violent genres and concepts like anime and religion and limits on player spending on loot boxes.
Protestations that Tencent does not expect additional curbs on its primary business lines would be more convincing if the government were not asking banks to disclose their relationships with Alibaba's ANT Financial.

China's Covid zero policy has afforded Party an opportunity to remake the economy. Property sales are down 40% even if prices have barely budged. Meanwhile private property developers remain under severe strain.
The government is now taking greater control over where resources are deployed. That means curtailing speculation in properties, reorienting private equity and venture capital, and supporting politically favoured sectors.
Fintech matured in China way ahead of everywhere else. That was a priority in past five-year plans and is not in the new one. Now, self sufficiency is the top priority. Environmental protection is a subset of that ambition since renewables fulfill a dual purpose.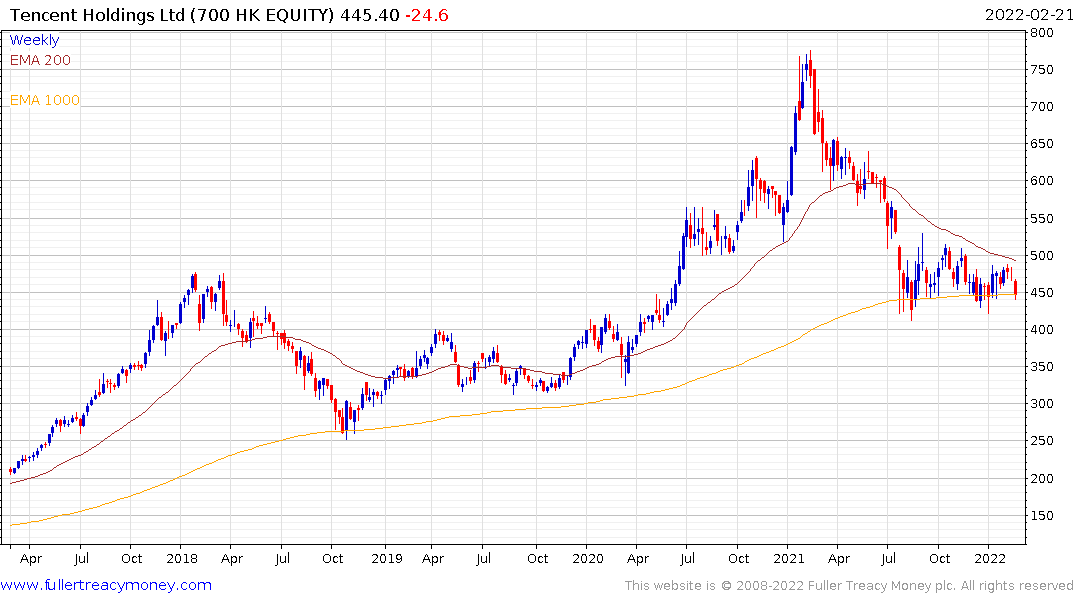 Tencent is ranging between the 200-day and the 1000-day MA and a downward bias remains in place. A sustained move below HK$400 would confirm the company's best days are behind it.
Back to top