Tech Rally Goes Global, Powering Major Stock Indexes to Fresh Records
This article by Riva Gold for FoxBusiness is an example of common theme in the media to highlight tech's outperformance. Here is a section:
Just eight companies -- Facebook Inc., Apple, Amazon.com Inc., Netflix Inc., Alphabet Inc., Baidu Inc., Alibaba Group Holding and Tencent -- have increased by $1.4 trillion in market cap in 2017, a sum roughly equivalent to the combined annual GDP of Spain and Portugal.

Tech giants' powerful user networks, large cash piles and access to consumer data have led many investors to expect the big will only get bigger.

"You need critical mass to support continuing innovation," said Christopher Dyer, director of global equity at Eaton Vance. While there are exceptions, "China and the U.S. would be natural destinations for incremental dollar investment within tech," he said.
The return to outperformance of emerging markets has been a major topic of conversation for investors this year but it is worth highlighting that Tencent Holdings, Alibaba, Samsung and Taiwan Semiconductor represent 17% of the MSCI Emerging Markets Index.
Therefore, when index investors, of which there are a significant number, go abroad to escape high valuations at home what they are often buying is a slightly different iteration of the same themes driving their domestic markets.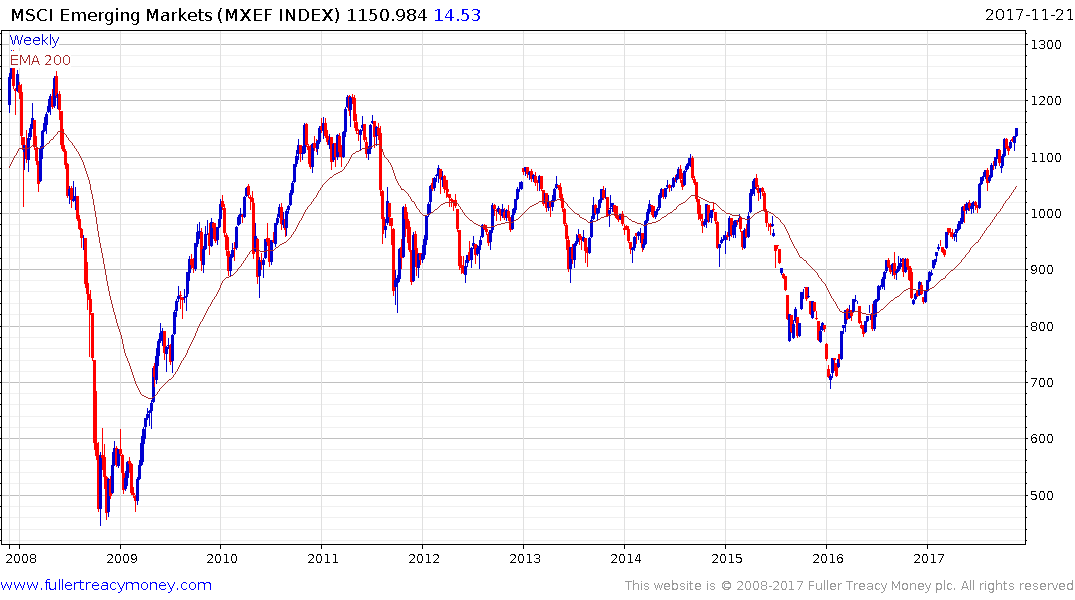 The MSCI Emerging Markets Index has trended much more consistently this year than at any time in the last decade. It is being driven higher by Asian markets which have been breaking up out of lengthy ranges and is led by the technology sector.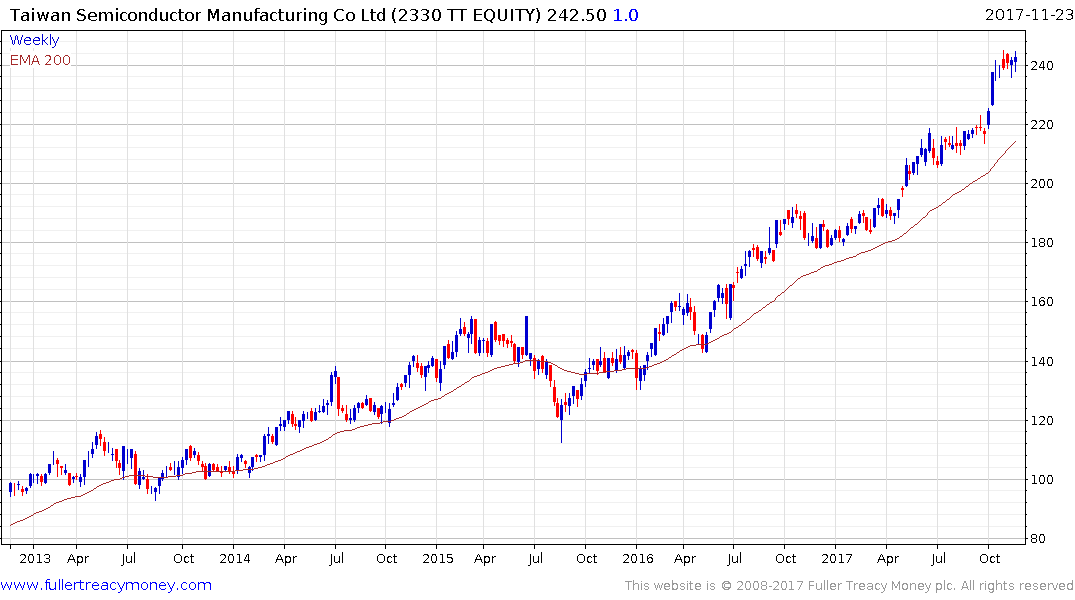 Taiwan Semiconductor broke out of a 12-year base in 2012 and apart from a wobble in 2015 has been trending consistently higher. It is now somewhat overextended relative to the trend mean but a sustained move below TWD220 would be required to question medium-term scope for additional upside. (The share's ADR ticker is TSM).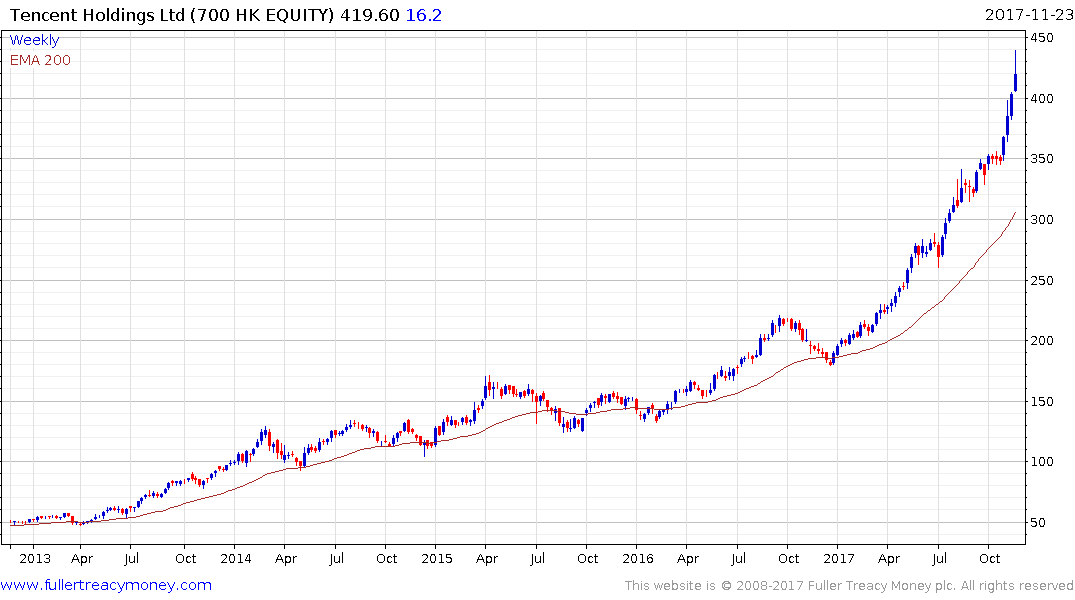 Tencent Holdings hasn't pulled back by more than HK$30 this year. It hit a near-term peak this week near HK$440 and a pullback below $410 would represent an inconsistency and potentially the onset of a reversion towards the mean.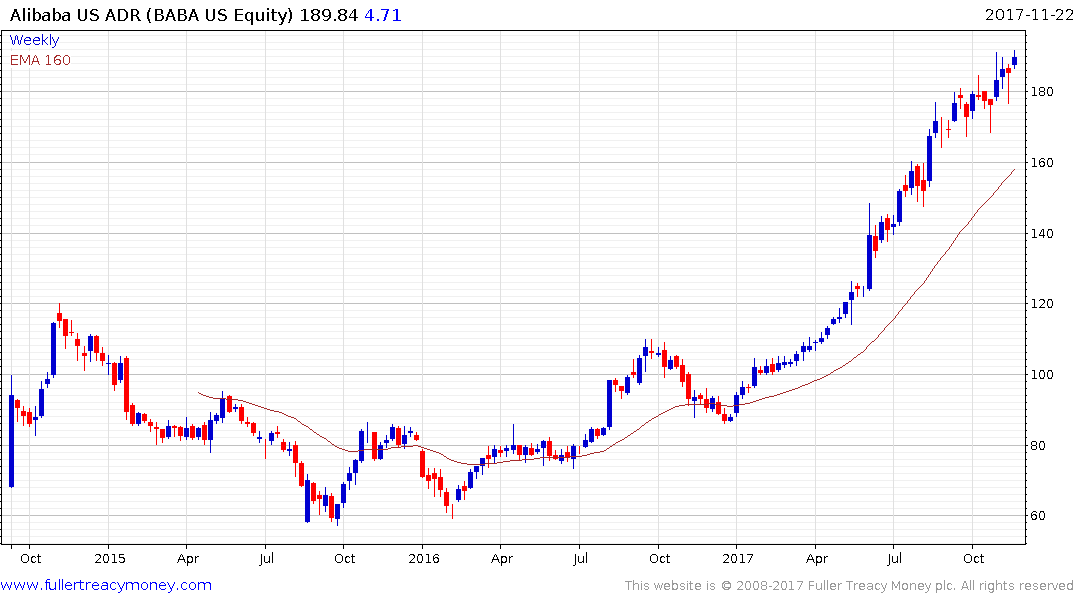 Alibaba has lost momentum over the last few months but continues to hold its progression of higher reaction lows and a sustained move below $160 would be required to challenge the medium-term demand dominated environment.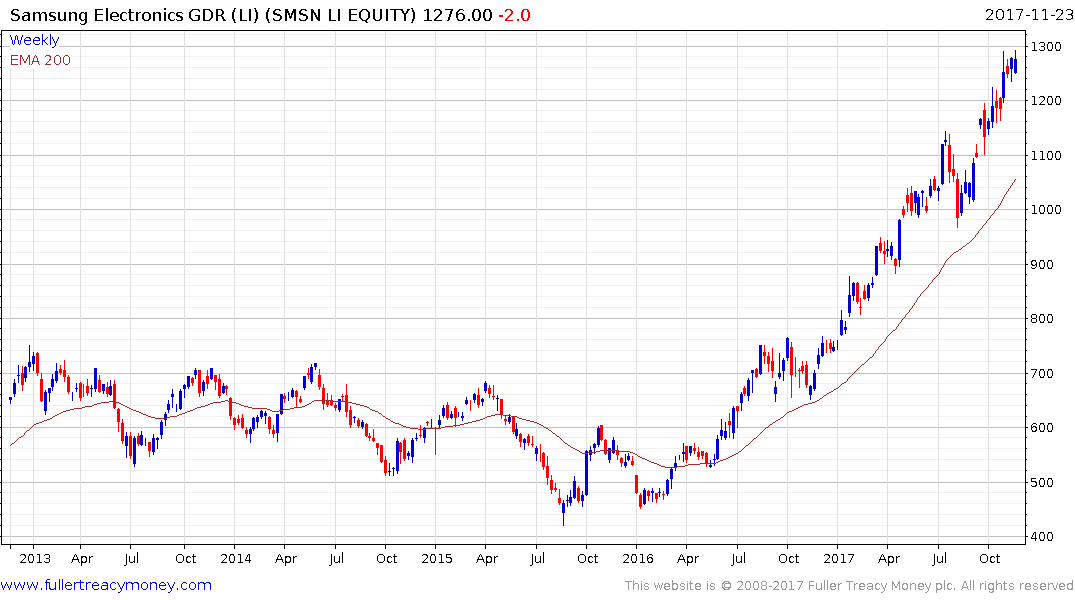 Samsung Electronics completed a four-year range in 2016 and has been trending consistently higher since. Just as with many shares in the technology sector it is overextended relative to the trend mean at present, but a break in the progression of higher reaction lows, currently near KRW2.6million, would be required to signal mean reversion is underway.
Back to top