Taiwan Stocks Fall to Two-Year Low on Economic, China Concerns
This article from Bloomberg News may be of interest to subscribers. Here is a section:
The wave of declines is rooted in the problems in Taiwan's economy, Alan Tseng, vice president at Capital Investment Management Corp. in Taipei, said on Wednesday. "The electronics industry is facing the toughest competition in 10 years because of China. The index will fall below 8,000."

There is a "looming new bear cycle" in emerging markets, with the weaker yuan adding competitive pressures to Taiwan, Malaysia, Thailand and Vietnam because of their dependence on exports, Lim Say Boon, the Singapore-based chief investment officer at the private banking unit of DBS Group, wrote in a report dated Aug. 17. The MSCI Emerging Markets Index entered a bear market on Aug. 12.
China's economy is transitioning away from fixed asset investment. If it is to be weaned away from infrastructure development and housing, the value of other sectors of the economy has to increase. This explains the concerted push to develop the service and high end manufacturing sectors. In this strategy China is following the same path tread by its neighbours in their development.

An issue for countries in China's hinterland is that its domestic manufacturers will not be content to stay at home but will compete more aggressively on the international stage in exactly the same way that Japanese, South Korean, Taiwanese and Singaporean companies did before them. This represents a considerable challenge for these countries since they will not only experience competition within China but also globally for the services they provide.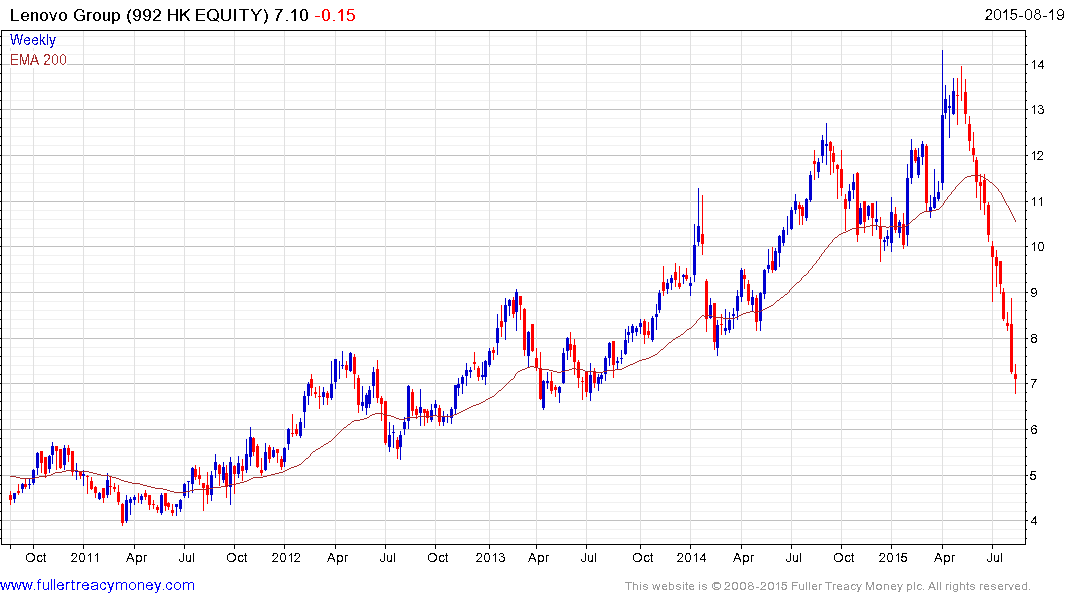 One of China's better known success stories Lenovo announced this week that it will begin manufacturing smart phones in India. It is not be the only Chinese company to embark on international diversification of its manufacturing but probably represents the thin end of the wedge. The share has halved since its April peak following its debacle with inserting Superfish Adware into its latest laptops. The 15 consecutive week decline is oversold by any measure. Mean reversion is looking increasingly likely but a process of support building will probably be required to renew confidence before recovery can be considered a realistic possibility.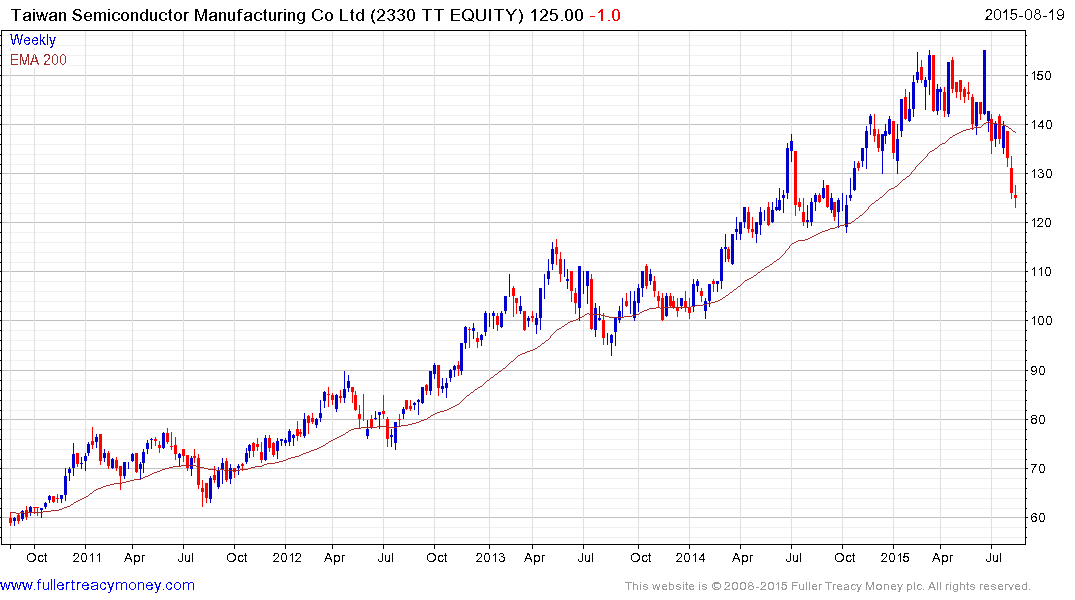 Taiwan Semiconductor had one of the most consistent charts of any large cap share in the region until July when it dropped to break the medium-term progression of higher reaction lows. It is somewhat oversold at present but a sustained move above the trend mean would now be required to begin to question medium-term supply dominance.
Back to top