Taipei blasts 'provocative' Chinese fighter jet incursion across Taiwan Strait line
This article by Jesse Johnson may be of interest to subscribers. Here is a section:
However, Glaser said that the Chinese "haven't done so for at least a decade, likely longer."

"I've been told that Chinese jets approach the midline, but then veer off," she said.

The flight came just after Taiwan President Tsai Ing-wen capped off a tour of several Pacific nations with a visit last week to Hawaii, where she said she had formally submitted new requests to the United States for F-16B fighter jets.

The U.S. has no formal ties with Taiwan but is bound by law to help it defend itself and is the island's main source of arms. The Pentagon says Washington has sold Taipei more than $15 billion in weaponry since 2010.

China is suspicious of Tsai and her pro-independence Democratic Progressive Party and any push for the island's formal independence.

Chinese President Xi Jinping said in January that Beijing reserves the right to use force to bring Taiwan under its control, but would strive to achieve peaceful "reunification."

Beijing has called Taiwan "the most important and sensitive issue in China-U.S. relations" and has bolstered its military presence near the island, sailing its sole operating aircraft carrier through the Taiwan Strait in January and March of last year and holding large-scale "encirclement" exercises and bomber training throughout 2018.
Anything that promotes the notion of Taiwan declaring statehood is being met with progressively more strident efforts by China to stamp it out. Xi Jinping has succeeded in having his doctrine written into the constitution and his economic plan is to make China the preeminent global economy. However, the crown jewel for any Communist Party leader, something that would ensure he is remembered forever in the annals of history would be to reacquire Taiwan.
People in Taipei are understandably getting nervous at the thought of their halfway house status, acting as the conduit for Western manufacturing in China, being erased. Mts. Treacy reported from her recent trip to Guangdong that Taiwanese business people are moving out and setting up shop in places like India or Vietnam. This article from Bloomberg highlights the fact that some highly successful entrepreneurs are selling up. Here is a section:
Much of the wealth on the island belongs to founders who never took their companies public, and some of them are now looking to cash out. Precision Motion Industries Inc., a supplier to the semiconductor industry whose shareholders include Pai Young-yao, is seeking a buyer in a deal that would value the company at $1 billion, according to people familiar with matter.
If Taiwan's wealthiest most connected people are voting with their wallets that is a clear indication that the deepening geopolitical threat China represents is going to be most acutely felt by its nearest neighbours and those who have the biggest investments in mainland China.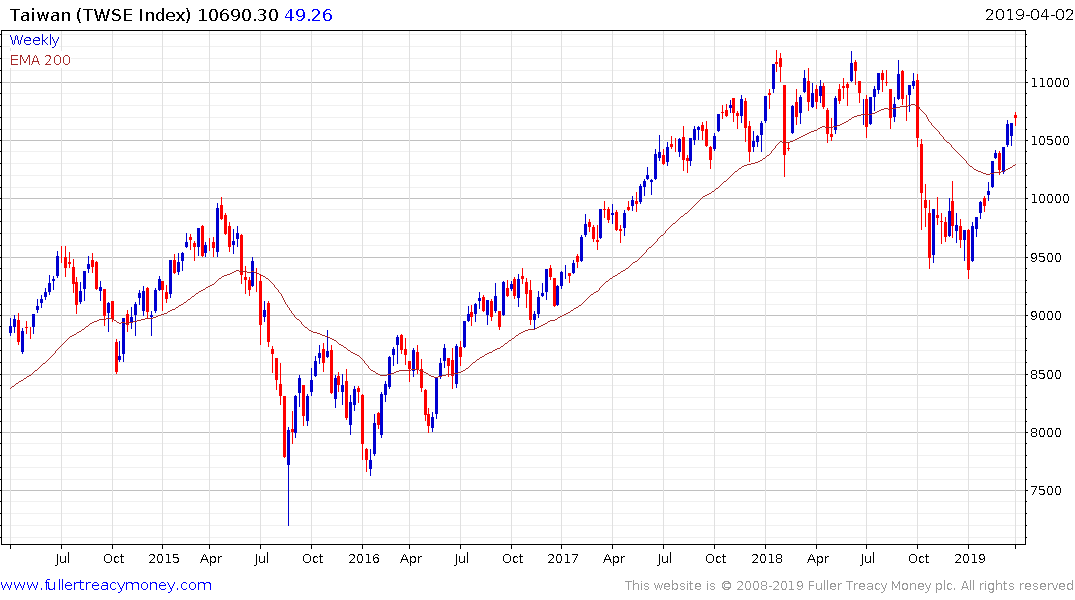 The TAIEX Index ranged below 10000 between 1990 and 2017. It appears to be putting a first step above that long base at present and rebounded impressively from January lows.
Back to top