Tactical US Themes Monthly
Thanks to subscriber for this report from UBS which may be of interest. Here is a section:
Applications for 5G are expected to include autonomous driving, the massive internet of things (IoT) and telemedicine, mobile and fixed broadband, among others.

• Investor perceptions of 5G are tracking prior cycles of early excitement followed by skepticism. While there are certainly technologic and economic hurdles to overcome, we view the global 5G build-out as inevitable and see the current sentiment as an attractive opportunity.

​• The 5G build-out will take a number of years before consumers fully realize its benefits. However, we believe the "inevitability" of 5G relative to investor skepticism creates an attractive opportunity in companies leveraged to infrastructure. We believe infrastructure companies will benefit from 5G before smartphone-focused companies.
Here is a link to the full report.

The big difference 5G offers over existing infrastructure is that it eliminates lag. One of the limiting factors behind current wireless technology is the time it takes to upload a file versus downloading it. That slows down two-way communication. Anyone who had ever played an online multiplayer game is familiar with lag because one's character can hang on the screen while the connection tries to catch up with the activity. During that time you often end up getting killed by someone with a better connection.
That might sound trivial but it is an important limitation on the development of real time monitoring for all manner of machines, processes and on-the-fly calculations. Autonomous vehicles are the big promise everyone understands but creating an internet and interconnected automotive fleet is an extremely challenging task that will require significant outside-the-box thinking to achieve.
It is much more likely that the first big use of 5G will be to further enhance remote work. Whether that is remote surgeries via robots, remote maintenance of difficult to reach equipment or real-time feedback from vital pieces of machinery like planes and military hardware, the elimination of lag will open up significant opportunities.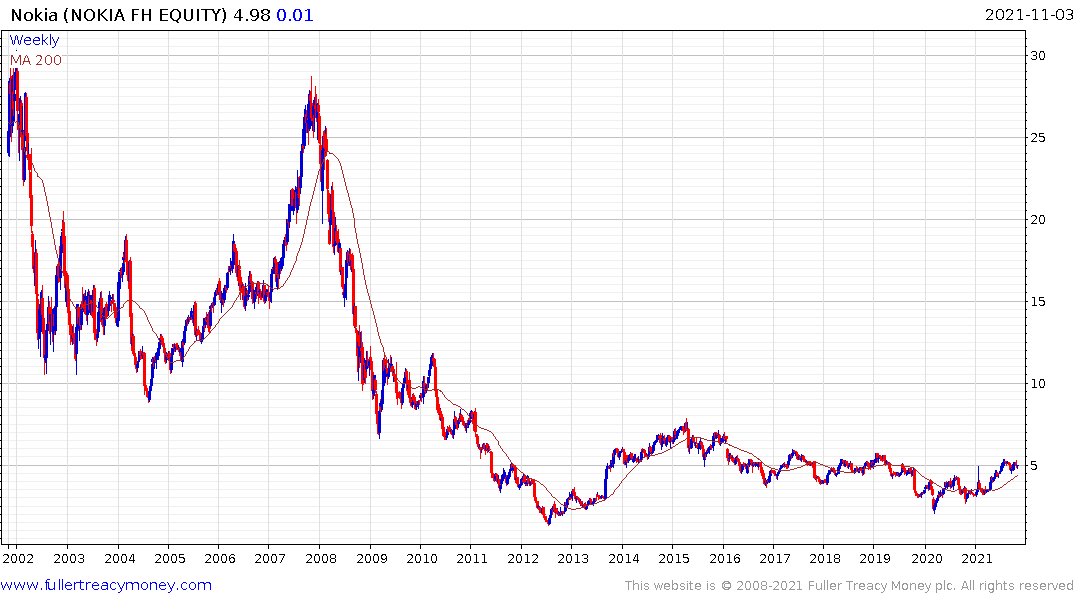 Nokia has often been associated with the 5G trend but the share has yet to shine. It is currently firming from the region of the trend mean.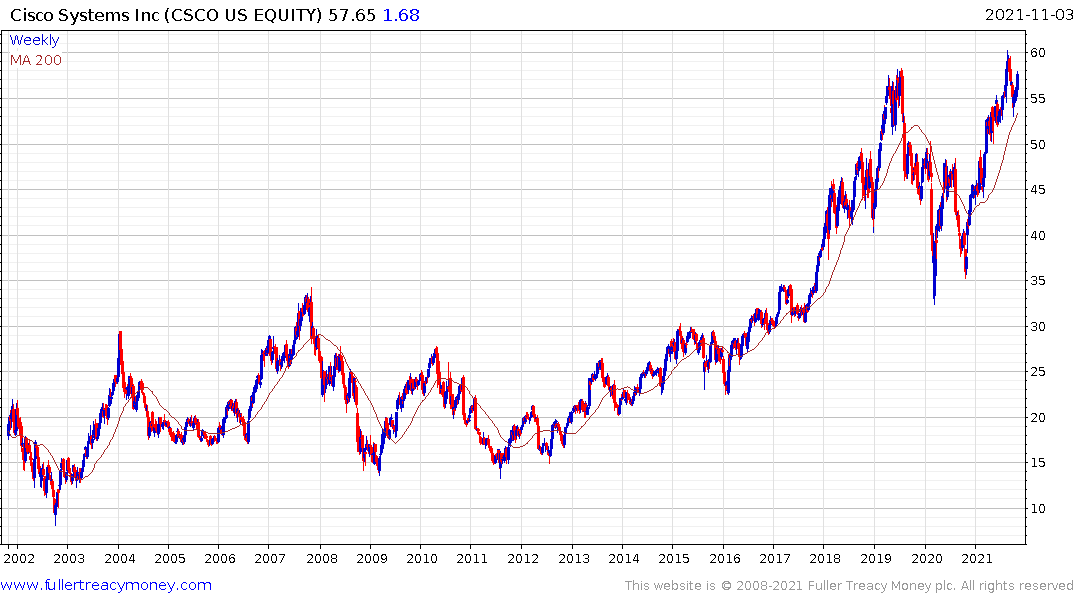 Cisco Systems built the original internet infrastructure and is also involved in building out the 5G network.
Back to top