Tackling the fungi that could wipe out the world's banana supply within a decade
This article by Michael Irving for Gizmag may be of interest to subscribers. Here is a section:
The most common type of banana the western world eats is the Cavendish, which is produced through vegetative reproduction – instead of growing from seeds, cuttings of the plant's shoots are replanted and cultivated, making all Cavendish bananas essentially "clones" of one specific plant. Without genetic variety, as diseases gain a foothold over the fruit, they're equipped to potentially take out the entire worldwide crop.

"The Cavendish banana plants all originated from one plant and so as clones, they all have the same genotype – and that is a recipe for disaster," says Ioannis Stergiopoulos, plant pathologist at UC Davis.

Currently, close to 120 countries produce about 100 million tons of bananas each year, but 40 percent of the yield is spoiled by Sigatoka, a fungal disease complex comprised of three strains: yellow Sigatoka, black Sigatoka and eumusae leaf spot. To combat the ever-present threat, farmers need to apply fungicide to their crops 50 times a year, which isn't only costly, but can pose a threat to the environment and human health.

"Thirty to 35 percent of banana production cost is in fungicide applications," says Stergiopoulos. "Because many farmers can't afford the fungicide, they grow bananas of lesser quality, which bring them less income."
The susceptibility of bananas to bacterial attack, due to their lack of genetic diversity, puts me in mind of the Irish potato famine where reliance on a single breed of tuber left the population bereft of a major portion of their diet when blight destroyed the crop. Of course no one is as heavily reliant on bananas yet they do form a constituent part of many people's diet globally. It should be possible, given today's technology, to protect the crop from infection and potentially even enhance yields which could flatter profitability for major producers.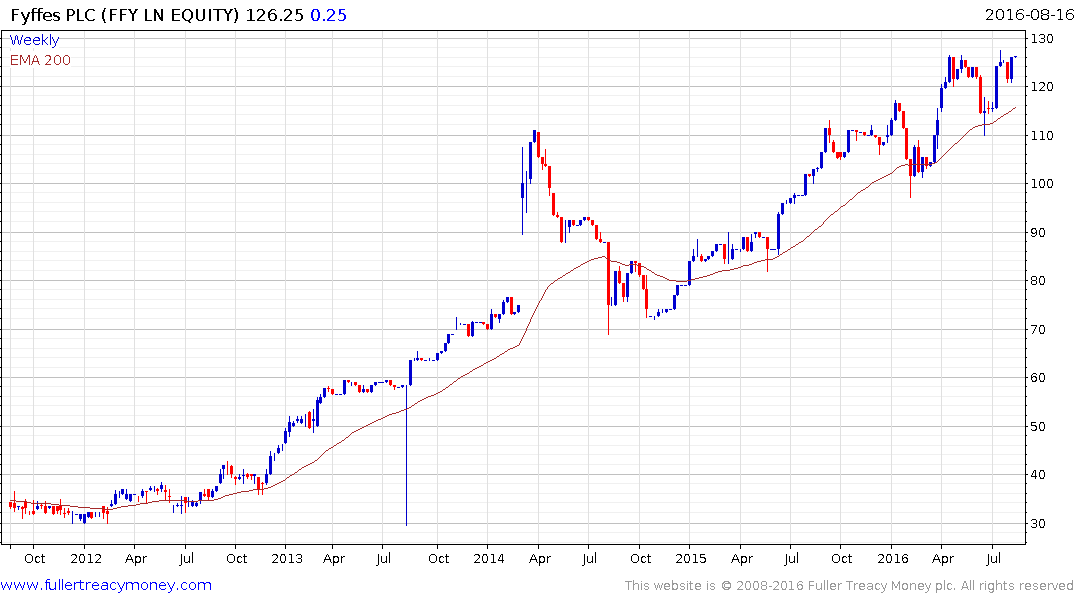 Irish and UK listed Fyffes (Est P/E 10.66, DY 1.71%) with a market cap of £376 million is not particularly liquid. However it remains in a consistent medium-term uptrend characterised by a succession of higher reaction lows where it has found support in the region of the trend mean on successive occasions.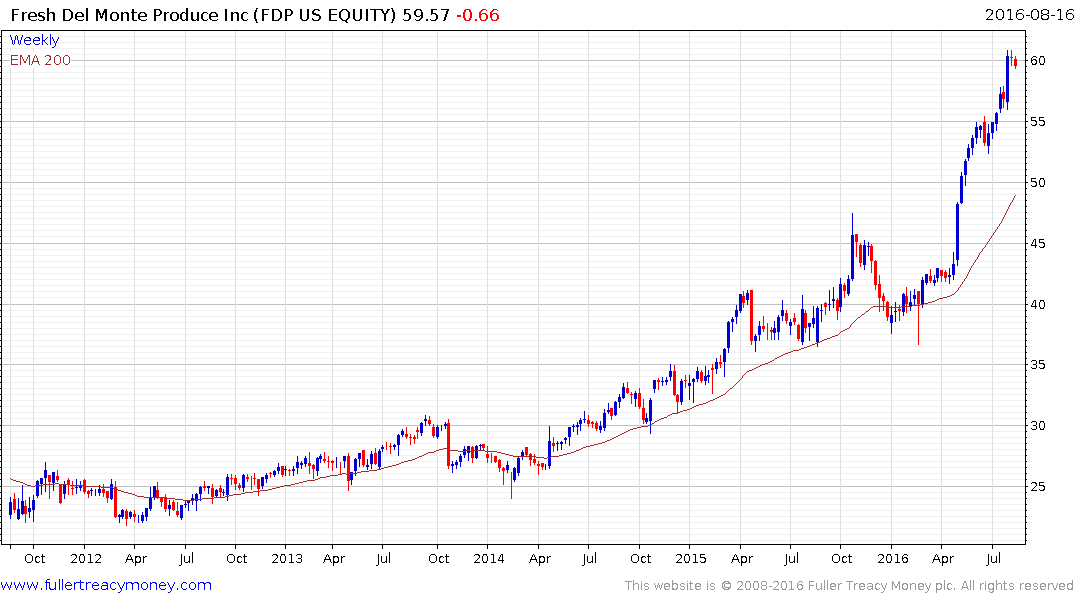 Fresh Del Monte Produce Inc, (Est P/E 14.63, DY 1.01%) had been trending higher in a reasonably consistent manner but began to accelerate from early April. It is now quite overextended relative to the trend mean and the first clear downward dynamic held for more than a few sessions will likely signal a process of mean reversion is underway.
Back to top