T-Mobile to Acquire Spectrum From Verizon for $2.4 Billion
This article by Cornelius Rahn and Scott Moritz for Bloomberg may be of interest to subscribers. Here is a section:
The transaction also may make T-Mobile a more attractive takeover target, said Markus Friebel, an analyst at Independent Research GmbH in Frankfurt. SoftBank Corp. has discussed merging T-Mobile with its own U.S. carrier, Sprint Corp., according to people familiar with the matter. The plan would be to take control of T-Mobile by paying cash for the 67 percent stake owned by Deutsche Telekom AG, said the people.

Today's deal "will make T-Mobile a more viable operator, but also a more attractive acquisition target," Friebel said in an interview.
Bandwidth is an increasingly important commodity viewed as indispensible by ever more people. The transition to 4G networks over the last few years has made accessing the internet from mobile devices just as easy as from a desktop and has been one of the primary drivers in demand for newer smart phones. The small number of companies controlling access to the internet via mobile devices represents an oligarchy not least because the barrier to entry is so high.

The utility-like characteristics of these companies allows the two dominant players, Verizon Communications (4.33%) and AT&T (5.26%) to pay attractive dividends. Verizon is currently testing the region of its 200-day MA, having rebounded from its 2013 lows. AT&T has been ranging for a year and is currently rallying from the lower side.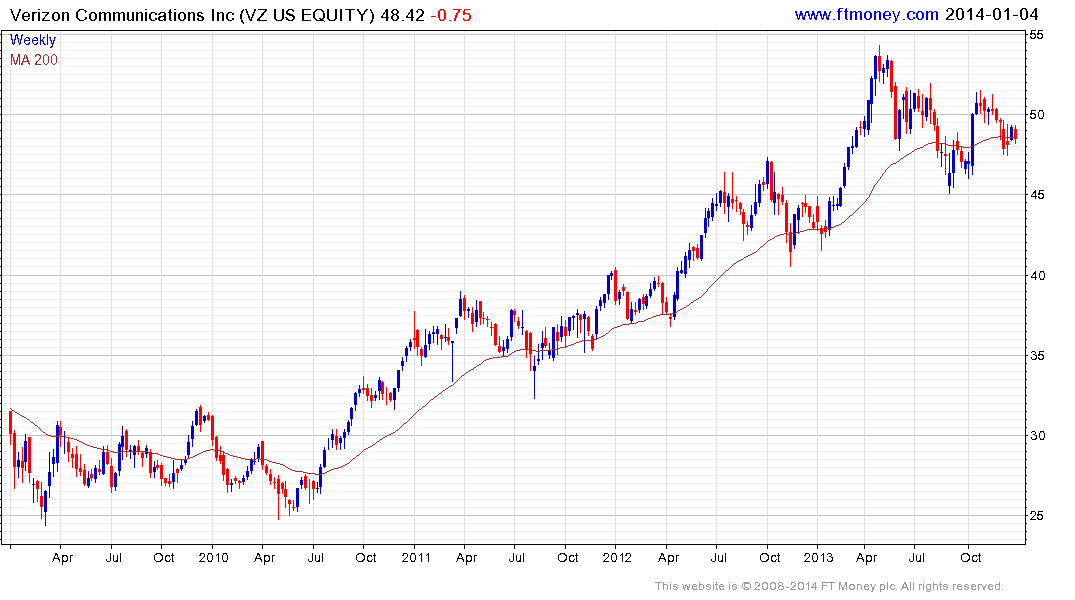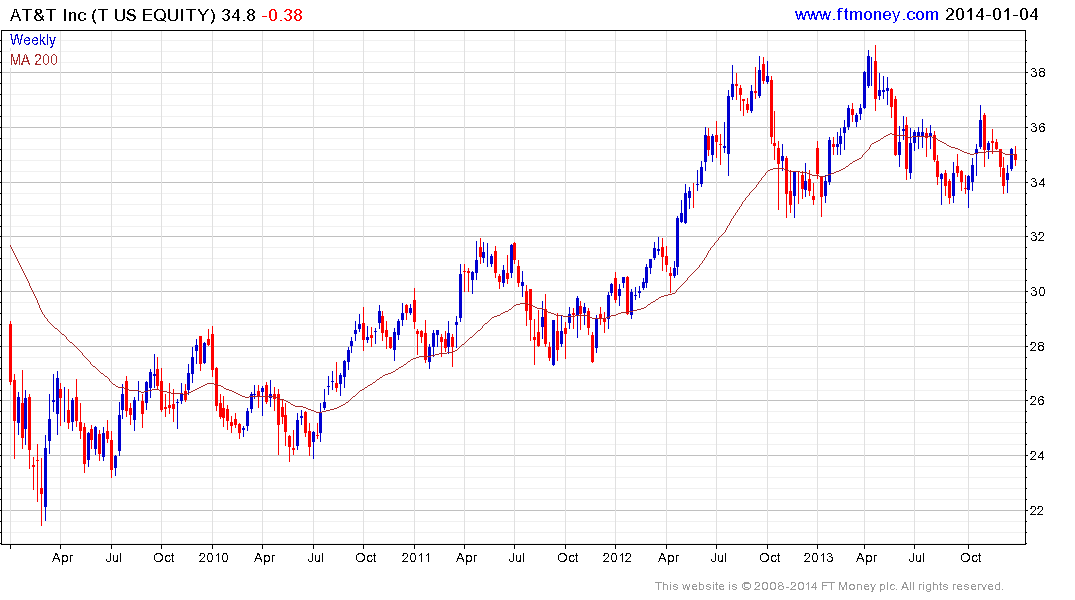 Both Sprint and T-Mobile have struggled with profitability and neither pays a dividend. Sprint is unwinding an overextension relative to the 200-day MA, following an impressive rally. T-Mobile retested its 2010 lows in 2012 but has held an upward bias since. While somewhat overextended at present, a sustained move below the 200-day MA would be required to question medium-term recovery potential.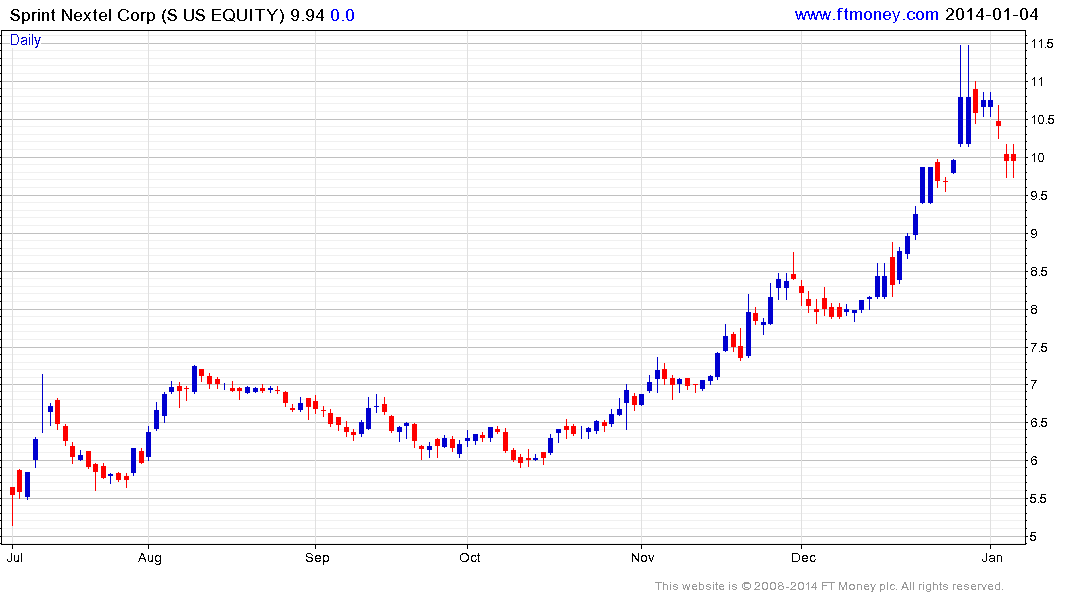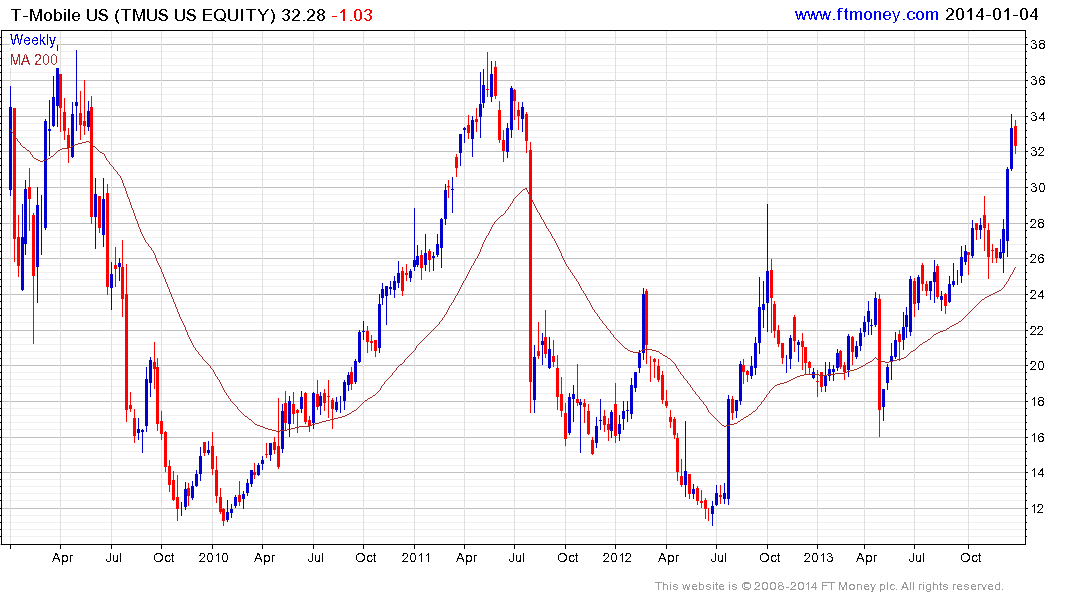 The revolution in mobile media has opened up fresh markets for the providers of content which continues to fuel powerful rallies for related companies. Dish Networks is now accelerating higher while Netflix, with a forward P/E of over 190, is looking expensive.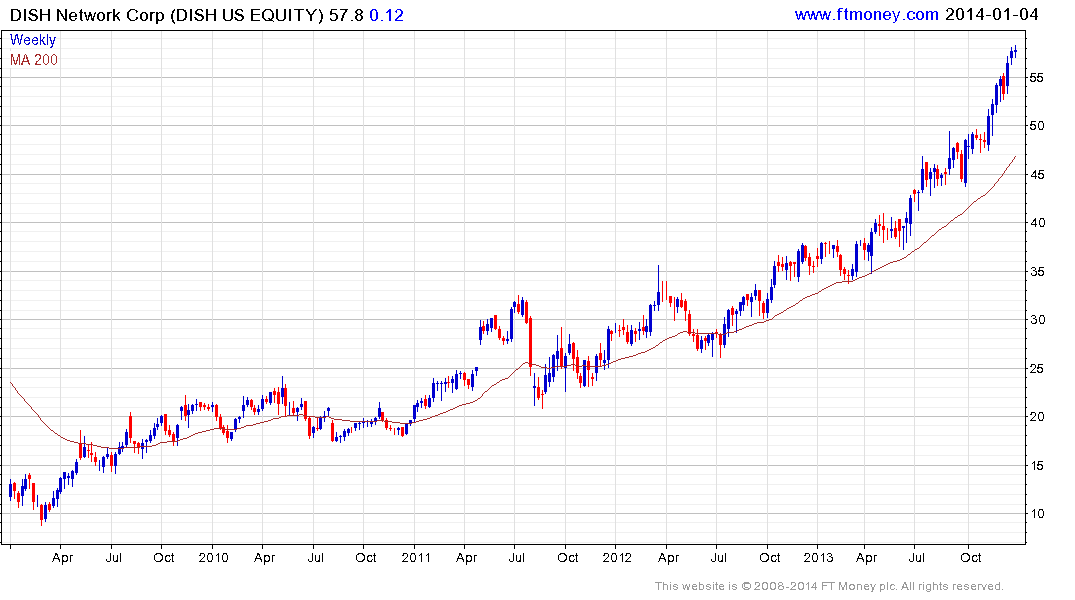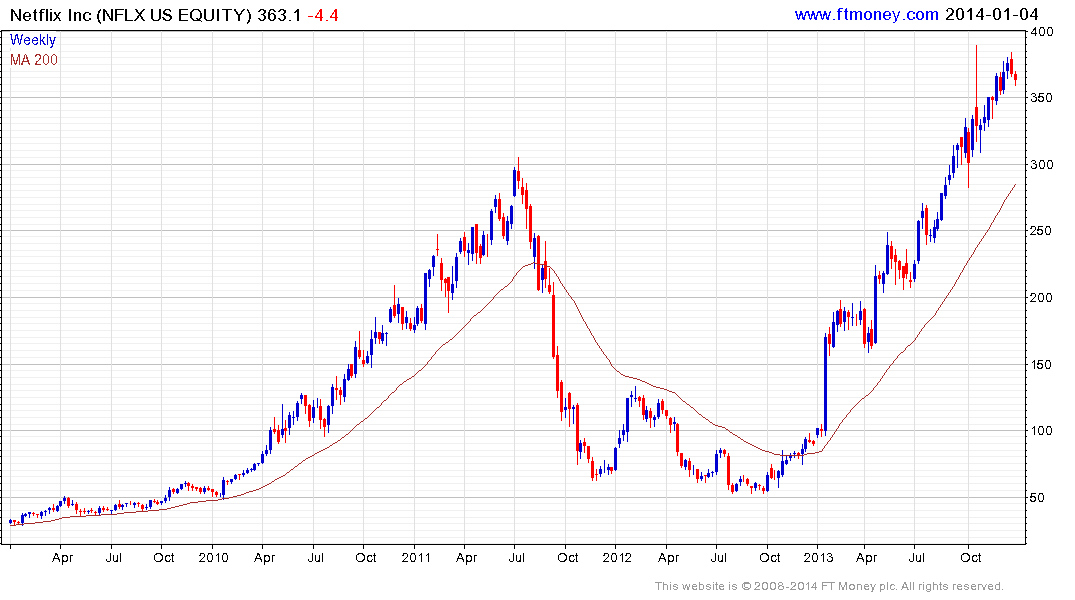 CBS, Viacom, Time Warner, Walt Disney and Twenty First Century Fox all continue to hold consistent progressions of higher reaction lows which would need to be broken to begin to question medium-term demand dominance.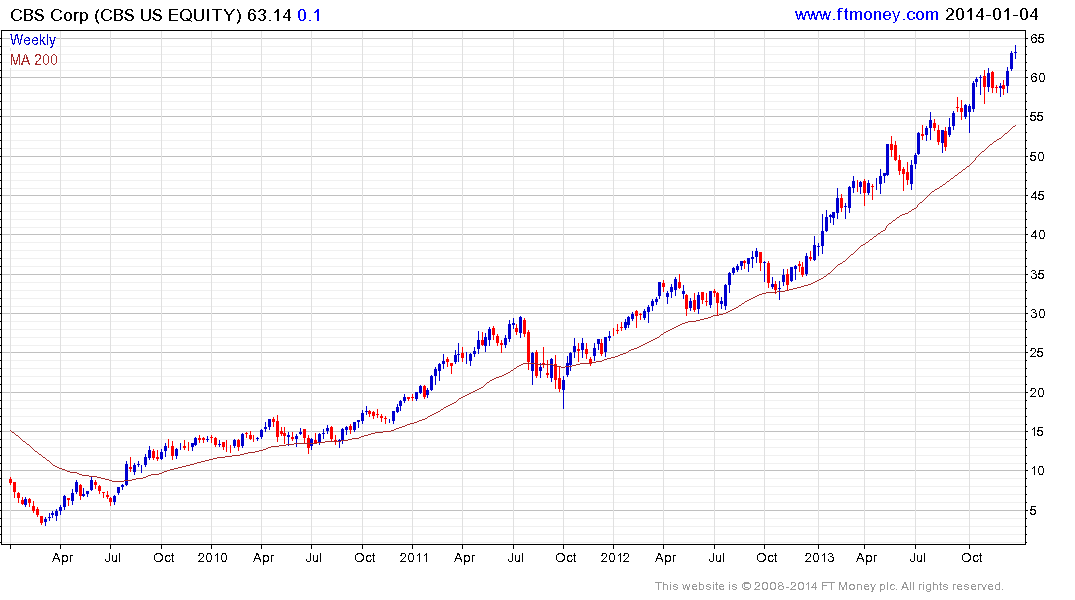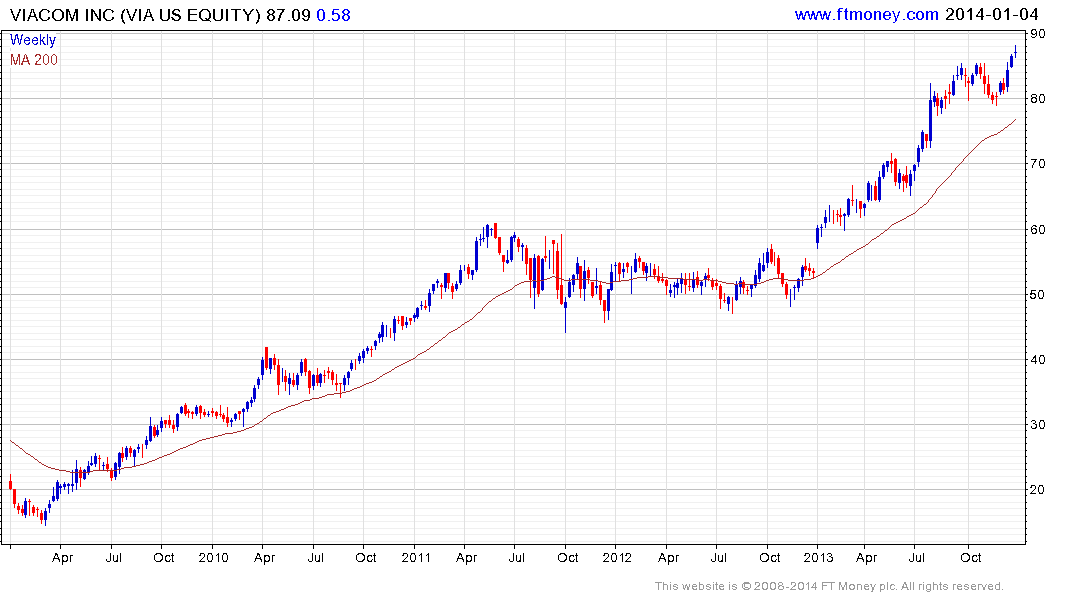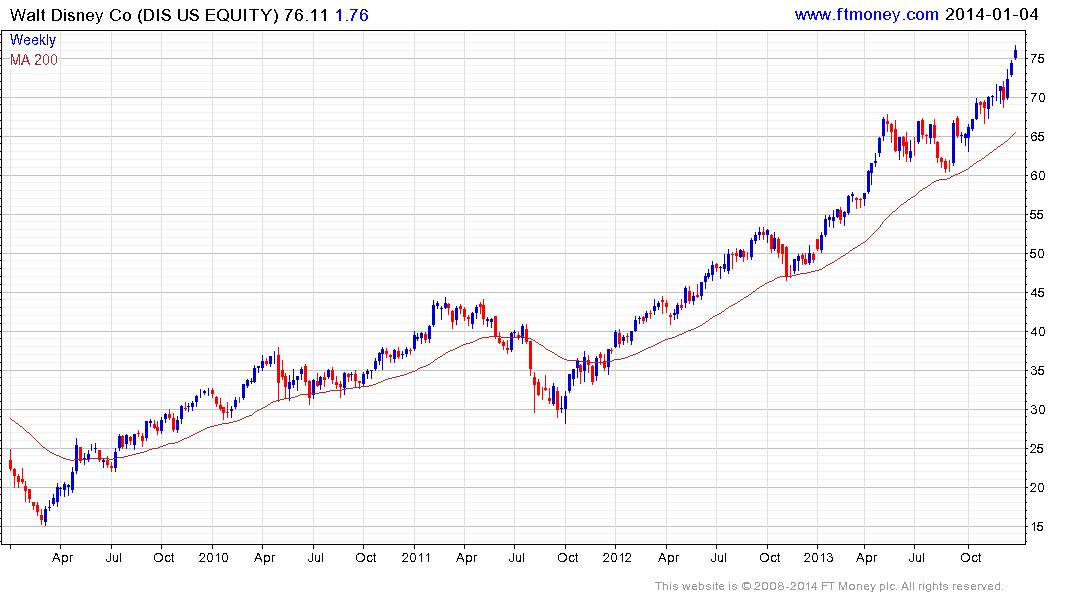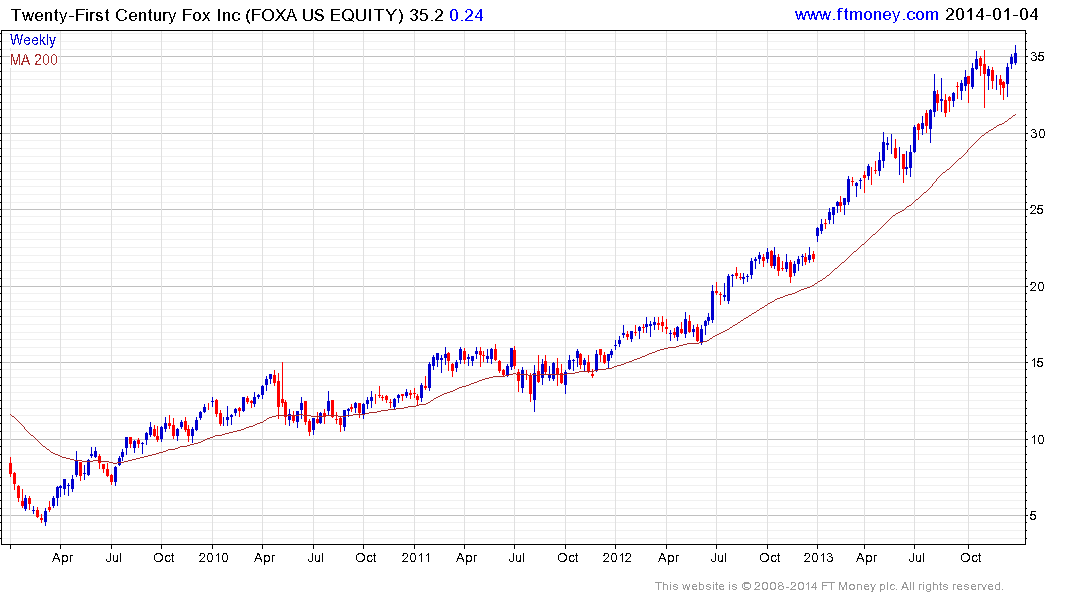 Back to top