Supersonic. Hypersonic Is the U.S. Military's New Speed
This article by Justin Bachman for Bloomberg may be of interest to subscribers. Here is a section:



Boeing Co.'s XS-1 (Experimental Spaceplane), which the company dubs "Phantom Express," got a green light this week by the Defense Advanced Research Projects Agency, or Darpa. The XS-1 is designed to quickly lift satellites as heavy as 3,000 pounds into orbit for $5 million or less, launching from the ground, deploying a small upper-stage module, and then landing like a traditional airplane—the key to reuse and lower operating expense. Darpa also has a separate program aimed at launching 100-pound satellites for less than $1 million per launch, using conventional aircraft.

"The XS-1 would be neither a traditional airplane nor a conventional launch vehicle but rather a combination of the two, with the goal of lowering launch costs by a factor of ten and replacing today's frustratingly long wait time with launch on demand," Jess Spoonable, a Darpa program manager, said in a May 24 statement.
It has long occurred to me that the stealth bomber had its maiden flight in the late 1980s, but only entered service years later. Then I think about how different the original iPhone is from what I carry around. https://en.wikipedia.org/wiki/Boeing_X-37

The Boeing X-37 space drone had its maiden flight in 2006 and the XS-1 appears to be a further iteration of that design. These evolving technologies from the defense sector are but one aspect of the emerging space sector which is increasingly being pioneered by private companies like SpaceX, Blue Origin and Virgin Galactic.

They also represent the public face of what is under development but we can also be assured that there are additional programs which are equally advanced and much less public.

Space is both an emerging commercial and military asset and the defense sector is the clearest avenue for investment. Due to the evolution of nanosatellites the satellite sector is in a state of flux with a significant number of legacy companies in a state of financial duress at present.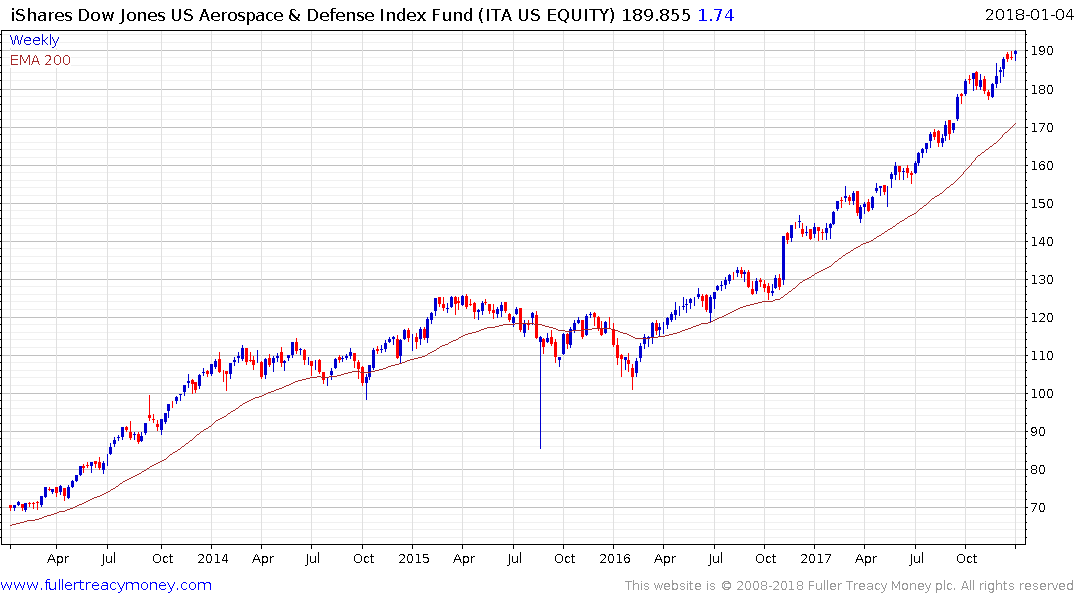 The iShares DJ US Defense and Aerospace ETF remains in a reasonably consistent uptrend but is currently somewhat overextended relative to the trend mean.
Back to top