Superpower India to Replace China as Growth Engine
This article by Michael Heath for Bloomberg may be of interest to subscribers. Here is a section:
``India will account for more than half of the increase in Asia's workforce in the coming decade, but this isn't just a story of more workers: these new workers will be much better trained and educated than the existing Indian workforce,'' said Anis Chakravarty, economist at Deloitte India. ``There will be rising economic potential coming alongside that, thanks to an increased share of women in the workforce, as well as an increased ability and interest in working for longer. The consequences for businesses are huge.''

While the looming 'Indian summer' will last decades, it isn't the only Asian economy set to surge. Indonesia and the Philippines also have relatively young populations, suggesting they'll experience similar growth, says Deloitte. But the rise of India isn't set in stone: if the right frameworks are not in place to sustain and promote growth, the burgeoning population could be faced with unemployment and become ripe for social unrest.
India has lots of young people who urgently need work and millions more entering the workforce over the coming decades. Little wonder China is racing to move up the value chain in manufacturing and employing robots to boost productivity. Competition for the moniker of workshop of the world is heating up and India has a fighting chance at providing competitive low-cost labour, with no language barrier, to the world's manufacturers of low cost goods, many of whom are owned by China. The key to achieving that kind of growth in employment will be heavily dependent on standards of governance improving.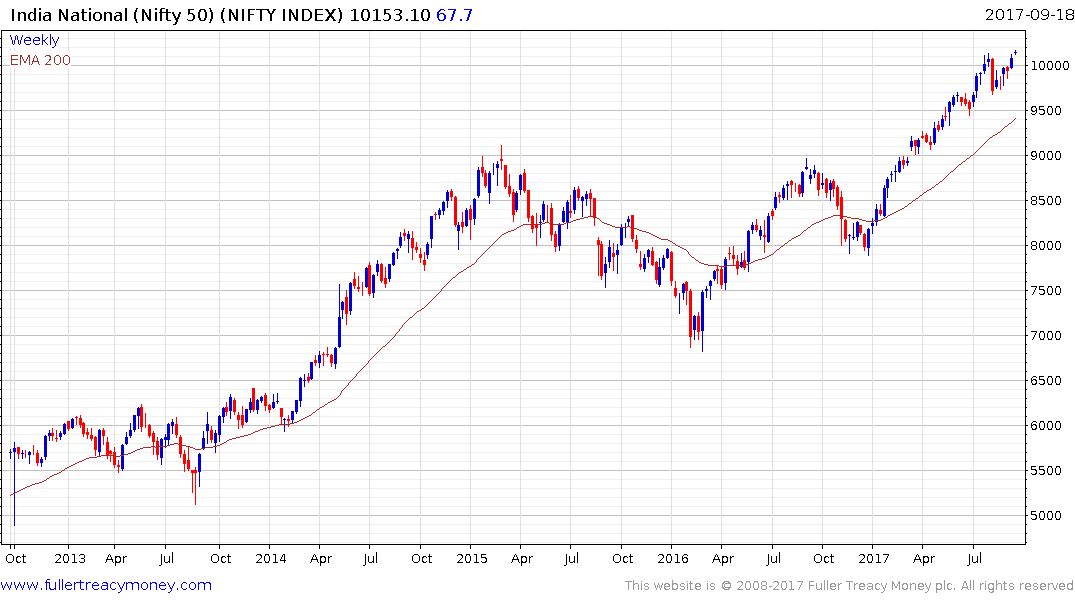 The Nifty Index has been ranging in the region of the psychological 10,000 since July but moved to a new all-time high today. The trend since early this year has been reasonably consistent with the most recent consolidation being somewhat larger than others posted to date. A sustained move below the August low near 9600 would be required to question medium-term scope for additional upside.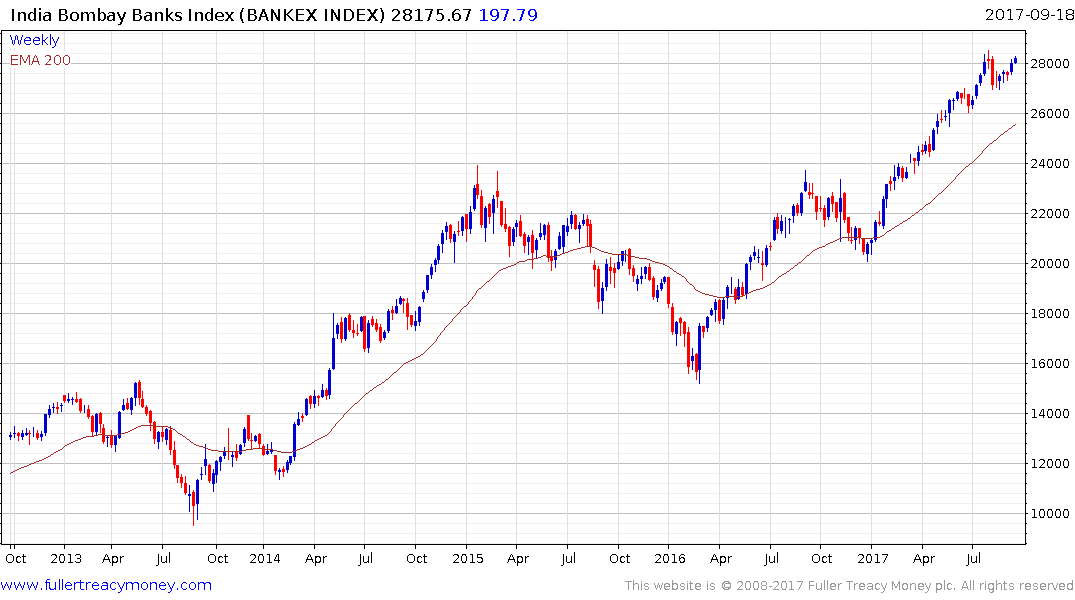 The Bombay Banks Index has lagged somewhat but is now rallying back towards its peak.
Back to top