Sunak's Tax Choices to Fix U.K. Debt Range From Wealth to Fuel
This article from Bloomberg may be of interest to subscribers. Here is a section:


A more innovative and potentially hugely controversial option that could seek to address growing U.K. inequality would be a wealth tax. Last year, the independent Wealth Tax Commission said the
U.K. could raise more than 260 billion pounds with an annual charge of 1% lasting five years on individual assets above 500,000 pounds. About 8 million residents would be affected.

Wait and See
Sunak could also decide that it's too early to raise taxes, choosing to tolerate a higher debt load until the U.K.'s recovery is assured. That tactic was mooted last week by a Treasury minister who suggested hikes could be avoided should the economy stage a strong rebound.

"It's not absolutely obvious therefore that there may be any future need for consolidation, depending on the view you take for taxes," Financial Secretary to the Treasury Jesse Norman told the House of Commons Treasury Committee. That approach, which removes the risk of premature tightening that could choke off growth, could be achievable after Bank of England bond purchases to stimulate the economy drove U.K. debt-servicing costs below pre-pandemic levels, despite the borrowing splurge.
The prospect of a wealth tax would in all likelihood raise important questions about the attractiveness of London as a bastion for the world's wealthy. It would also enhance the subjects of the tax to decamp to sunnier climates.
Every one of the potential levers for higher taxation revenue represents a difficult decision. If I had to guess, some form of carbon tax on individuals is much more likely. Each of us is an emitter and we will end up paying for the original sin of simply existing. That's going to be contentious but it will be couched in the verbage of saving the planet.
In the meantime it is much more expedient to wait and see how things pan out after the pandemic has downshifted in the list of potential worries. That pretty much ensures the UK will not be raising taxes any time soon and Modern Monetary Theory will continue to take its place. With so much uncertainty about the trajectory of the economy during the pandemic and post Brexit it would be madness to attempt fiscal consolidation.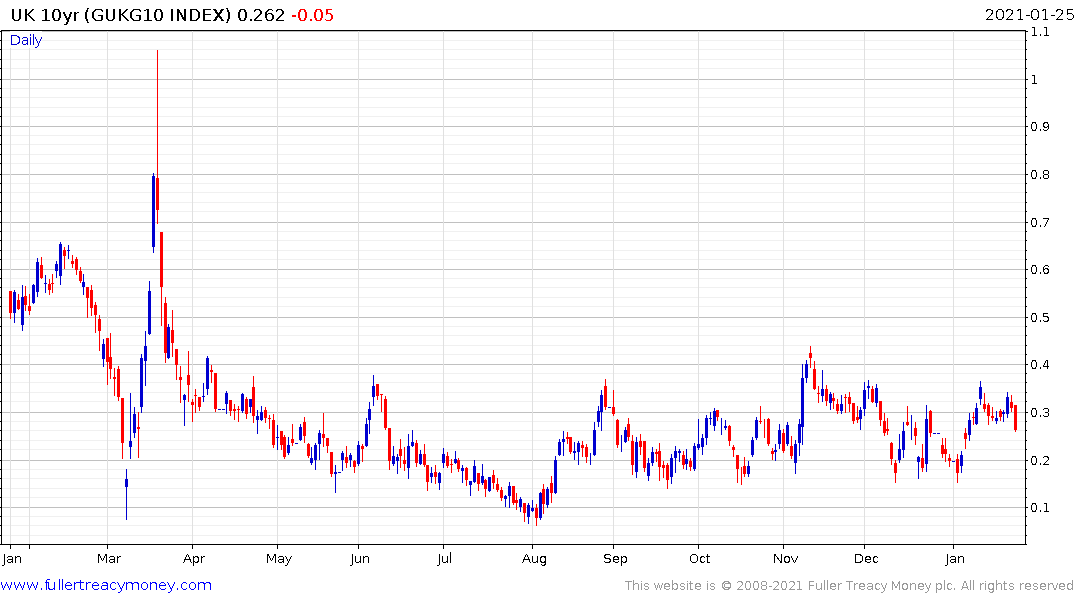 The UK 10-year Gilt has been ranging below 40 basis points since April and is currently contracting from that level again. Investors continue to bet that the UK will eventually have little choice than to follow the EU into negative interest rate territory.
Back to top