Sudden HSBC, Diageo Swings Spur Speculation of Trading Error
This article by Inyoung Hwang, Howard Mustoe and Sarah Jones for Bloomberg may be of interest to subscribers. Here is a section:
The moves in HSBC and Diageo were large enough to trigger trading halts designed to prevent excessive volatility. U.S. exchanges introduced circuit breakers in June 2010 on individual securities that temporarily pause stocks across markets when shares move 10 percent in five minutes. The rule, since modified, was implemented in response to the May 2010 crash that erased $862 billion in equity values in 20 minutes.

An LSE spokesperson declined to comment on the moves in HSBC and Diageo shares. Donal McCarthy, a spokesman for HSBC in London, and Diageo's Camille Dor declined to comment.

"Both cases bear the traditional hallmarks of a 'fat finger', as the stock prices quickly corrected themselves," Saul Taylor, vice president and equity trader at ConvergEx Ltd. In London, said in an interview today. "It is highly likely that a trader, with direct-market access to the LSE, released large orders at market, in error."
Automated trading systems tend to rely on volatility metrics to size positions and to ensure they do not open themselves up to unacceptable risk. However when volatility spikes, particularly after a reasonably quiet period, the risk of one or more of these types of operation causing erratic trading increases. Diageo and HSBC represent just such examples today.
Following such events the question always arises as to whether the intraday data should be considered relevant or ignored. Generally speaking while investors have become somewhat conditioned by occasional wild intraday swings, the net effect is that these events are not positive for sentiment.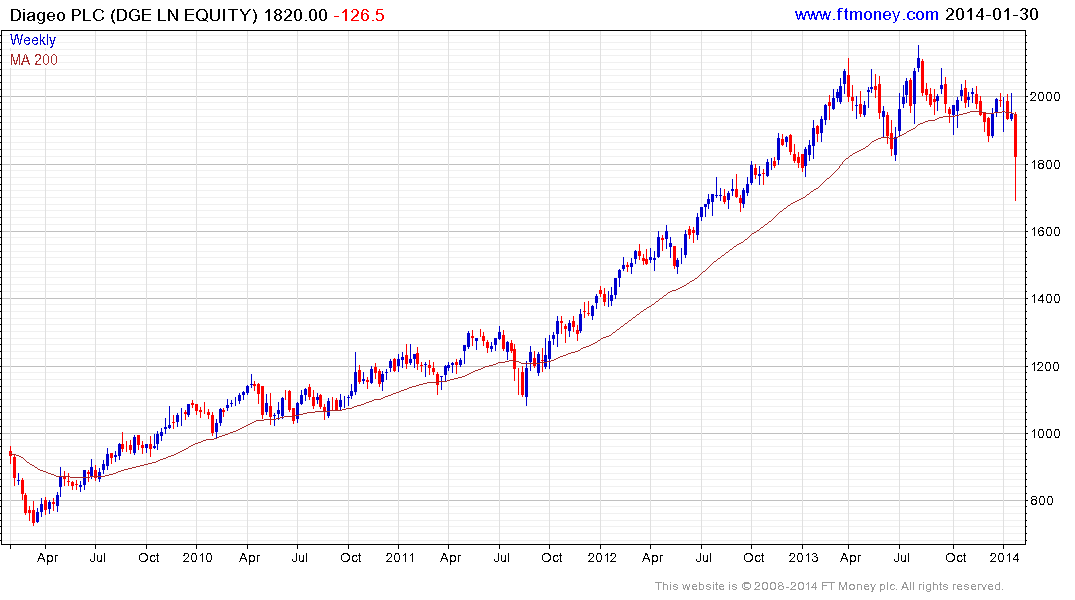 Diageo closed off its intraday low today but the most important characteristic on the chart is the loss of momentum evident over the last year and the break in the progression of higher reaction lows. A sustained move back above 1950p would be required to suggest demand is returning to dominance beyond short-term scope for a bounce.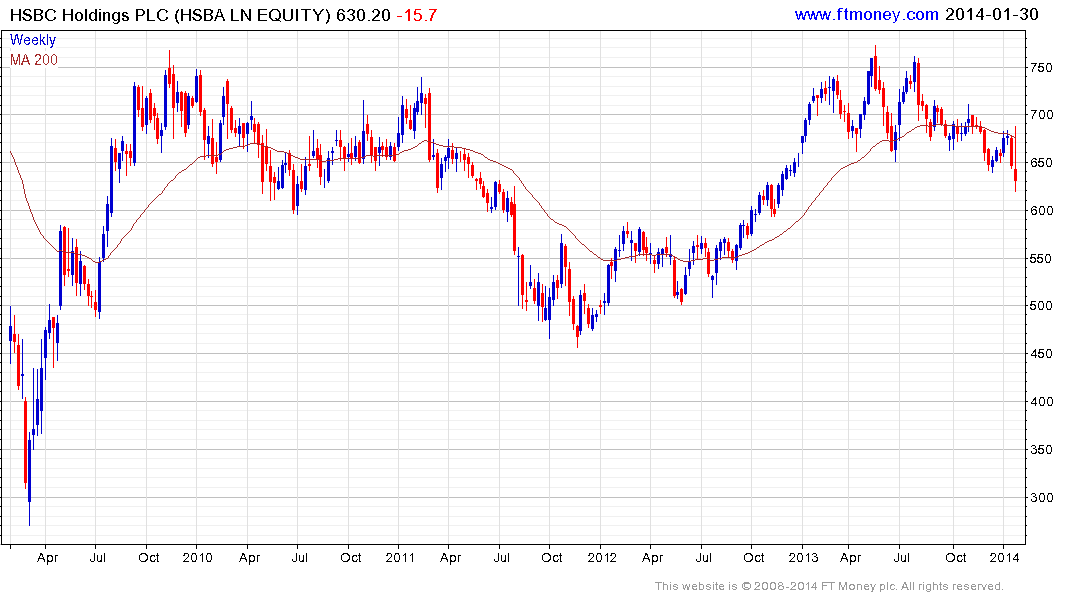 HSBC failed to sustain a breakout to new multi-year highs in May, forming a downside weekly key reversal in the process. The share has held a progression of lower rally highs since and these would need to be broke to question the downward bias.
Back to top