Stuck in neutral: A call for partnership working on river quality and water quantity
This article from Local.gov.uk may be of interest. Here is a section:
Around 20,000 new homes a year have been put on hold as a result legal protections to clean and protect our precious water ways. This report explores the challenges that councils and other stakeholders are facing and sets out recommendations for action.
The idea of delaying home construction because of the impact on waterways gives the impression these are riverside apartments. That seems quite unlikely.
Instead, it is more probable that the construction material manufacturing facilities are at risk of leaking into rivers.

Alternatively, the sewage systems for new construction housing are not sufficiently modern to reduce effluent into rivers.

At worst, housing construction in one part of a county is being delayed because of a need to reduce total emissions in the rest of the county with no link between the construction site and the river being protected.
The statement in this report that only 16% of rivers are in their natural state is a nonsense statement. Draining of the Fens, building a national canal network and more recently hydroelectric power mean the UK's waterways will never return to their natural state.
This kind of bureaucracy is how elections are won and lost. Housing prices are trending lower in the UK as interest rates hikes spike mortgage rates. At the same time, floating rate mortgages put homeowners under pressure.
Building additional domiciles is simultaneously essential to help reduce pressure on renters, so this problem will need to be addressed.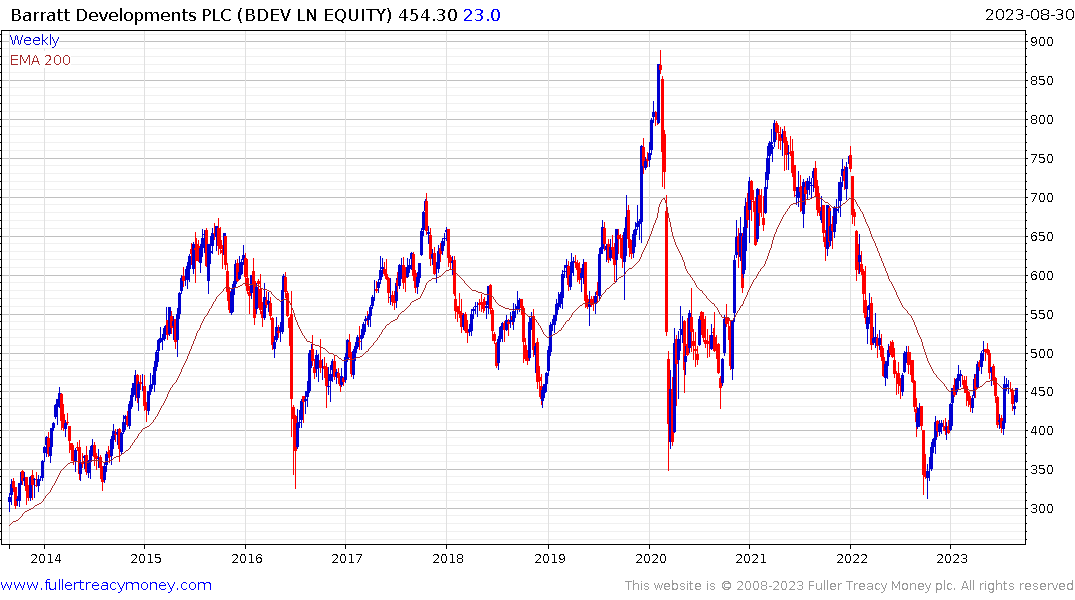 The Bloomberg UK Homebuilder Index is firming from the lower side of its developing Type-2 bottom. Barrett Developments shares a similar pattern.
Back to top