Stock Rally in India Faces Hurdles Despite World-Beating Growth
This article by Ravil Shirodkar and Nupur Acharya for Bloomberg may be of interest to subscribers. Here is a section:
About three-fourths of 50 Nifty members reported results that either beat or met earnings estimates in the June quarter, the highest proportion in at least three quarters, according to calculations by Bloomberg Quint. The "upcycle could be quite significant, a contrast to most parts of the world" as the share of corporate profits in India's GDP is close to all-time lows, according to Morgan Stanley. For now, the rally has outpaced the outlook for profit growth, with UBS saying consensus earnings for Nifty are likely to be cut 7-8 percent.

Premium Soars
While Indian equities have traditionally traded at a premium to Asian peers because of the nation's potential for faster economic growth, the valuation gap between MSCI India Index and MSCI Emerging Markets Index has widened to the highest in a decade, Citigroup Inc. said in an Aug. 20 note. Global uncertainties and rich valuations before a general election next year are "enough reasons to be cautious in equities," the bank said.
India is a high growth market with a well-established domestic consumer market and is in the middle of a digital revolution following the rollout of 4G mobile internet. However, that does not mean it is immune from the occasional bout of volatility.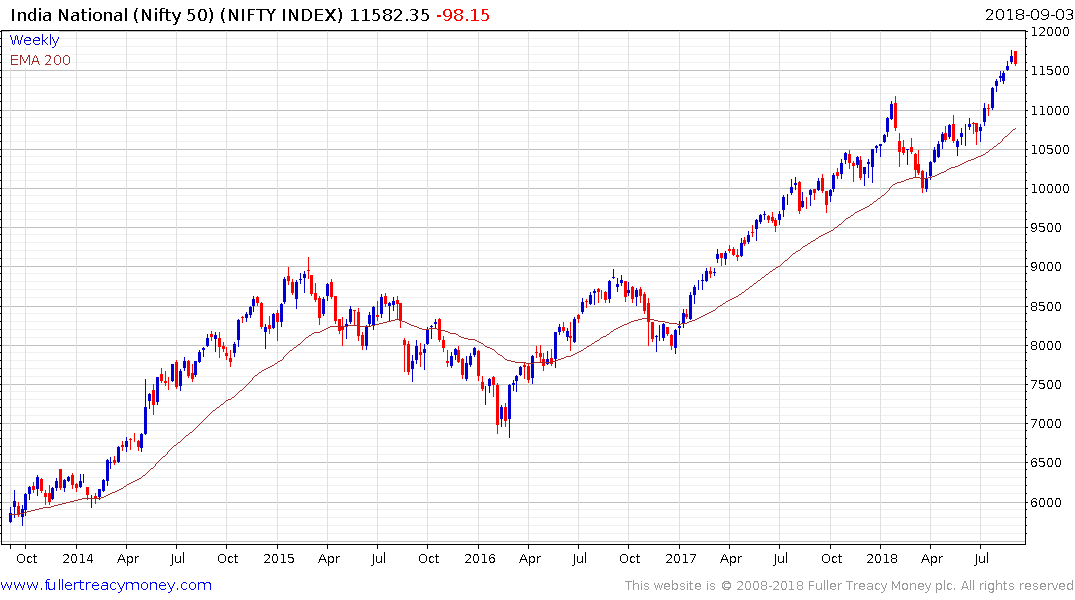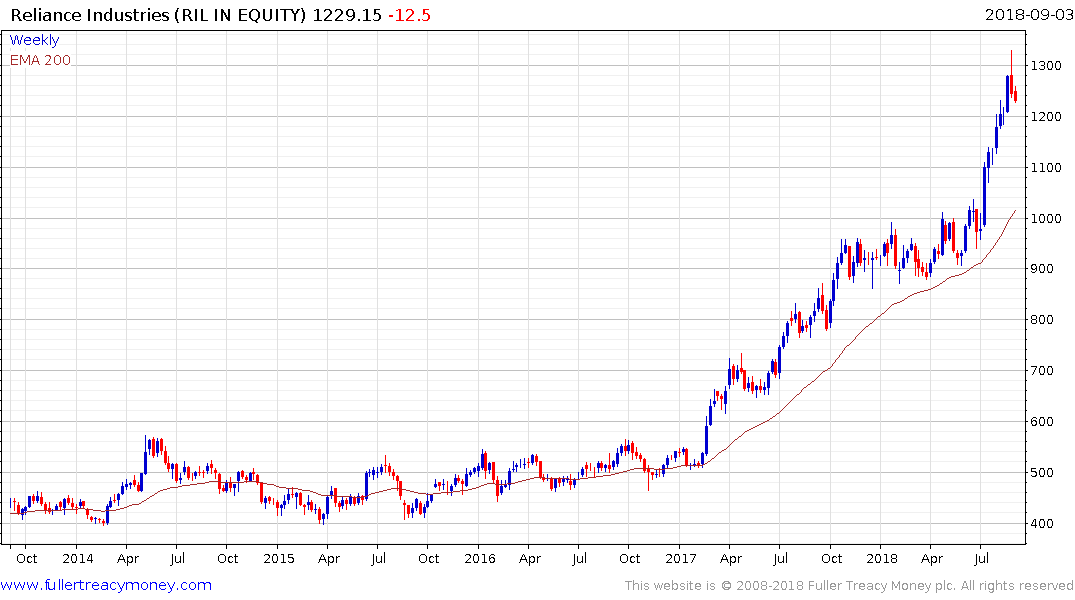 Reliance Industries is the largest share in the country and has been leading the market higher. Following its explosive breakout, some consolidation of the short-term overbought condition is now underway.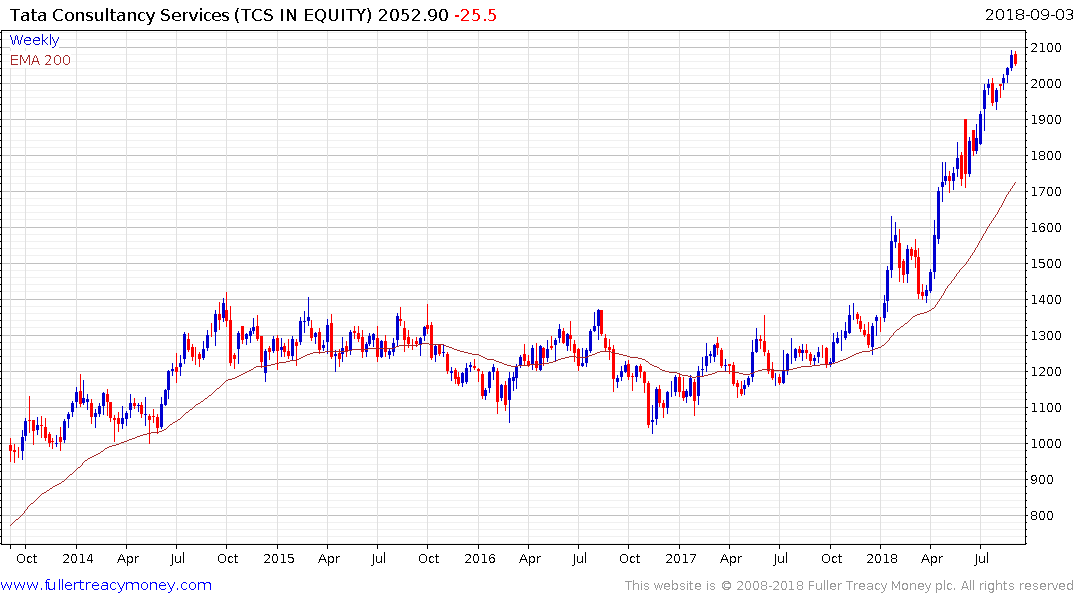 Amidst the coverage of tariffs on China there has been no commentary on the extent to which India benefits from offshoring. Tata Consultancy has also rallied impressively this year but is also now susceptible to some consolidation of that gain.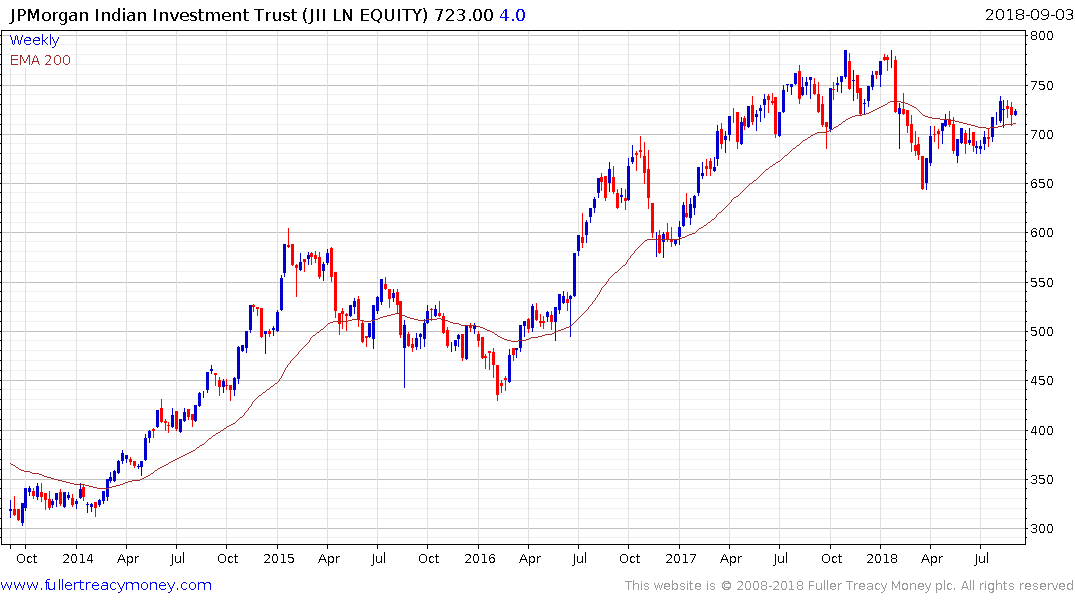 The JPMorgan India Trust is trading at a discount to NAV of 13.6% and continues to hold the move above the trend not least because of the weakness of the Pound.
Back to top