Stock Bulls in Trump Country Are Freaking Out Their Brokers
This article by Michelle Davis for Bloomberg may be of interest to subscribers. Here is a section:
The glittering rise has been irresistible to Americans of all political stripes, of course. Consumers' confidence in the stock market soared to a record high in January before fading in February after the market slumped 8.6 percent over a span of eight days. (And markets have begun gyrating again, triggered in part by Trump's plan to impose steel and aluminum tariffs.)

Among Trump's fans, though, trust in the firebrand politician as a stock-market bulwark easily endured the selloff, at least in San Angelo. During other routs, Edward Jones's Freeman said, "I had people wanting to jump out of windows. Not this time." This time, they kept buying. "I have to temper people," he said, without much success.

Neff, for one, is unyielding. So strong is his faith, in fact, that he can even get odd looks in the heart of Trump country when he starts talking about how much money he's investing in stocks -- including an additional $30,000 amid the February selloff.

"People look at me like a cow looking at a new gate." But to Neff, it's not complicated. "The economy's doing too good, and all the companies are making money."
One headline I saw this morning was something akin to the cry "Why do we need a Powell put when we have a Trump put?" That's a simple emotive rallying cry for retail investors who have seen the stock market do nothing but go up since the Presidential election. Quite whether it will continue to work following the shock and awe of the early February meltdown is another question entirely.
In the real estate market, I do not claim any special expertise but the house two doors down from me sold in less than four days, for above the asking price of $2.4 million. Of the forty or so houses on either side of my block 20% have sold in the last 12 months. There would appear to be a rush on to secure properties while interest rates are low, without giving much thought to the tax consequences of the loss of deductions for any property over an asking price of $750,000.
The Trump tax overhaul will fall particularly hard on those who relied heaviest on deducting state and property taxes, many of whom also own some of the most expensive property and have the largest stock positions.
Rather than focus too closely on the minutiae of these social trends, we can perhaps gain greater insight by zooming out and seeing them both as symptoms of a growing mania which has its genesis in the introduction of quantitative easing and the financial, economic and social unintended consequences it engendered.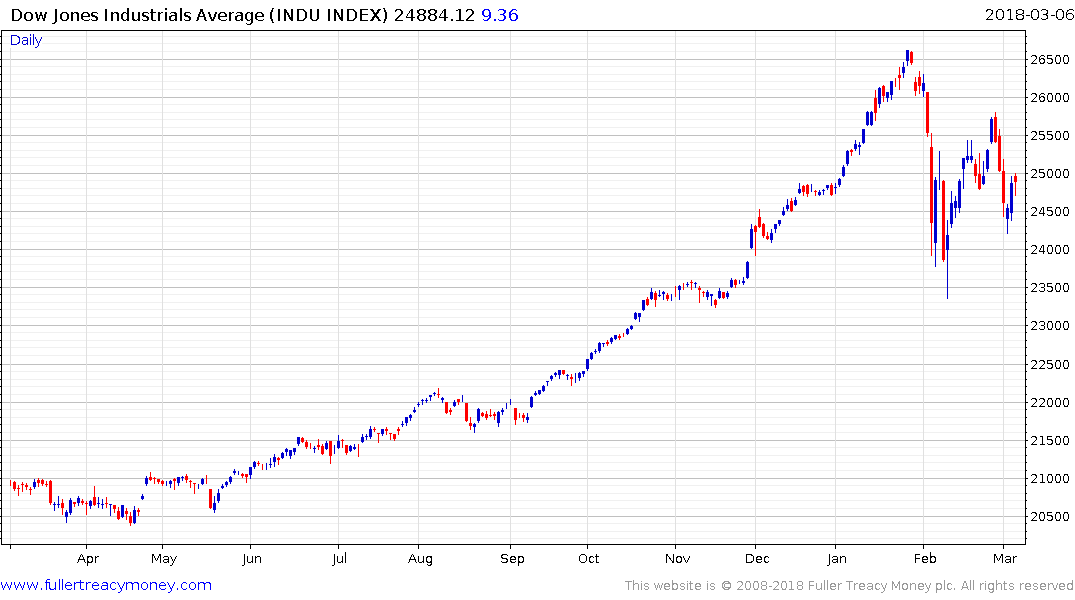 The Dow Jones Industrials Average accelerated to its January 26th 2018 peak and following the swift pullback has been ranging above the 200-day MA since. The 2015 reaction was in the region of 2500 points and the recent reaction has so far been similarly sized. Therefore, a sustained move below the February 9th low at 23360, would be required to question the potential for continued ranging.
Back to top