Starbucks Delivers the Wrong Kind of Jolt
This article by Sarah Halzack for Bloomberg may be of interest to subscribers. Here is a section:
So I'm paying more attention to the weak comparable sales guidance the company offered for the third quarter, and the factors it says have been weighing on sales of late.

Executives said Tuesday that in the U.S. market, Starbucks struggled to draw customers in the afternoons. This has been an ongoing problem for Starbucks, and executives haven't demonstrated they have a clear solution. They've recently put up some TV advertising emphasizing Starbucks as an afternoon destination, and perhaps we'll soon see payoff from that.

But it'd have an easier time luring people for more than just their morning caffeine fix if it could establish itself as more of a go-to for food, not just beverages. And speaking of its menu, the chain has work to do on its signature drink offerings, too. Look at what has happened to Frappuccino sales:

Perhaps this shouldn't come as a shock, given that Frappuccinos pack a lot of calories and customers are increasingly looking for healthy choices. But Starbucks needs some new hits to give people a reason to come back through its doors, especially with so many insurgent and boutique coffeehouses chasing the same customers.
Starbucks generates approximately 70% of its revenue from North America while 15% comes from China. The company's mix of coffee, sweet and/or fatty treats and free Wi-Fi was a winning strategy before the evolution of 4G and ubiquitous web access. It used to be that you would go to Starbucks to sit down, look cool and show off your new gadget while accessing the Wi-Fi. That's just not enough to inspire users any more.
A better sales strategy today would be to appeal to the selfie generation. More than a few buildings and mall operators are installing murals around Los Angeles to attract foot traffic from people who want to photograph themselves. Starbucks has a lot of very generic locations so the obvious sales strategy is to improve the food offering and the appeal of the locations.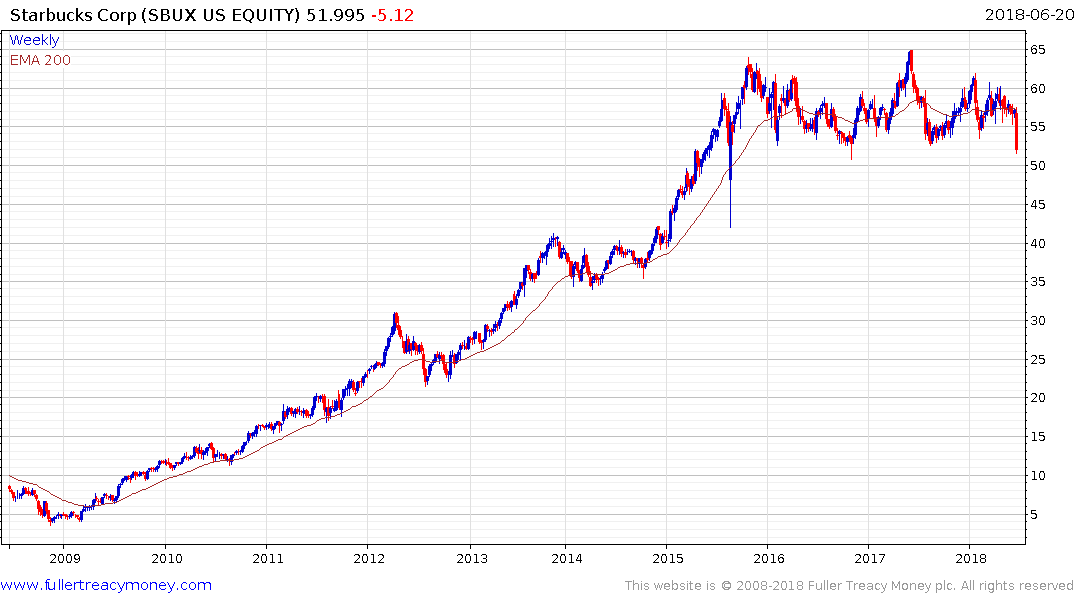 One of the biggest issues for the company is Howard Schulz just resigned and the new CEO is probably still finding his feet. The share trended higher in a consistent manner between 2008 and 2015 but has been confined to a range since. This range has the hallmark of a Type-3 top formation and today's downward dynamic takes the price back to the lower side of the range. It is going to have to rally smartly and soon if top formation completion is to be avoided.
Back to top