Sri Lanka says it will default on its foreign debt as the cost of food and food imports spirals, report says
This article from Bloomberg may be of interest to subscribers. Here is a section:
Nomura Holdings Inc. expects an "Ecuador-style debt restructuring" where the existing stock of bonds are exchanged into three longer-dated bonds with a reduction in coupon rates and some principal haircut, said Nicholas Yap, head of Asia credit desk analysts in Hong Kong.

Sri Lanka's foreign-exchange reserves slumped 16% to $1.94 billion last month. The government was due to make a $36 million interest payment on a 2023 dollar bond April 18, as well as $42.2 million on a 2028 note, Bloomberg-compiled data show. A $1 billion sovereign bond was maturing July 25.

The economic crisis has evolved into a political stalemate, potentially complicating efforts to negotiate aid. Mahinda Rajapaksa in a speech Monday night called on citizens to be patient as price surges and shortages worsen, while touting his family's role in ending a decades-long civil war back in 2009. His brother, the president, has said he won't resign under any circumstances.

The government hasn't yet named negotiators for the restructuring process or set a value for the debt recast, Finance Minister Ali Sabry said by phone. Sabry -- who has been in the job for about a week after cabinet resigned en masse -- will be part of Sri Lanka's team attending the IMF's spring meetings next week that would discuss a potential aid package.

"We have no choice," he said, referring to the decision to stop payments. "This should have happened a long time ago."
Sri Lanka has been heading towards a dire debt situation for much of the last decade. The massive debts taken on to accommodate China's building of large port facilities at rates, which are multiples of what were available from the IMF, are no doubt part of the problem. The surging cost of imported commodities tipped the country over the edge.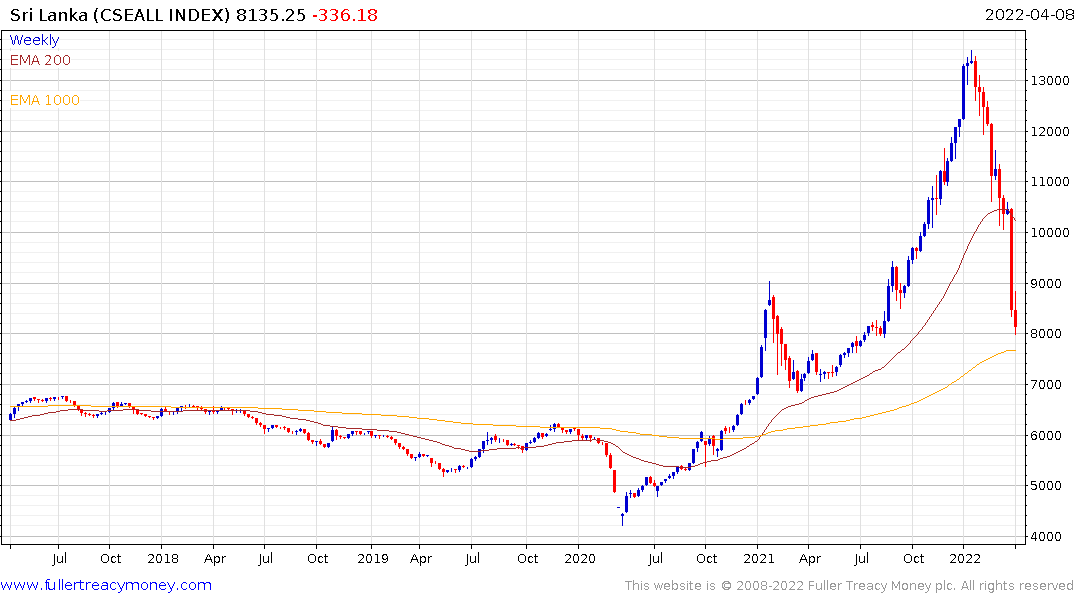 Usually when a currency devalues sharply, the stock market rises in nominal terms. That has not been the case for Sri Lanka. The Colombo All-Share has rapidly unwound its overextension relative to the 1000-day MA. Valuations are much improved, and a refinancing of the debt burden should help the economy stabilize.

It's also notable that Pakistan's government was overthrown in the last week. Since was another "beneficiary" of the Belt and Road system, it's not a great look for China's partnerships. At present China appears reluctant to bail either country out and not least because it has a tight credit market at home.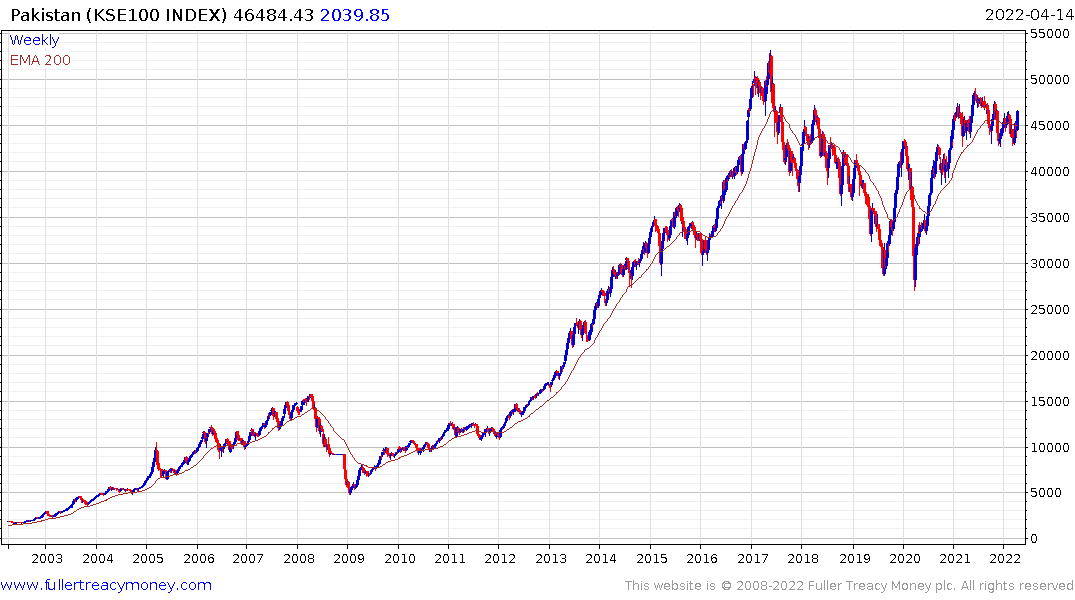 The Pakistan Rupee firmed following Khan's ouster and the KSE100 popped back above the trend mean to challenge the yearlong modest downtrend.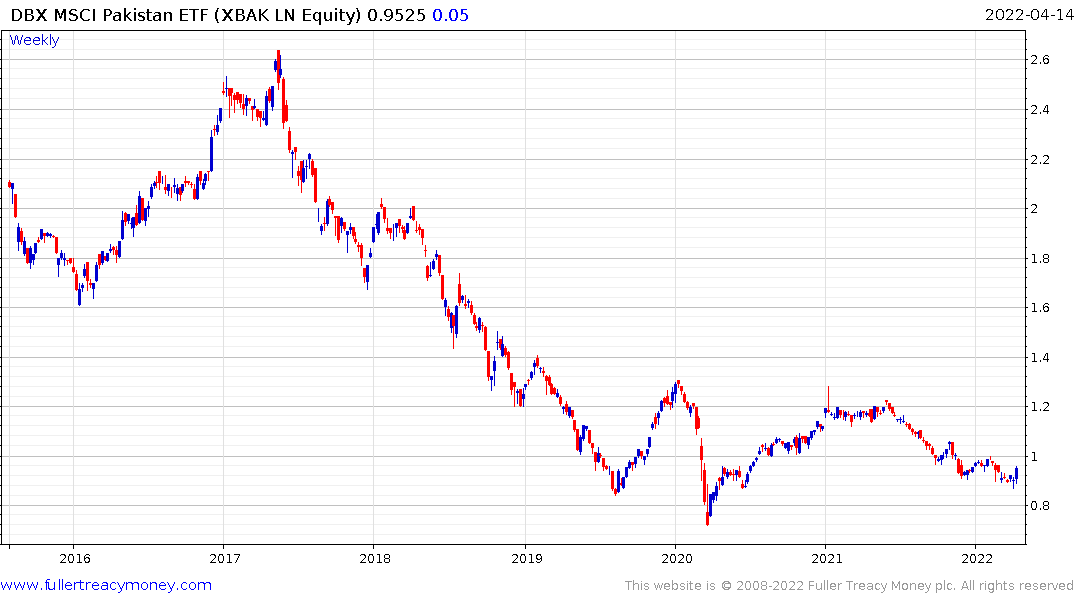 The iShares Pakistan ETF is firming from the region of the 2020 lows.
Back to top