Sprouts Farmers Market Profit Soars; 2014 Outlook Raised
This article by Tess Stynes for the Wall Street Journal may be of interest to subscribers. Here ii is in full:
Sprouts Farmers Market Inc. (SFM) said its first-quarter profit surged 86% as the specialty grocer's revenue beat expectations.

Shares rose 6.1% to $29.06 in recent after-hours trading as adjusted earnings also beat estimates and it raised its 2014 guidance.

For the year, Sprouts raised its per-share adjusted earnings estimate by a nickel and now expects 63 cents to 65 cents. The grocer also increased its projection for net sales growth by two percentage points and now expects an increase of between 18% and 20%. The company also boosted its same-store-growth estimate by 1.5 percentage point to between 8.5% and 9.5%

The competition in the organic and natural foods space has intensified, as established supermarket chains beef up their higher-end offerings and other niche players embark on expansion plans.

Phoenix-based Sprouts reported a profit of $33.7 million, or 22 cents a share, up from $15.6 million, or 14 cents a share, a year earlier. Excluding secondary offering expenses and other items, adjusted earnings rose to 23 cents from 14 cents. Analysts polled by Thomson Reuters expected per-share profit of 20 cents.

Revenue increased 26% to $722.6 million, topping the company's forecast for $720 million. Same-store sales increased 13%.

?Rival Whole Foods Market Inc. (WFM) reported late Tuesday that fiscal second-quarter earnings were flat from a year ago, at $142 million, albeit revenue was up nearly 10% at $3.32 billion. The company also trimmed its annual sales and profit forecasts.
A lot of the steam has been squeezed out of recent IPOs regardless of sector. A number of new entries face challenges associated with growing quickly. They often absorb some of their smaller competitors in the race to seek a stock market listing. This means they are left with a number of units that do not fit cohesively with the whole. This is as true of 3D printing shares as it is of internet security and while the challenge is not as great for supermarkets, creating and inseminating a company culture remains a challenge.

My local Sprouts is situated less than a 200 metres from a similarly sized Bristol Farms supermarket. Since they both attempt to appeal to the health conscious, price insensitive shopper, it is interesting to observe that Sprouts appears to attract far fewer shoppers than Bristol Farms, at least when I've been there.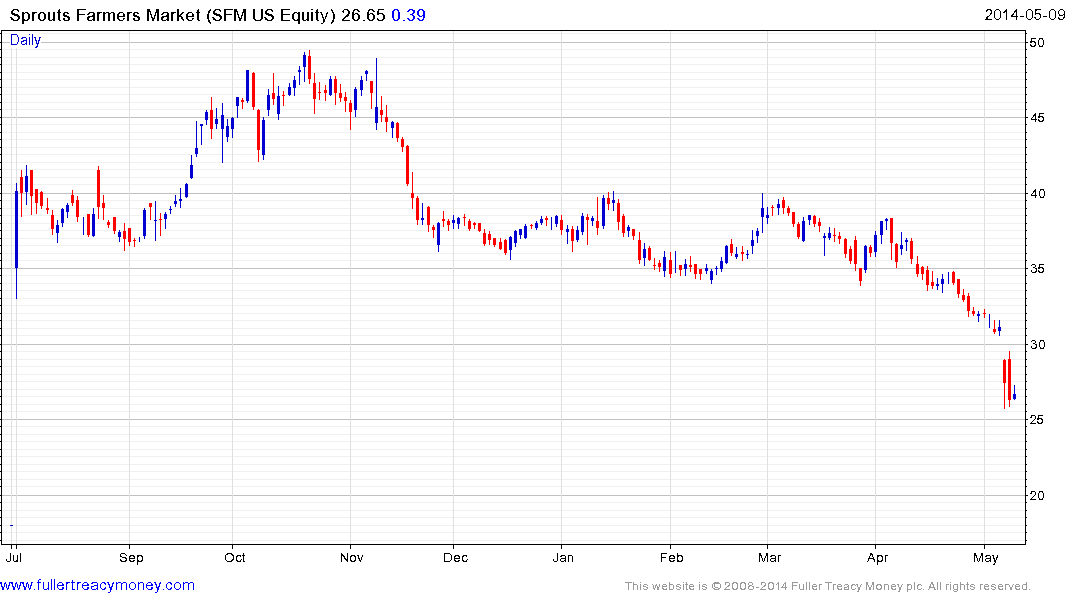 The share is trading approximately $10 below its IPO price and has an Estimated P/E of 41 despite the drop. It has at least steadied in the region of $25 over last couple of days and there is some scope for an unwind of the short-term oversold condition. However, a sustained move above $35 would be required to suggest a return to demand dominance beyond the short term.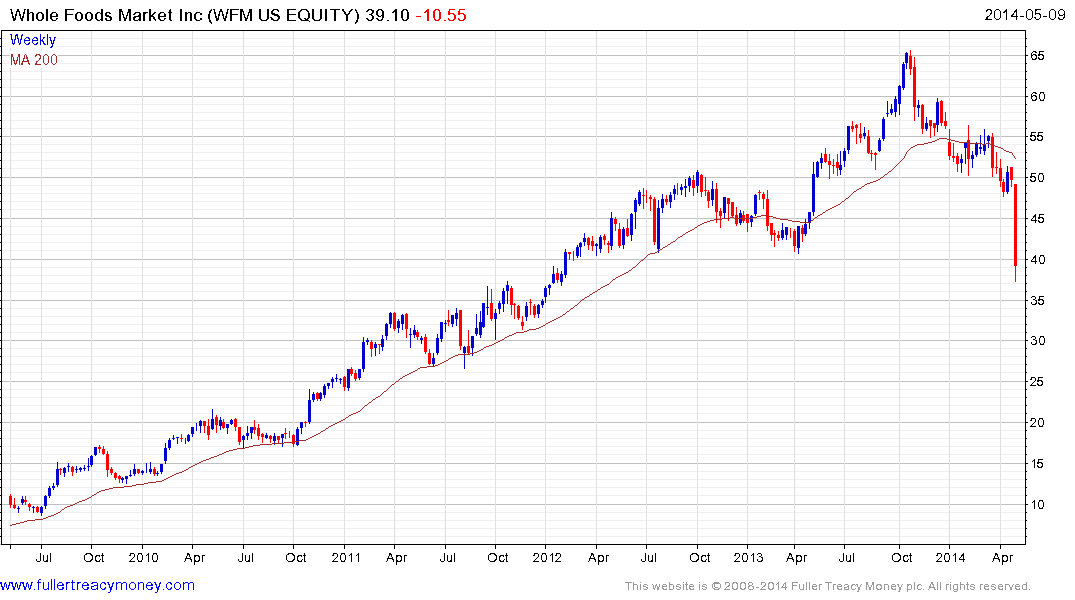 Whole Foods Market (Est P/E 25.27, DY 1.23%) has been a leader in organic supermarket sector but has been spending a great deal of money in international expansion. The share accelerated higher between April and November and has now unwound that entire portion of the overall advance. While a short-term oversold condition is evident, a potentially lengthy period of consolidation will be required in order to rebuild confidence following such a marked loss of uptrend consistency.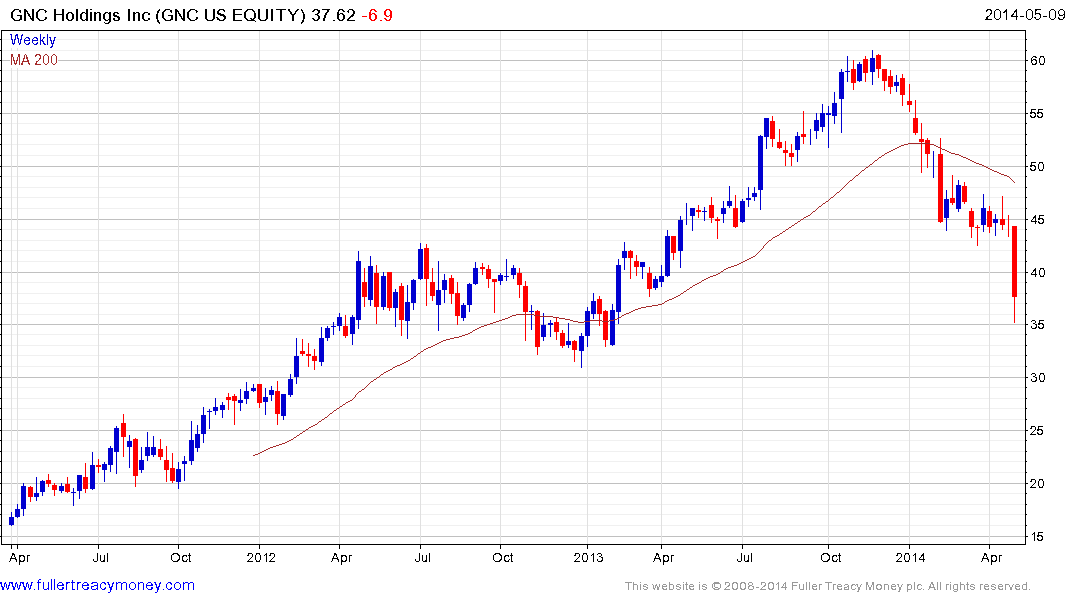 Staying with healthy living, GNC (Est P/E 12.26, 1.69%) is another recent IPO and has a similar chart pattern to Sprouts. However its valuations are more reasonable and the share has at least steadied near $35 this week.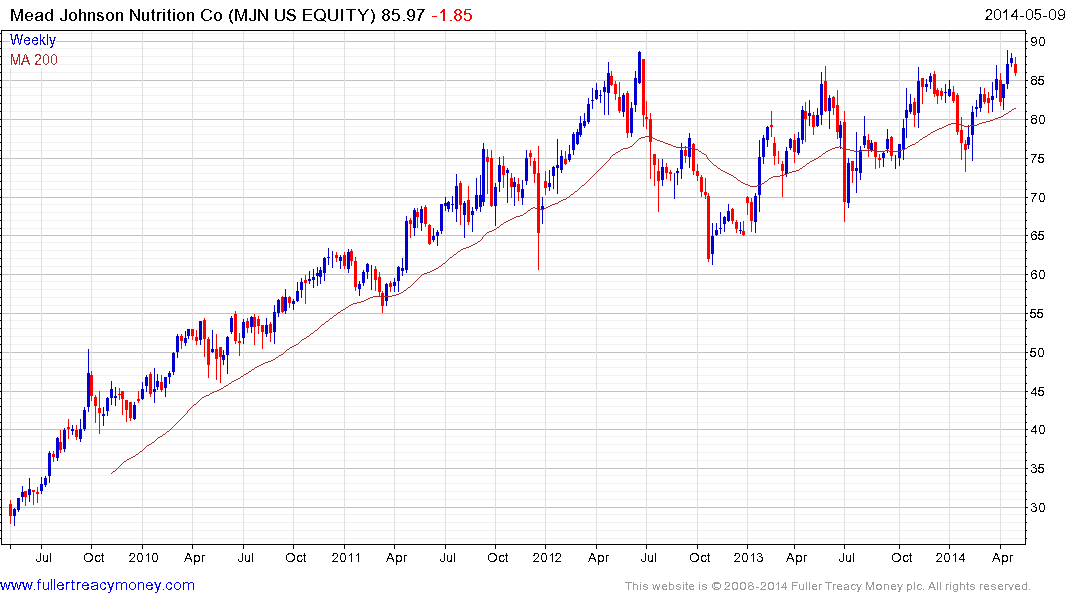 Mead Johnson Nutrition (Est P/E 23.16, DY 1.75%) experienced a sharp pullback not long after its IPO and subsequently moved into a lengthy range. The share has held an upward bias and while some consolidation in the region of the 2012 peak is a possibility, a sustained move below $75 would be required to question the medium-term upward bias.
Back to top