Speculative Frenzy Spills Into Crypto as Bitcoin Tops $38,000
This article by Yakob Peterseil and Joanna Ossinger for Bloomberg may be of interest to subscribers. Here is a section:
Musk's page on Twitter simply said #bitcoin with no further explanation, but speculation that the world's richest man might be a Bitcoin investor was enough to set off the dramatic rally.

Prices spiked in a matter of minutes, for the biggest intraday move in almost a year.

"This huge melt-up is due to Elon's tweet," said Antoni Trenchev, managing partner and co-founder of Nexo in London, which bills itself as the world's biggest crypto lender. Musk's
support for Bitcoin "creates a safe zone for some of the smaller companies and possibly everyone in the S&P 500 to allocate into Bitcoin," he said.

Musk also tweeted an image of a "Dogue" magazine cover featuring a whippet in a red sweater -- a play on the fashion magazine "Vogue." He also sent posts calling Cyberpunk a great video game and said, "In retrospect, it was inevitable."

Binance, the world's largest cryptocurrency exchange by volume, briefly suspended withdrawals on Friday to address a large increase in requests. Chief Executive Officer Changpeng Zhao said that user sign-ups and trades jumped to a record high. "We almost ran out of DOGE coin addresses," Zhao told Bloomberg. "Our system couldn't generate new addresses fast enough to match new users coming in. It's crazy."
The kind of activity that has been witnessed in GameStop this week is considered normal in the completely unregulated cryptocurrency markets. Since there is no hard fundamental to base value on, the market is dependent on momentum to stoke bull markets. When an anarko-capitalist idol like Elon Musk tweets, it tends to get a lot of attention.

The bitcoin price has now experienced its largest reaction since March. That represented an inconsistency for the steep uptrend from $4,000 to $40,000. However, it is also the first big consolidation since the breakout from a three-year range. If that latter conclusion is to remain credible the breakout will need to hold.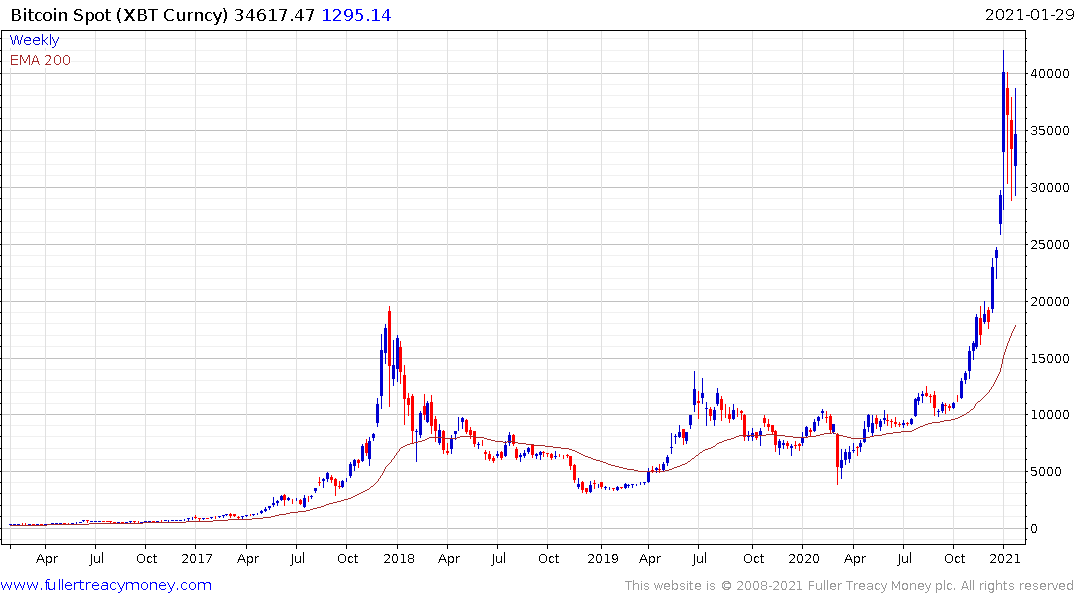 So far, the $30,000 area has offered support. A reversion to the mean is not beyond the bounds of possibility and suggests there is an additional $10,000 of risk on the downside if that level breaks. Personally, I'm unwilling to sit through that kind of reaction because it could lead to lengthier process of support building and that is assuming the $20000 area holds. In the meantime, I am willing to give the benefit of the doubt to the upside and believe that Ethereum will continue to represent a high beta play on bitcoin.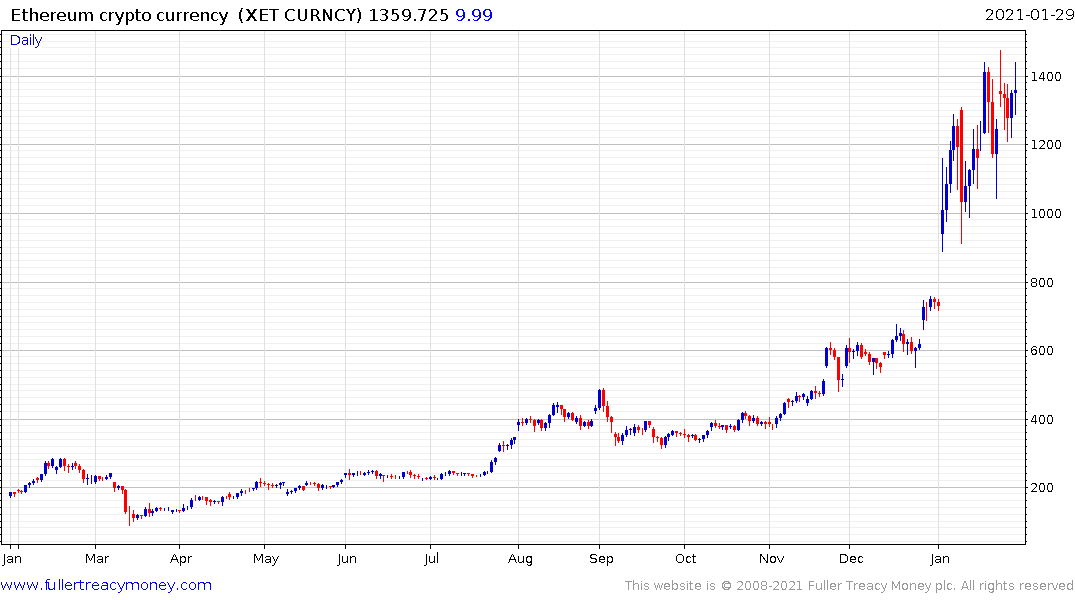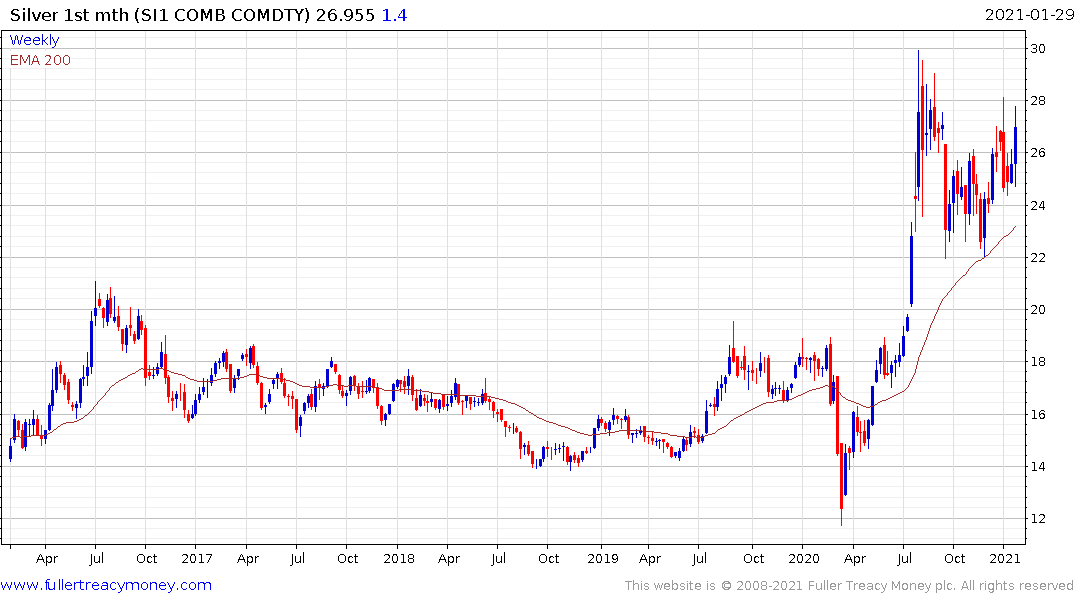 Silver also picked up some interest from the Reddit crowd and extended its bounce today. It is still too early to conclude this move has staying power but the continued stability prices above the trend mean is encouraging.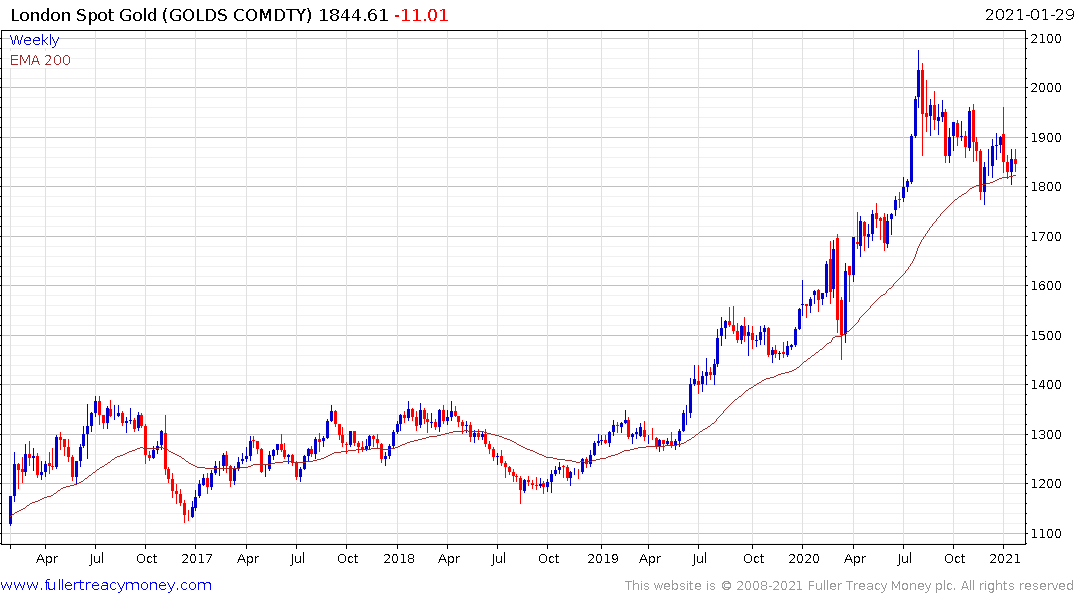 Gold gave up its intraday advance and continues to pause in the region of the trend mean.
Back to top