Spanish Yield Rises to 5-Week High on Instability After Election
This article by Anooja Debnath and Lucy Meakin for Bloomberg may be of interest to subscribers. Here is a section:
Spain's government bonds fell, pushing the 10-year yield to the highest in five weeks, after an indecisive election left Prime Minister Mariano Rajoy with limited options to forge a governing majority, threatening a period of instability.

The yield difference between Spanish and similar-maturity Italian bonds widened to the most since mid-November amid muted declines in the rest of the euro-area's peripheral debt markets.
While Rajoy's People's Party placed first in Sunday's election, earning the right to try to form government, the results suggest the only party able to form a majority with him in the 350- member parliament would be the Socialists, the PP's historic rivals.

Even in Spain the losses were limited, with the slide only the largest in a week, as investors focus on European Central Bank bond purchases, lower debt issuance and an improving economic outlook. Monday is the last day of ECB buying until Jan. 4.

"The election outcome failed to provide us a clear picture of who will take power," said Anders Moller Lumholtz, chief analyst with Danske Bank A/S in Copenhagen. "It is likely to take time before we get clarity, and uncertainty is not a friend of the market. ECB QE buying could cushion some of the knee-jerk reaction, but as Monday is the last day before the QE goes on pause we probably shouldn't expect much effect from that side. Beyond the political uncertainty, we are positive on Spain."
Spain has been a beneficiary both of relatively stable government and ECB largesse which has allowed the economy recover following a major property market crash. However since Greece represents investors' most recent experience of government upheaval within the Eurozone nerves are understandably frayed. This is particularly true when such a large country is involved.

Nevertheless the ability of the Socialists to dictate adjustments outside the strictures of Spain's bailout agreement is relatively minor. There is also the prospect quantitative easing could be expanded to deal with any threat which develops due political trouble.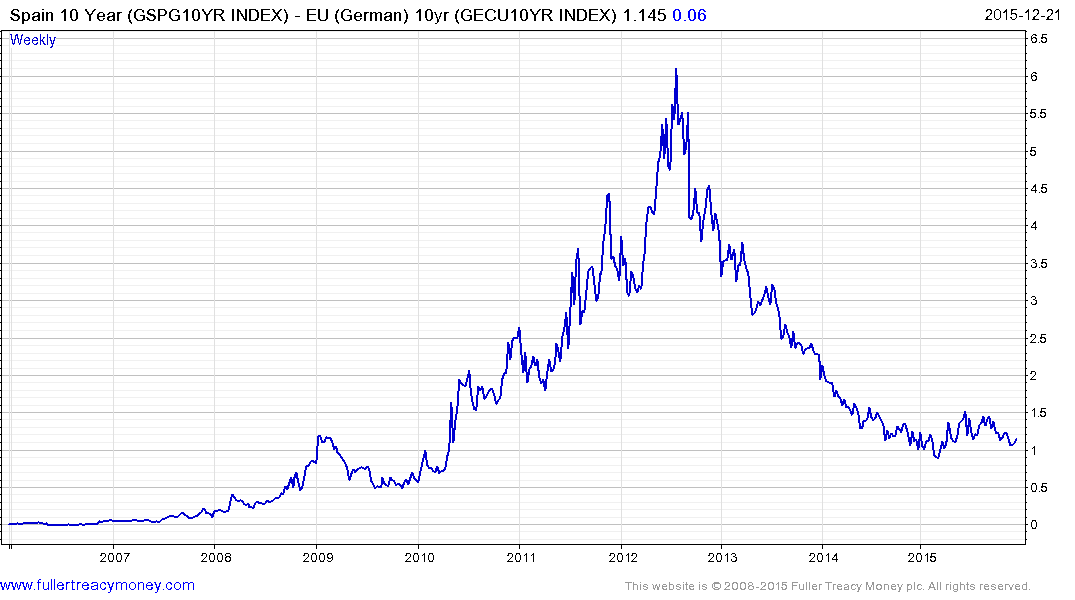 Spanish 10-year government bond spreads over German Bunds remain close to 100 basis points suggesting the reaction has been relatively muted as bond investors bet on QE.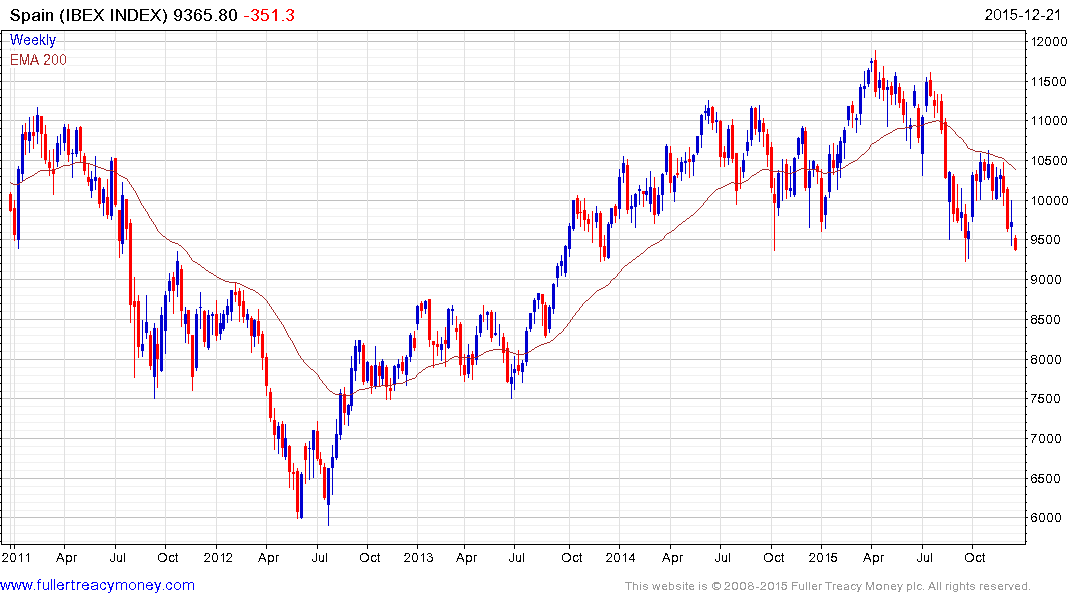 The IBEX Index led European indices lower today and is now testing the lower side of a two-year range. A clear upward dynamic will be required to confirm support in this area.
Back to top