Spain Warns Catalonia Independence Bid Risks Economic Meltdown
This article by Maria Tadeo, Esteban Duarte, and Angeline Benoit for Bloomberg may be of interest to subscribers. Here is a section:
Spanish 10-year bonds rose, with the spread over German bunds narrowing by six basis points at 11:38 a.m. in Madrid to 119 basis points. Spain's benchmark stock index has lost about 1.2 percent since Catalans voted in defiance of the Constitutional Court, while Catalan companies including lender CaixaBank SA are moving their legal bases out of the region.

Nadal, the energy minister, suggested Catalonia would be jeopardizing electricity supplies and communications networks. Catalonia has little control over energy supplies and is reliant on the big Spanish companies that, in theory, could suspend service and turn the lights off.

"It so terrible a scenario the idea of independence, that everything won't work from the single moment from which independence is declared," Nadal said in a Bloomberg Television interview. "There will be a problem in the energy sector, there will be a problem in the telecom sector, in the financial sector of course."
The only way an independent Catalonia can function would be to introduce capital controls. There is already evidence of capital flight with Caixa Bank, for example, moving its headquarters to Madrid. If the Catalan administration does in fact wish to declare independence they have no time to waste.

A 350,000-person pro unity rally over the weekend should at least give pause to the independence movement but with the vote outlawed and soldiers on the street they likely feel a sense of victimhood. The fact we are dealing with this situation is symptomatic of the austerity imposed by the ECB and European Commission which is contributing to revolts against central control across the region.

Madrid is obviously in no mood to countenance independence for Catalonia but it is going to have to be imaginative in developing a solution to appease angry voters lest it stoke armed resistance similar to the actions pursued by Basque separatists.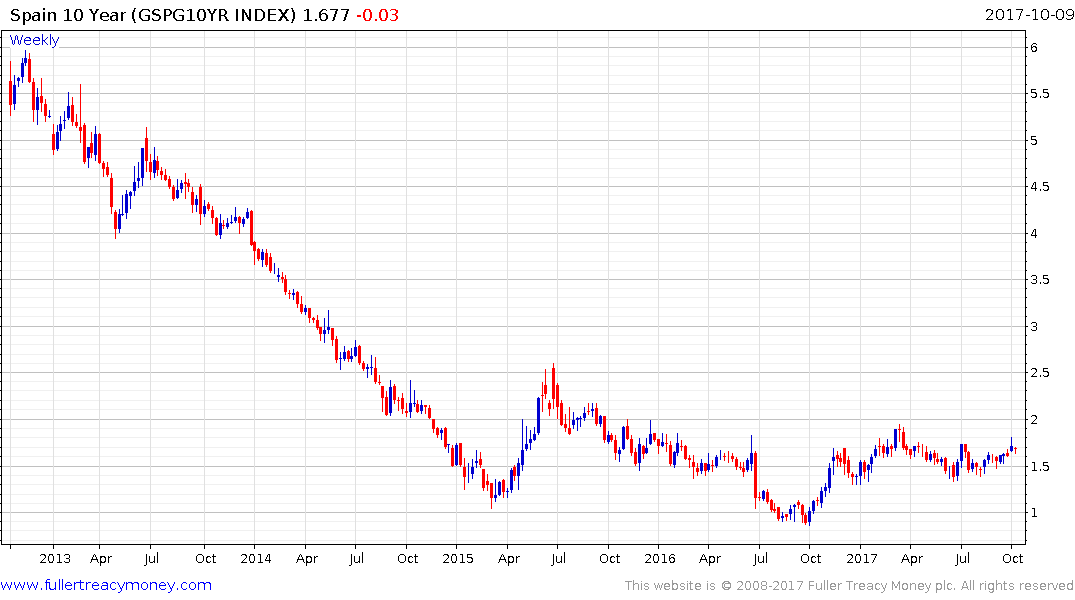 The ECB, however, remains committed supporting Spain's bond market but a progression of higher reaction lows has been evident in 10-year yields since June. A sustained move below the trend mean would be required to question potential for higher to lateral ranging.
Back to top