South Korea's Economy Shudders After Growth Spurt
This article by Kwanwoo Jun for the Wall Street Journal may be of interest to subscribers. Here is a section:
South Korea's surprisingly weak economic performance in the last three months of 2017 isn't cause for concern but does support the case for a cautious stance on central bank policy, according to economists and bank officials.

The economy ended its streak of outperforming expectations in the last quarter by recording its first quarter-on-quarter contraction since the global financial crisis.

That resulted in growth for the year—at 3.1%—coming in just below the government's 3.2% target, but above 2016's expansion of 2.8%. Markets on Thursday brushed aside the result, with the Kospi jumping 1% to reach record highs.

Still, the result will temper recent optimism about the economic outlook, while likely dispelling any idea at the Bank of Korea about raising rates until much later in the year. In November, the central bank raised rates for the first time in more than six years.
South Korea is the world's 11th largest economy and it did not grow in the last quarter of 2017. This was explained by the surge in investment in the early part of year that eased back in the latter part of year but the failure to growth was an anomaly amid strong numbers for the rest of the global economy. Domestic consumption is expected to pick up this year and the Olympics may add some tourist revenue so a recession may be avoided but it bears monitoring nonetheless
I've been looking around at how the majority of analysts define synchronised global economic growth and they seem to look at the world's top-10 economies, so South Korea would not feature. However, its economy plays a significant role in the global supply chain. It's also highly export oriented with national champions like Samsung Electronics, Kia, Hyundai and Posco.
It's underperformance in the last quarter raises questions about whether we are still in a period of synchronised economic expansion for the global economy. Rather than take this condition for granted it is perhaps time to be vigilant for signs of deterioration elsewhere.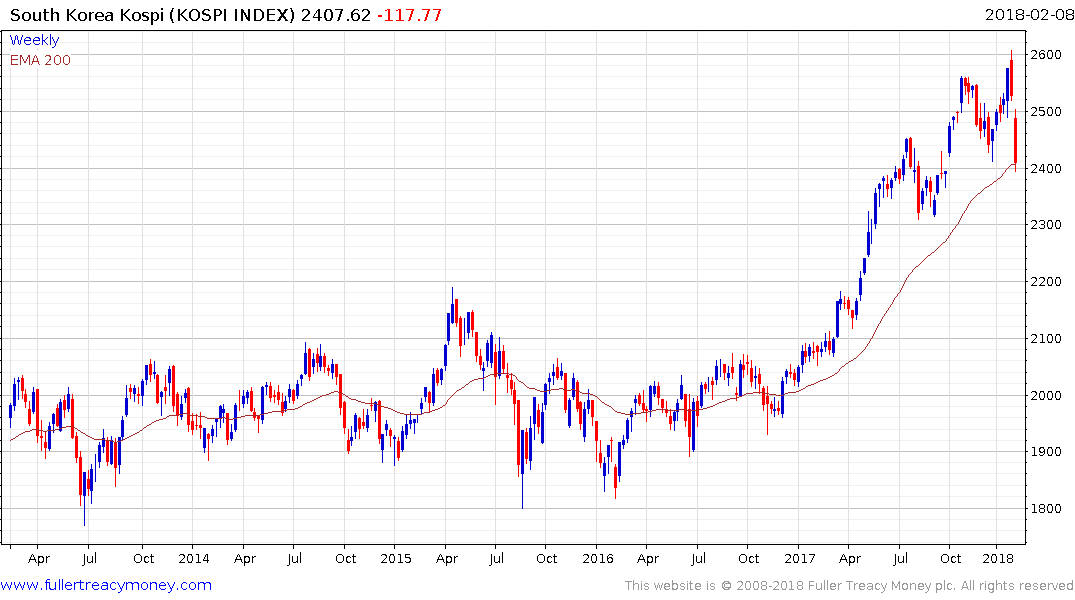 The Kospi is now testing the region of the trend mean which is a condition it shares with national indices in Japan, Taiwan and Singapore. If the medium-term uptrend is to remain reasonably consistent it will need to demonstrate support in this area.
Back to top