South African rand rallies to highest in more than 2 years, stocks hit new high
This article from Reuters may be of interest. Here is a section:
The South African rand rallied to its highest in more than two years against the dollar on Wednesday, as investors cheered the latest evidence of a sustained rebound in global economies and as U.S. Treasury yields pulled back.

At 1525 GMT, the rand was 1.27% firmer at 13.5900 against the dollar, trading at its firmest since early February 2019.

With the local economy remaining weak and facing power cuts, the rand's recent rally has been mainly on the back of global factors, including higher commodity prices which benefit resource-rich South Africa and expectations U.S. lending rates will stay lower for longer.

Riskier currencies, such as the rand, thrive on U.S. interest rates remaining low because they benefit from the interest rate differential that increases their appeal for carry trade.

Investors waited for crucial U.S. jobs data on Friday to assess what the increasing evidence of a faster-than-expected economic recovery would mean for central bank policy in the United States.

"This figure could also give markets some short-term guidance as to the economy in the U.S. which is likely to have a systemic effect across financial markets," said DailyFX analyst Warren Venketas.
South Africa is a commodity exporter so its balance of payments is likely to improve considerably as the price of agricultural and industrial resources trends higher. The standards of governance in South Africa leave a lot to be desired. However, from an investor's perspective the question is whether the corruption situation is getting worse or the status quo is being sustained. In the event it were ever to improve, South Africa would become a highly attractive investment destination. Doing what is necessary to ensure reliable electricity supply would be a big step forward.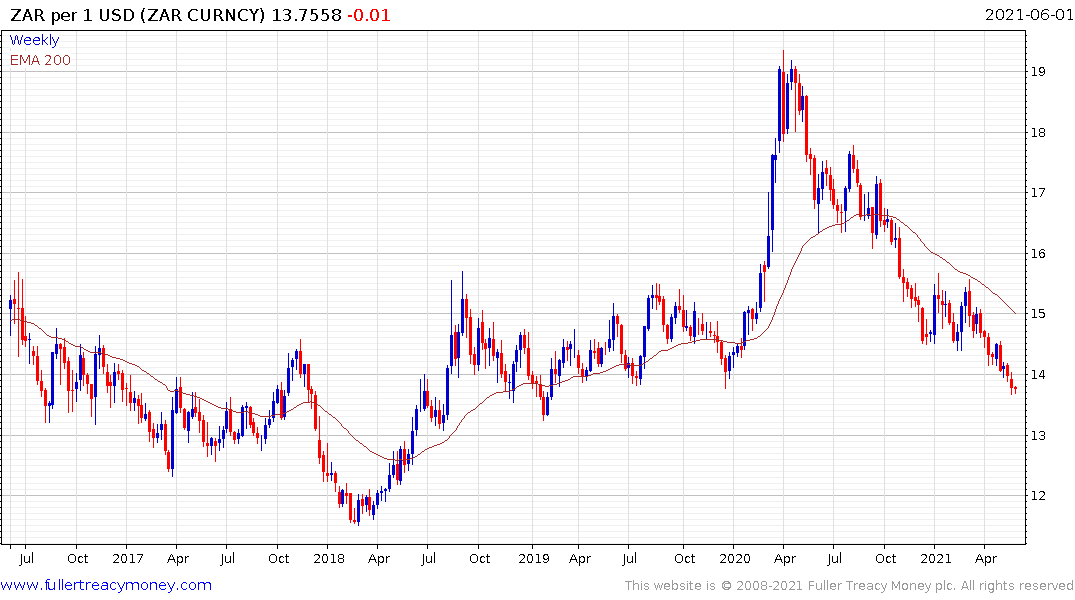 The Rand continues to trend higher and has now clearly broken its three-year sequence of lower rally highs (shown inversely above). The range that has been forming since early 2016 has traded at a weaker point than the swift depreciations in the year 2000s and 2008. That puts the export engine in a competitive position as prices rise.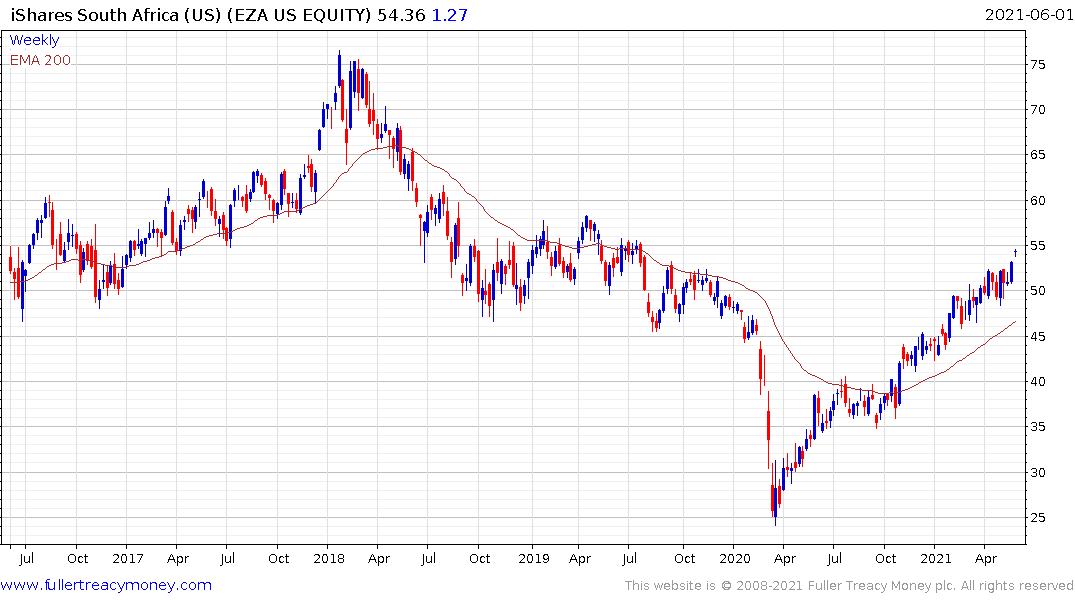 The iShares South African ETF has now also broken its medium-term downtrend and the pace of recovery is picking up.
Back to top