Souped-up Sibanye delivers cash, dividend
This article by Geoff Candy for Mineweb may be of interest to subscribers. Here is a section:
This led, the group said, to a 19% hike in operating profit over the six months to US$399m. And, perhaps more importantly, Net cash generated for the period, before net loan repayments and dividends, was US$170 million. And this all despite receiving a 7% lower average Rand gold price of R420 423/kg (US$1 301/oz) over the period.

Sibanye was also quick to point out that, the cash generated is "equivalent to approximately 40% of Sibanye Gold's market capitalisation as at 31 December 2013."

During the 2013 year, the group said it also made debt repayments of US$231 million, which reduced its gross debt to US$193 million and net debt to US$48 million at year end.

Importantly, given its goal of becoming a leader in the dividend space, Sibanye also approved a maiden final dividend of 75 cents per share (ZAR) for the six months ended 31 December 2013, resulting in a total dividend of 112 cents per share (ZAR) in 2013.

This, Sibanye said, "is equivalent to a dividend yield of 5.5% at Sibanye Gold's closing share price of R20.40 on 18 February 2014 and 9.1% at the closing share price on 31 December 2013."

"The cash flow statement really reflects the power of the company," CFO, Charl Keyter said during the presentation of the results in Johannesburg.
A subscriber brought Sibanye Gold to my attention a year ago saying it could become an instrument not seen in decades; a high yield South African gold miner. (Also see Comment of the Day on April 13th 2013)
.
The company has held true to its commitment to pay down debt and boost its dividend. The fact that is has now also announced an increase to its reserves suggests concerns over mine life are being allayed.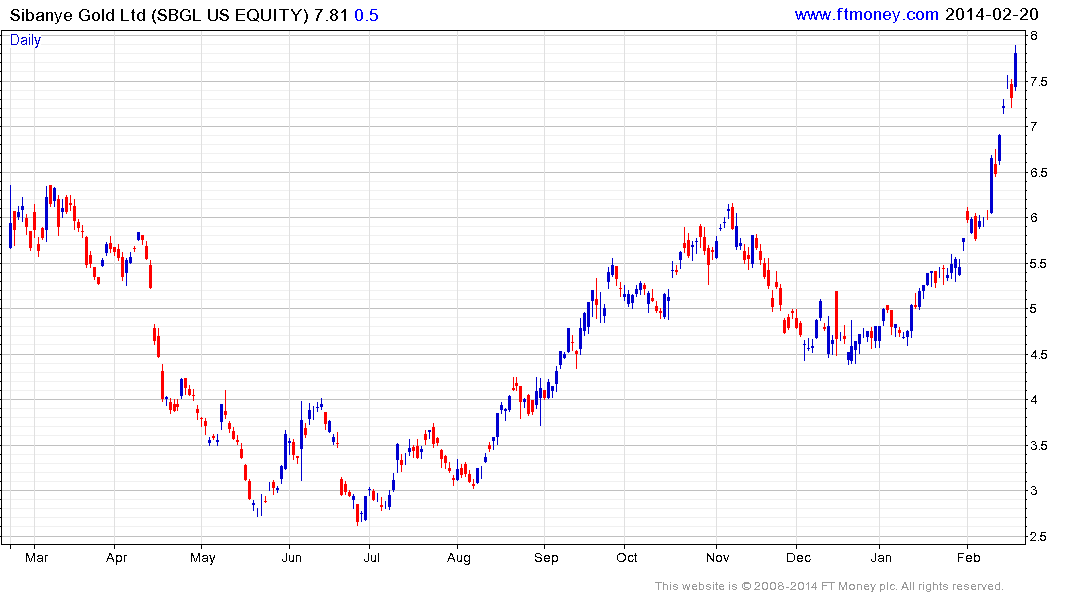 From an estimated P/E of 2 a year ago valuations have increased to a still modest P/E of 10.24. The share yields 1.9% following its impressive rally. Having found support in the region of the 200-day MA from December it almost doubled and while overbought in the short term a clear downward dynamic will be required to check momentum and suggest mean reversion.
Back to top