Some of the World's Richest Brace for a Major Stock Sell-Off -
This article by Joanna Ossiinger for Bloomberg may be of interest to subscribers. Here is a section:
Wealthy people around the globe are hunkering down for a potentially turbulent 2020, according to UBS Global Wealth Management.

A majority of rich investors expect a significant drop in markets before the end of next year, and 25% of their average assets are currently in cash, according to a survey of more than 3,400 global respondents. The U.S.-China trade conflict is their top geopolitical concern, while the upcoming American presidential election is seen as another significant threat to portfolios.

And

Still, it seems that wealthy investor caution is strictly for the short-term. Almost 70% of respondents globally are optimistic about investment returns over the next 10 years.

"The challenge is that they seem to want to respond" to short-term uncertainty "by really shortening their time horizons and shifting to assets like cash that are safe," said Michael Crook, a managing director on the investment strategy team. Though with many of these people investing on a time horizon across decades and for future generations, that "seems like a mismatch."
The visceral experience of an almost 20% decline in the fourth quarter last year ensures people are eager to avoid a similar experience this year.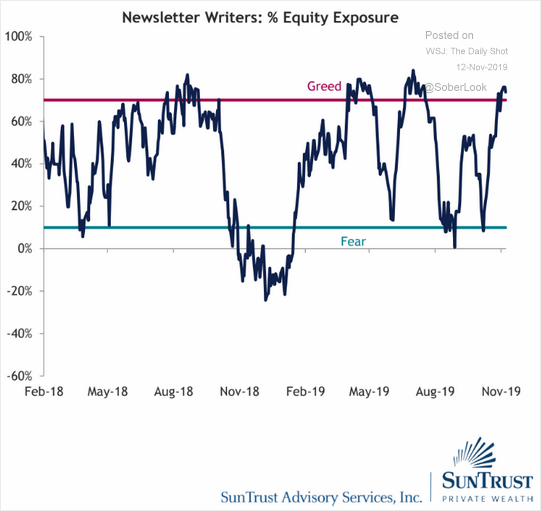 The emotional point of course is that when many people expect an outcome it is less likely to in fact occur. The chances of a mirrored experience two years in a row are very low but the additional point is the newsletter writer sentiment has gone from extreme bearishness to bullishness and is now testing historic highs, so there is also an argument many people have adopted the bullish hypothesis.

Those two competing narratives suggest some consolidation in the short-term but as long as the major indices are holding the region of their trend means, we can continue to give the benefit of the doubt to the upside.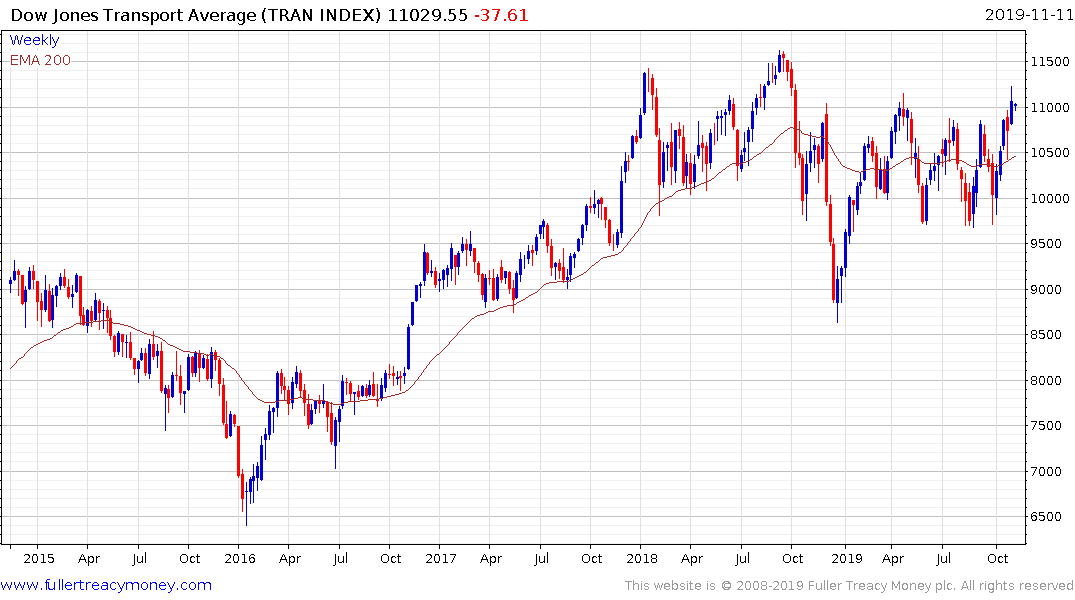 The Transportation Average and Russell 2000 indices are both at the upper side of their ranges which have prevailed for much of the year. It is too early to conclude they have successfully broken out but once that determination can be made we will have clear evidence of a return to demand dominance.
Back to top