Soaring Costs Squeeze Japan Inc. as Firms Hold Their Prices Flat
This article from Bloomberg may be of interest to subscribers. Here is a section:
Costs that Japanese businesses pay for supplies surged last month at the fastest pace in 13 years.
Meanwhile, the prices that consumers pay are basically flat, a recipe for pinched profit margins and corporate pain.

A Bank of Japan report on Tuesday showed the country's producer prices rose in September 6.3% from a year earlier, with the gap between those costs and the prices consumers pay at its widest since 1980.

Even as profit margins fall, Japanese businesses have been reluctant to pass their costs on to the country's shoppers, who are known for being extremely sensitive to price increases after years of deflation and stagnant wages.

Forecasts from the BOJ, showing consumer price gains rising no higher than 1% next year, suggest businesses aren't likely to get very aggressive in pricing even if they get stressed by
added cost pressure.

That bind shows one reason why Japan's new Prime Minister Fumio Kishida is so keen to get businesses to raise pay, a mostly unmet goal held by the two premiers before him including Shinzo Abe, who also made it a major policy plank.

Japan's Kishida Vows Progress Where Abenomics Fell Short:

On Pay
Without bigger paychecks in consumers' pockets, Japan's policy makers have found it difficult to stoke inflation, which is not forecast to reach the BOJ's 2% target for years. The bank is seen keeping its easing program for the foreseeable future, even as global peers unwind stimulus.

Japan's economy has been locked in deflation for so long that businesses are unaccustomed to raising rates and have tended instead to try and be more efficient. The promise of automation has been one of the primary avenues Japan has taken to become more efficient but that's not helping with supply bottlenecks and rising commodity prices. Ultimately, prices will have to rise. That will force wages higher.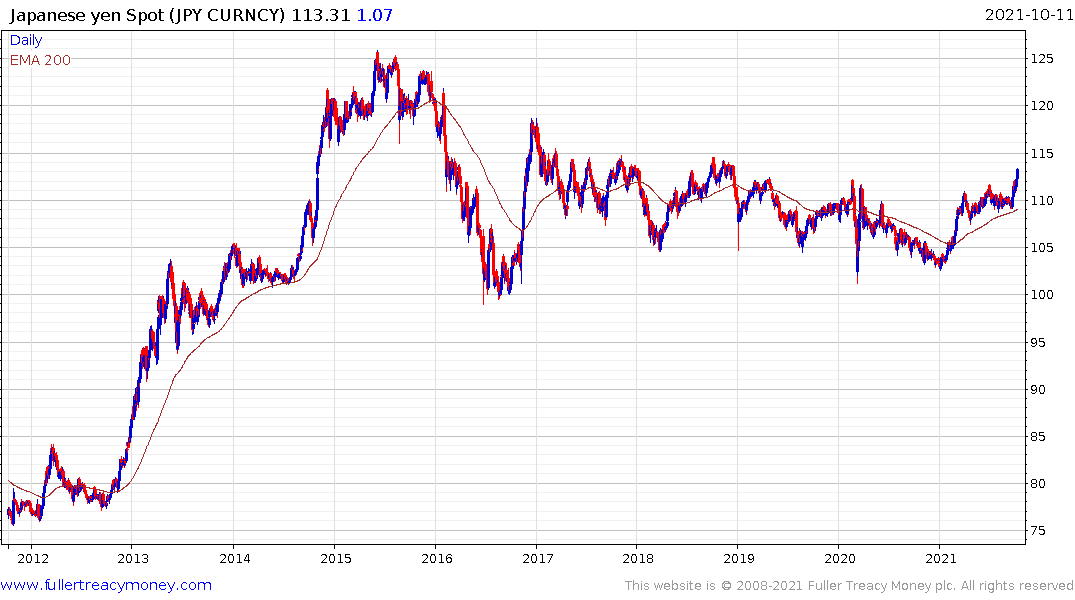 The US Dollar broke out against the Yen last week on the expectation the Bank of Japan will be among the last major central banks to taper its monetary assistance. This move clearly breaks the six-year downtrend and signals a return to medium-term Dollar demand dominance.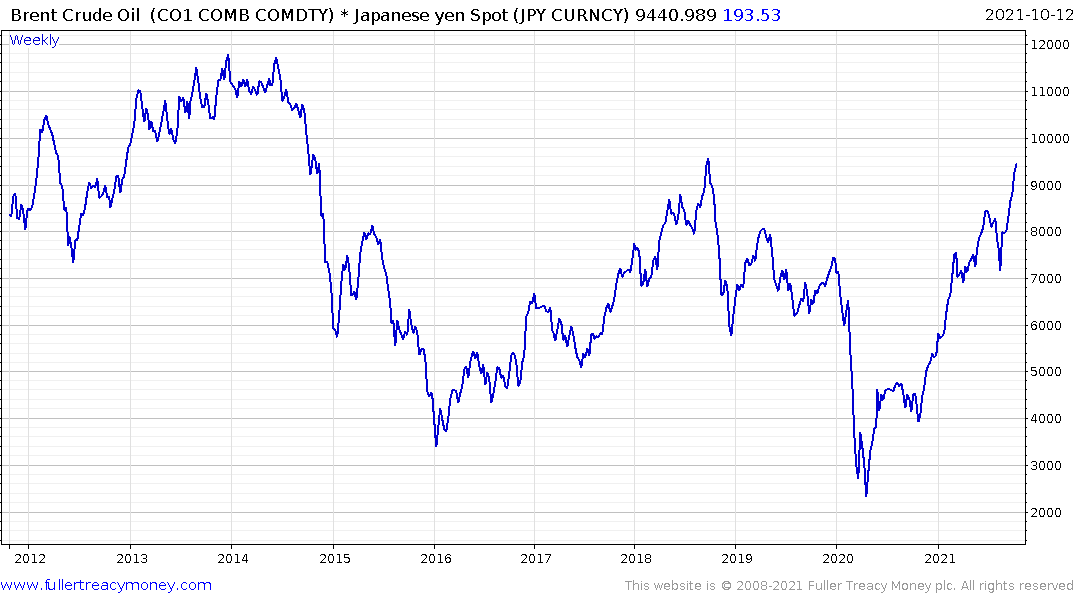 The price of crude oil in Yen is accelerating towards the psychological 10,000 level, which was last tested in 2018 and also represented the region of peak values in 2011-14. Considering the short-term overbought condition, there is scope for some consolidation but a sustained move below 7000 would be require to question medium-term scope for continued upside.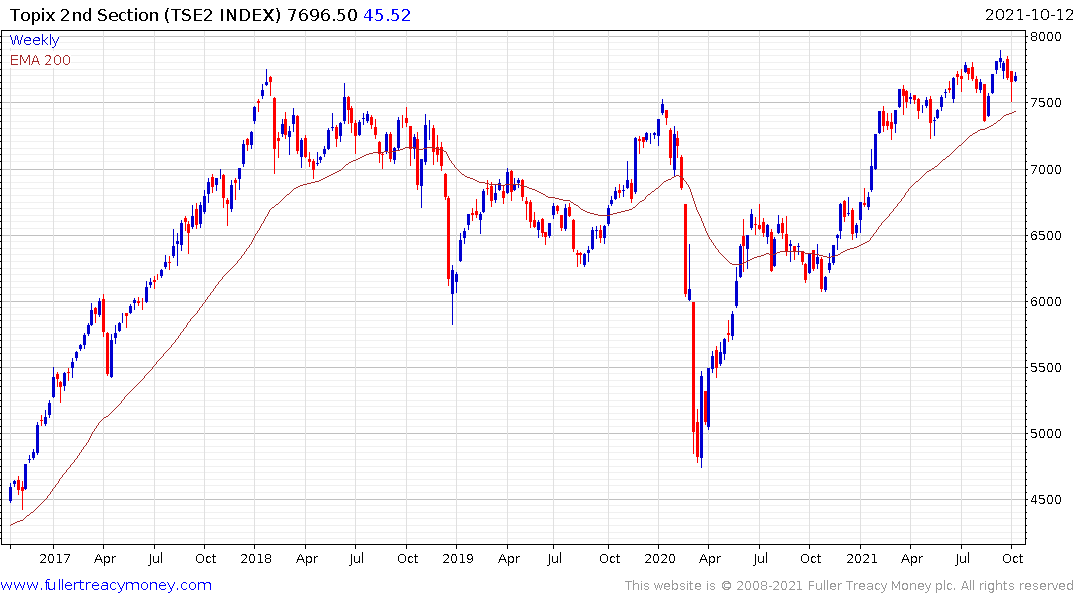 A weaker currency generally tends to favour the nominal price appreciation of Japanese stocks. The 2nd Section Index is currently firming from the region of the trend mean as it holds the region of the all-time peak.
Back to top