So Close Yet So Far Apart: Inside the Italy-EU Budget Tussle
This article by Marco Bertacche and Lorenzo Totaro may be of interest to subscribers. Here is a section:
For 2019, the EU could grant Italy flexibility available for unexpected events like last summer's bridge collapse in Genoa. That would bring the adjustment required down to 0.42% of GDP.

Italy meanwhile says that a series of one-time revenues plus lower-than-expected spending for the populists' flagship programs are worth about 5.3 billion euros. That's enough to improve the structural deficit by 0.1 percentage point, the Treasury says -- the commission is forecasting a deterioration of 0.2 points.

If Italy's numbers are right, then the two sides are just 0.3% of GDP or about 5 billion euros apart. That in itself might be close enough for the commission to give Rome a pass again.

But that may be overshadowed by the prospect of another battle when discussions on the 2020 budget start in September.
Fiscal austerity is the price the Eurozone's creditors demanded for extraordinary monetary policy. However, it presupposes that the near 20-year process of debt to GDP alignment it represents, will be swallowed by populations faced with a generation of declining living standards and subpar growth. The rise of populism is a message people are unwilling to take that kind of hit to their personal wellbeing particularly when it falls disproportionately on the most heavily indebted and in need of support.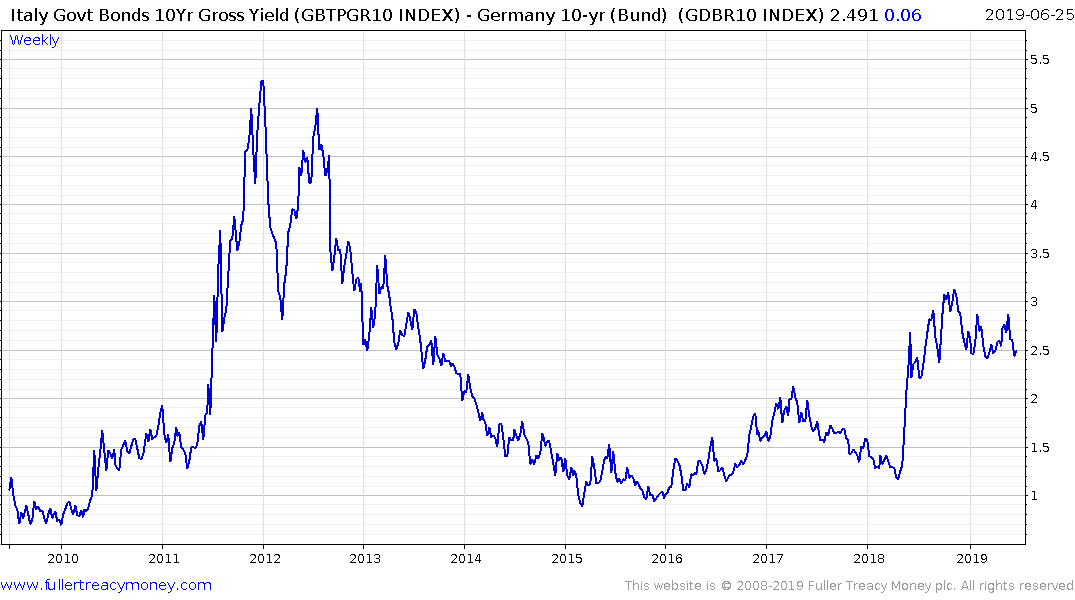 Italian BTP spreads have contracted to test the 250-basis points level which represents the lower side of the range which has been forming for the last year. This first step above the base suggests investors have, so far, been unwilling to give the most benign scenario the benefit of the doubt.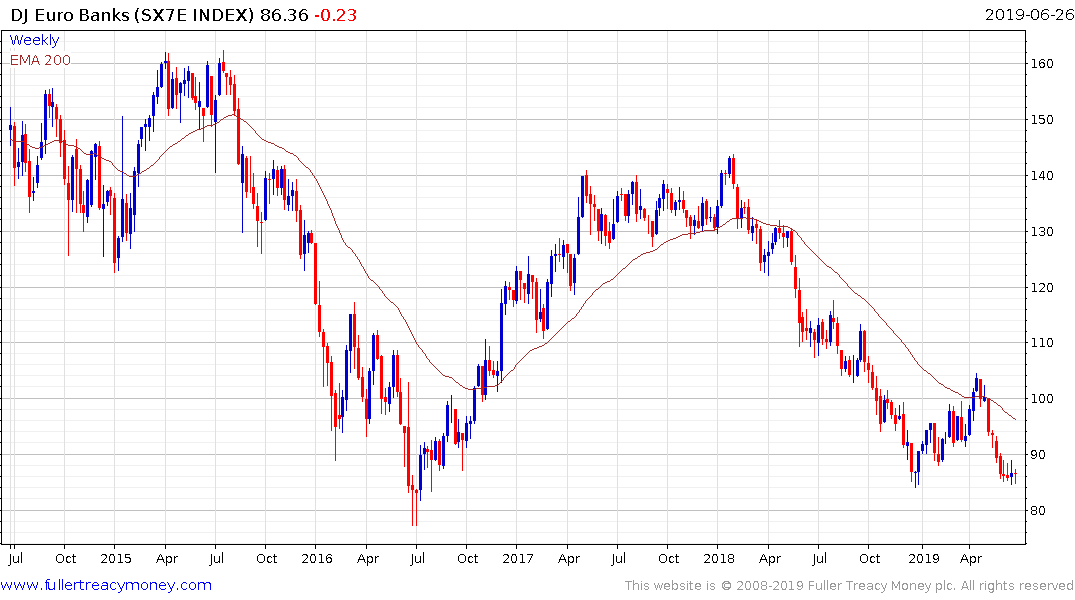 The deterioration in the performance of the European bank Index is also representative of stress in the financial system resulting from unresolved risks and the massive quantity of debt with negative yields.
Back to top