Smooth 2H likely, but for the noise about "profiteering"
Thanks to a subscriber for this report from Deutsche Bank focusing on India which may be of interest. Here is a section:
MSCI India consumer staples P/E shows downside potential … The MSCI India consumer staples' P/E with respect to the MSCI India P/E chart shows that the sector-relative P/E is still high at +1 STDEV. This would seem to indicate potential for de-rating. Over the past 12 months, the Consumer index has delivered 36% absolute return (outperformed the Sensex by 6ppt).

… and we recommend investors use DBCMI Consumer sector valuations are still expensive as per DB Consumer Momentum Indicator ("DBCMI", key to our sector top-down view – Figure 4). We believe the DBCMI is a good reflection of relative valuations (22-year backtested lead indicator), as it considers relative earnings momentum. According to DBCMI, the sector could relatively correct 12% to be in line with relative earnings, in our view (or relative earnings need ~13% upgrade).
Here is a link to the full report.

The India consumer is benefitting both from improving standards of governance and the introduction of 4G late last year. Economic growth coming in above inflation coupled with a stable currency have all contributed to a steady environment for both consumers and investors with the stock market continue to march higher in a reasonably consistent manner.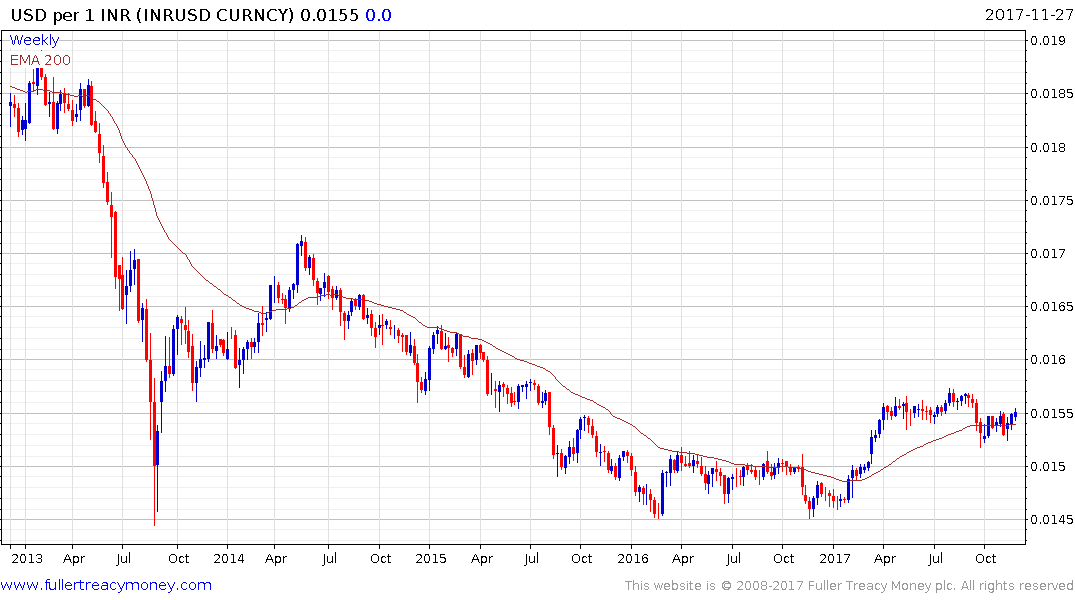 The Rupee has been forming a first step above the 2016 base just about all year and is currently firming from the region of the trend mean. A sustained move below US$0.015 would be required to question medium-term recovery potential.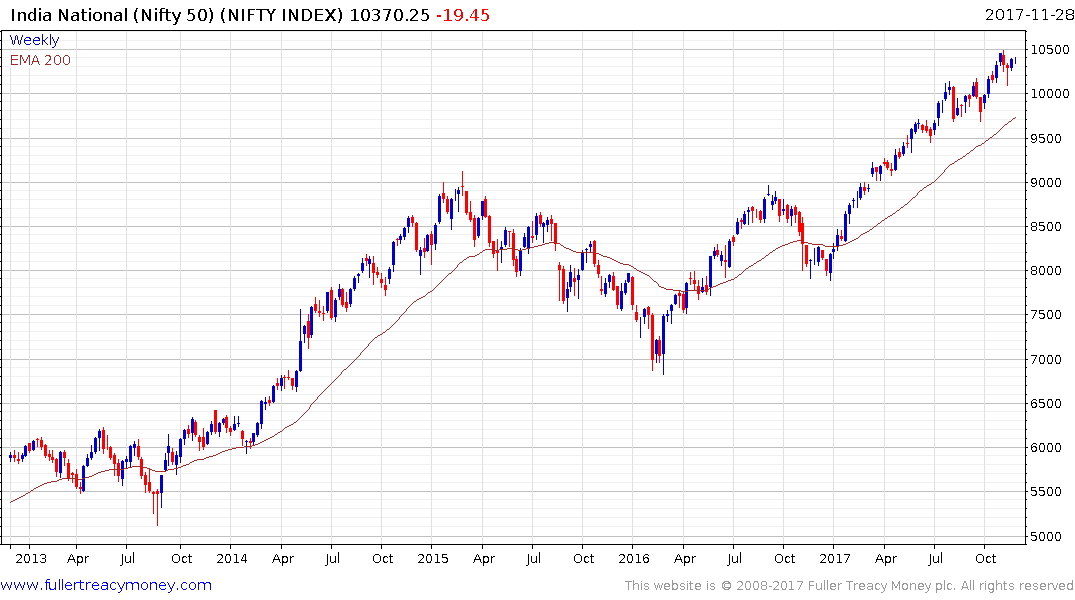 The Nifty Index broke successfully above 10000 in October and a sustained move below the trend mean, currently near 9600, would be required to question medium-term scope for additional upside.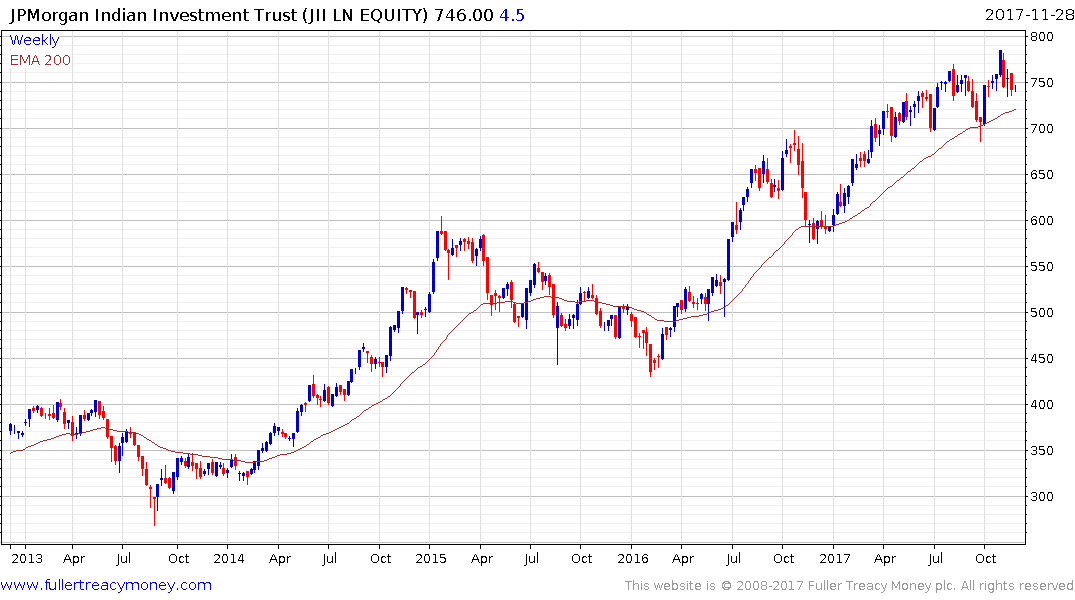 The UK listed JPMorgan India Investment Trust is trading at a 12.6% discount to NAV and shares a similar pattern with the Nifty.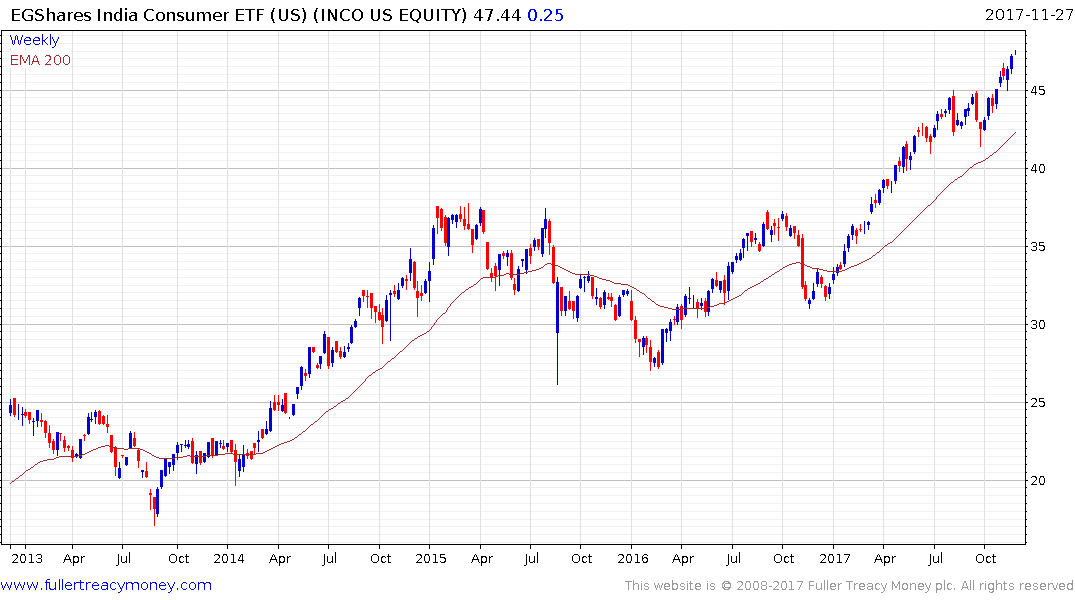 The US listed Columbia India Consumer ETF is outperforming the broad market and moved to a new all-time high today as it extends the breakout from the most recent range.
Back to top