Smart Grid in China
Thanks to a subscriber for this interesting report from Oriental Patron in Hong Kong. Here is a section:
1. First of all, we believe energy savings investment will shift from industrial to public facilities, driven by urbanization in China which is the focus of China's smart grid development. As one of the central government's key aims, we expect the Energy Management (EM)'s market size to achieve 22% CAGR in 2012-2015E.

2. In light of this, leading Energy management contract (EMC) companies will enjoy fastest growth as subset of EM industry, at 39% CAGR in 2013-2015E, thanks to supporting government policies for EMC companies such as exemption on corporate tax, subsidies on building retrofit, etc.

3. We also expect the penetration of smart meters to increase rapidly from the current 60% in China to approaching 100%. Besides, we also see replacement demand kick in to drive 4.8% CAGR in 2013-2020E, starting in 2015E.

4. As smart meter penetration is likely to reach full coverage from 2014E onwards, we believe that smart meter suppliers with tailor-made power distribution and energy efficient solutions are able to leverage on the well-established smart meter network to offer value-added service, hence new revenue flow to support its robust earnings growth in the coming five years, we expect the earnings CAGR of Wasion Group (3393 HK) is 20% in 2013-2016E.

5. Ultra High Voltage (UHV) power cables demand CAGR 62% in 2015E-2020E, is much higher than CAGR 18% in 2010-2015E, thanks to National Energy Administration(NEA)'s plan for long distance power grid construction,

6. High entry barrier enable market consolidation. Nationwide UHV grid construction drives demand in EHV power cables construction in regional power distribution, only 12 manufacturers are qualified as suppliers to SGCC.
Here is a link to the full report.

China has been aggressive in securing resources overseas in order to provide for increasing energy consumption. Ensuring it makes the most efficient use of that energy is a logical next step not least because there is demand for efficient device management on the international market and China's lower cost of production may lend it a competitive advantage.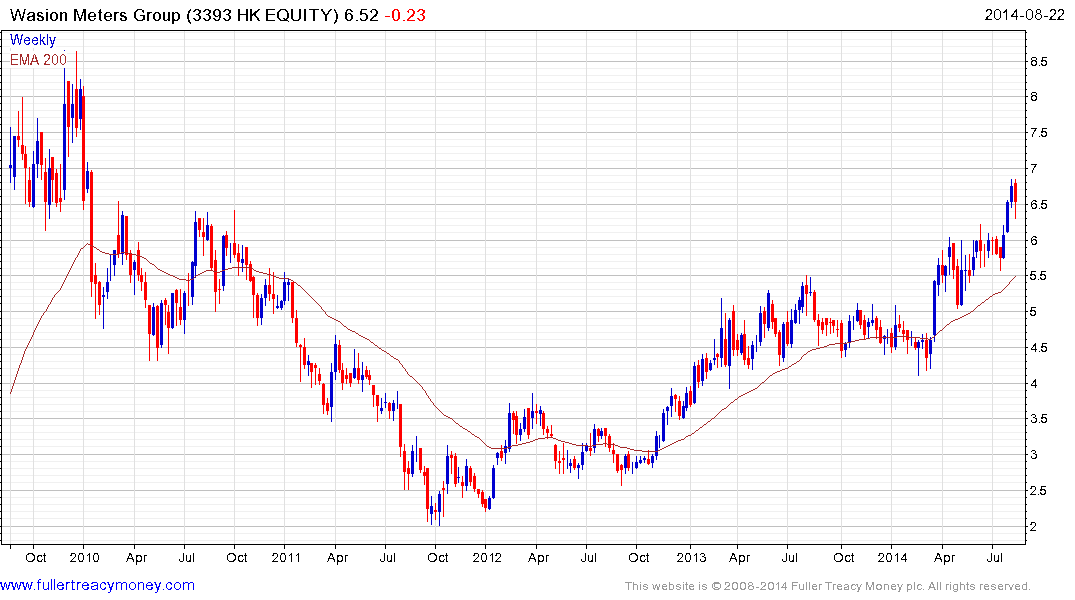 Wasion Group (Est P/E 10.65, DY 3.22%) has a joint venture with Siemens, which majority owned by Siemens, to develop smart meters. The share encountered resistance near HK$7 this week and some consolidation of recent gains appears to be underway, but a sustained move below HK$5.50 would be required to question medium-term scope for additional upside.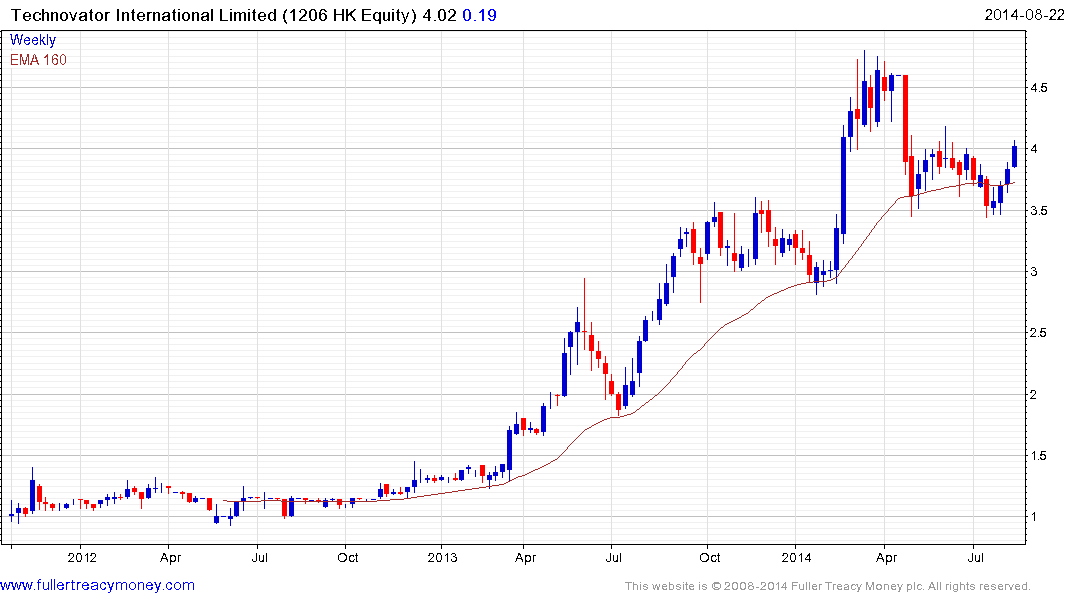 Technovator (Est P/E 17.29, DY n/a) caters to the building automation systems and energy management systems sectors. The share IPOed in Hong Kong in 2011 and has found support in the region of the 200-day MA on successive occasions since; most recently three weeks ago.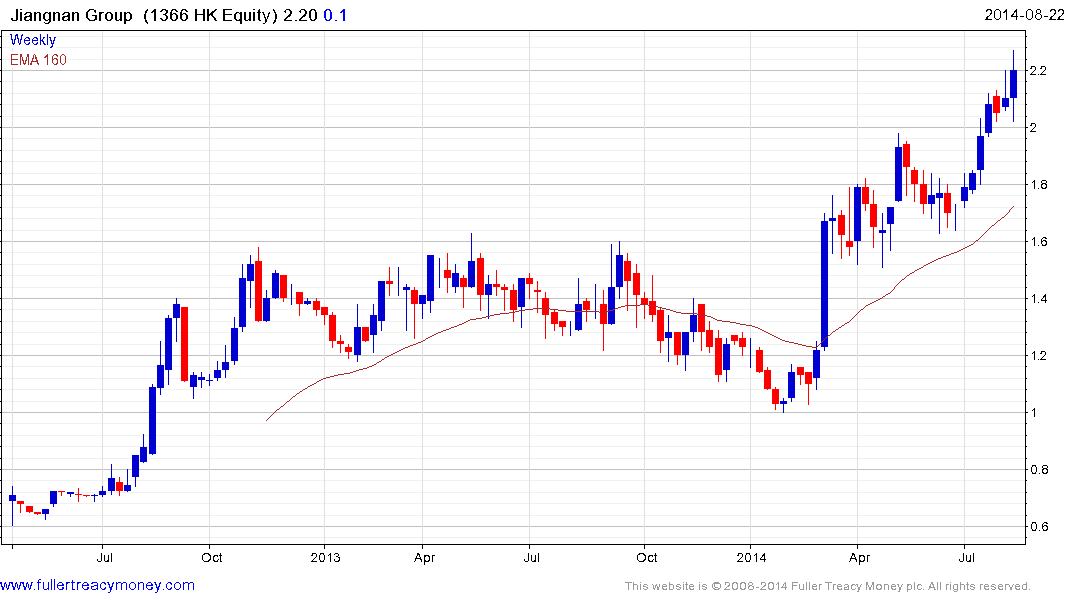 Jiangnan Group (Est P/E 8.24, DY 2.64%) IPOed in 2012 and manufactures wires and cables. The share broke out to new highs in March and has held a progression of higher reaction lows since.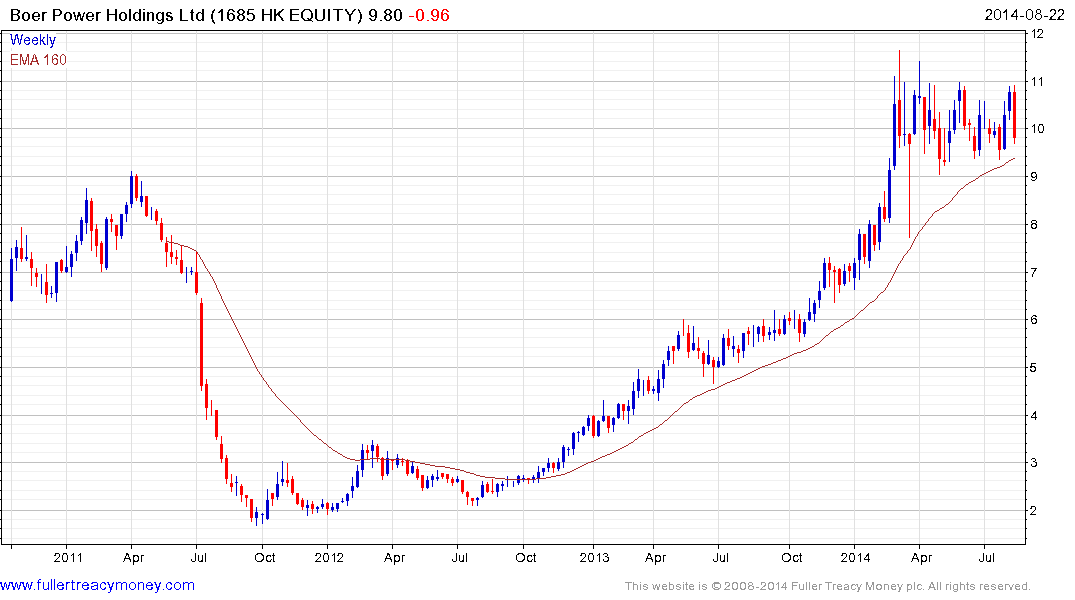 Boer Power Holdings (Est P/E 12.9, DY 1.43%) accelerated to a peak near HK$12 in March and been confined to a ranging consolidation since. It pulled back sharply this week and will need to find support above or in the region of HK$9 to avoid Type-2 top characteristics as taught at The Chart Seminar.
Back to top