Siemens boosts software business with $4.5 billion deal
This article by Maria Sheahan for Reuters may be of interest to subscribers. Here is a section:
Mentor sells software and hardware used to design electronics for the semiconductor, automotive and transportation industries. The company reported a loss of $10 million in the six months ended July 31, compared with profit of $21 million in the same period last year, according to an Aug. 18 regulatory filing. The company forecast revenue of $1.22 billion for the 12 months through January.

Under Kaeser, Siemens has pushed deeper into software applications that are crucial to run its industrial equipment.

At the same time, Siemens is simplifying its sprawling portfolio, and the company announced last week that it wants to list its health-care subsidiary, among the biggest makers in the world of diagnostics and imaging equipment.
In the industrial automation sector there has been a wide gap in performance between the purveyors of hardware and software. A robot is really only a hunk of junk unless it is powered by intelligent software. Perhaps more importantly software and particularly optics companies have been innovating much faster than hardware companies not least because the relative of cost of development is so much smaller. By purchasing Mentor Graphics Siemens is aiming to provide a more holistic solution and therefore harness more of the revenue potential from industrial automation.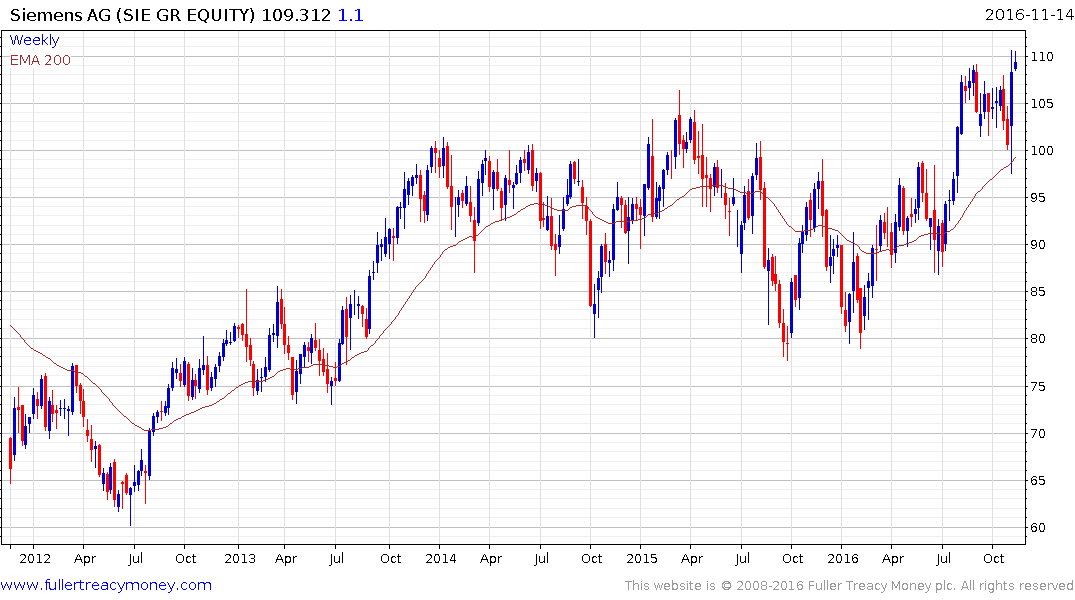 Siemens is also benefitting from the relative weakness of the Euro and its renewed commitment to dividend growth. The share bounced emphatically last week from the region of the trend mean and while some consolidation in the region of €110 is possible, a sustained move below €100 would be required to question medium-term scope for continued upside.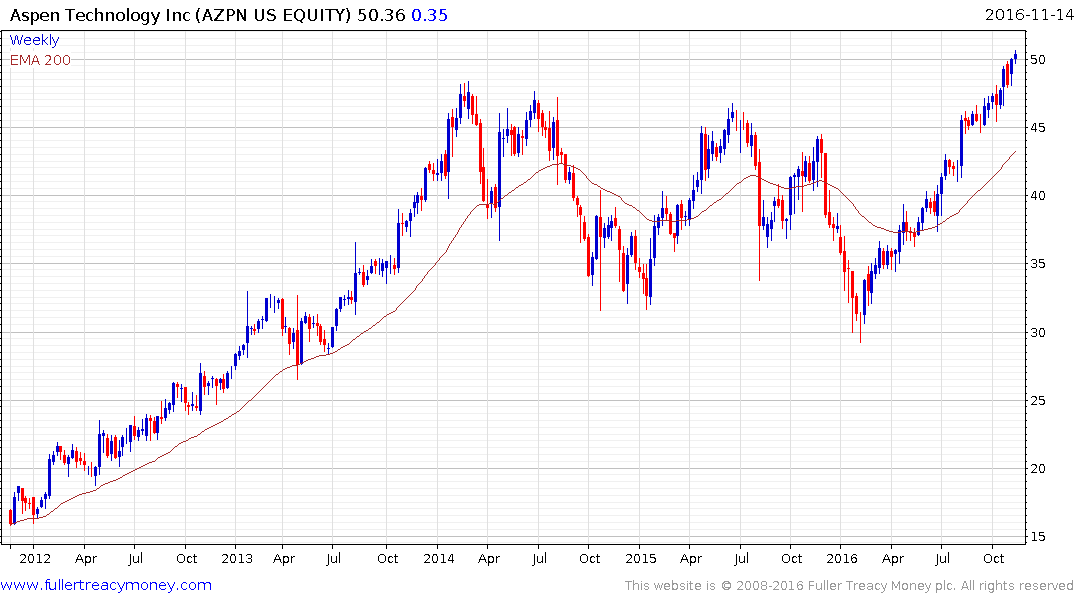 Aspen Technology has held a progression of higher reaction lows pretty much all year and broke out to new highs in late October. While somewhat overbought in the short-term, a sustained move below the trend mean would be required to question potential for additional upside.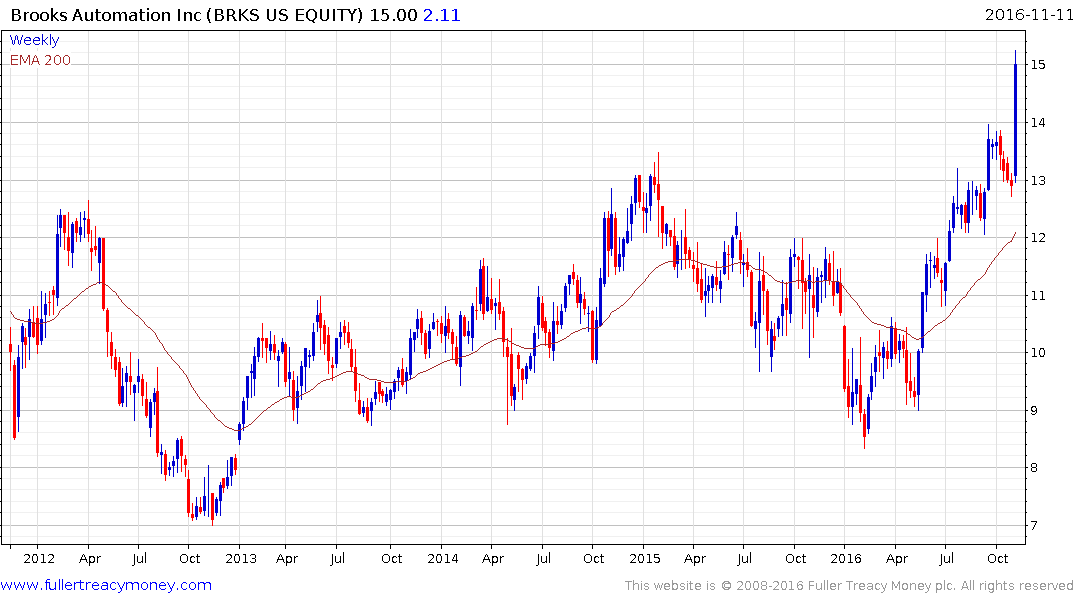 Brooks Automation broke out to new highs last week on impressive earnings.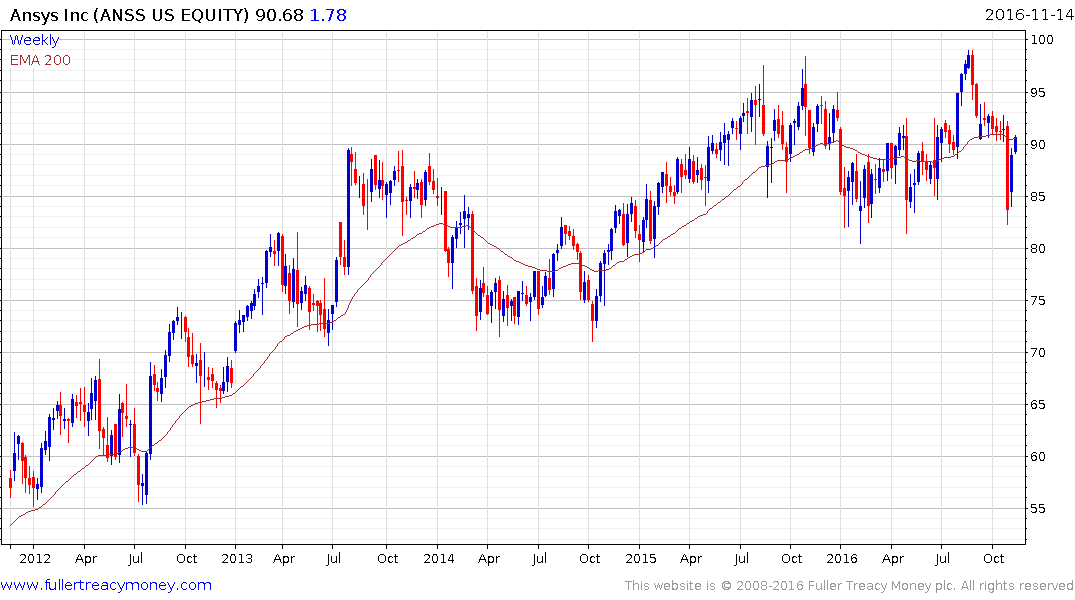 Ansys bounced over the last couple of sessions to confirm at least short-term support at the lower side of a yearlong range.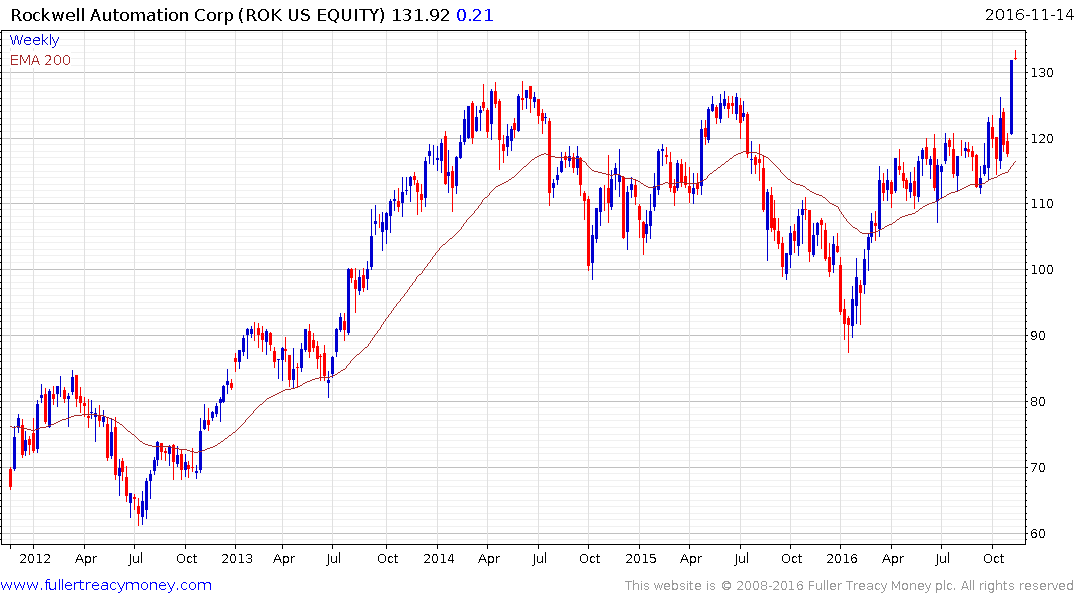 In the hardware sector Rockwell Automation broke out to new highs last week and has so far held the gain.
Back to top