Show Me The Money The HSBC Global Capex Monitor H1 2014
Thanks to a subscriber for this informative report by Colin Gibson and Michael Hagmann for HSBC which may be of interest to subscribers. Here is a section:
Global capex forecasts for 2014e are almost 4% higher than they were when we last published our capex monitor in October last year. This would still represent a decline of 2% versus 2013, but leave us 13% above the pre-crises level of 2008. Capex by the global manufacturing companies is set to rise by 6%, very diverging trends within transport add up to flat capex levels, whereas capex by the process industries and utilities is set to decline by 3% and 4%, respectively. Capex by construction companies is set to decline a significant 9%. However, this is solely driven by a decline of 19% in APAC. Construction companies in Europe are expected to spend more on capex (as shown in our graph below).

The biggest revisions over the past six months we have seen are in Manufacturing and Construction, where capex forecasts have risen by 6%, Process (+4%, driven by Oil & Gas and Food & Pharma) and Transport (+3% driven by Airlines and Haulage & Logistics). We note that there is little variance in the revisions by region for 2014. However, there is a big divergence in the actual outcome in 2013 as capital spending in EMEA fell 2% short of analysts' expectations.

Manufacturing capex (short-cycle) close to long-term trend
Global manufacturing capex (some 20% of total) is set to rise 6% in 2014e, leaving it 2% above its 2008 peak, and at 1.30x (6% above its 20-year average capex/depreciation ratio of 1.22x). Within manufacturing, we see both cyclical and structural growth potential; capital is still cheap, whilst "land" (natural resources) is now expensive (commodity prices still >2x 1990s averages) and labour increasingly so (cf EM wage growth). We see SKF (55% of 2012 sales from the manufacturing sector) and Sandvik (40%) as the potential winners in our global, large-cap, Capital Goods coverage.

Construction (short-cycle): residential leading the recovery, non-residential to follow
Global construction capex (some 5% of listed total, but we estimate up to 40% including unlisted & public sector) was much stronger than expected in 2013. Despite strong growth in Europe, global capex is set to fall 9% in 2014e because of APAC. Capex is 22% below its 2008 peak, and at 1.33x, 9% below its 20-year average capex/depreciation ratio of 1.46x. The decline is primarily driven by the 19% decline in Asia Pacific. We see Schneider Electric (34% of 2013 sales to the construction industry) as the potential winner in our global, large-cap, Capital Goods coverage.
Here is a link to the full report.

The reduction in capital expenditure by global mining companies; presented with deteriorating demand growth forecasts, has been perhaps the most notable development in the assessment of how money is spent by corporations over the last year. However, it is also notable that as the Eurozone stabilises and cement companies begin to recover that the outlook for global property development is becoming progressively more optimistic. This article from GizMag highlighting the proposed development of 230 office and residential towers in London is a case in point.

Caterpillar's (Est P/E 17.63, DY 2.35%) revenues are reasonably evenly split between power systems, construction and resources. The share has been ranging mostly above $80 since 2011 and broke successfully above the psychological $100 level three weeks ago. While somewhat overbought in the short term, a sustained move below the 200-day MA, currently near $90, would be required to question medium-term scope for additional higher to lateral ranging.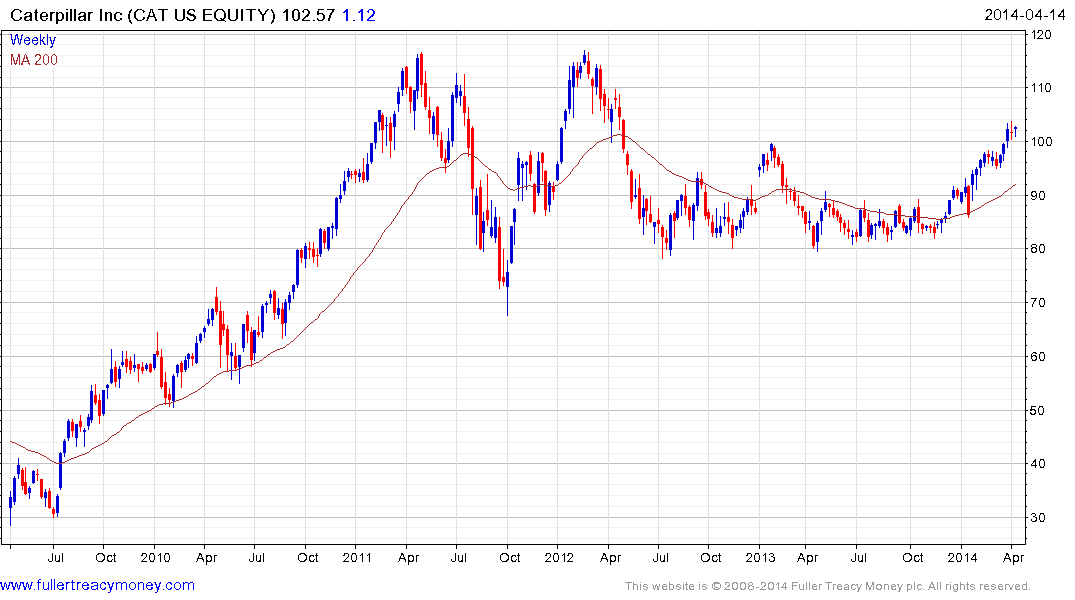 Swedish listed Sandvik (Est P/E 16.16, DY 3.73%) declined more in 2011 but otherwise has a reasonably similar pattern to Caterpillar. It is currently testing the upper side of a six-month range and a clear downward dynamic would be required to question current scope for a catch-up rally relative to other heavy machinery manufacturers.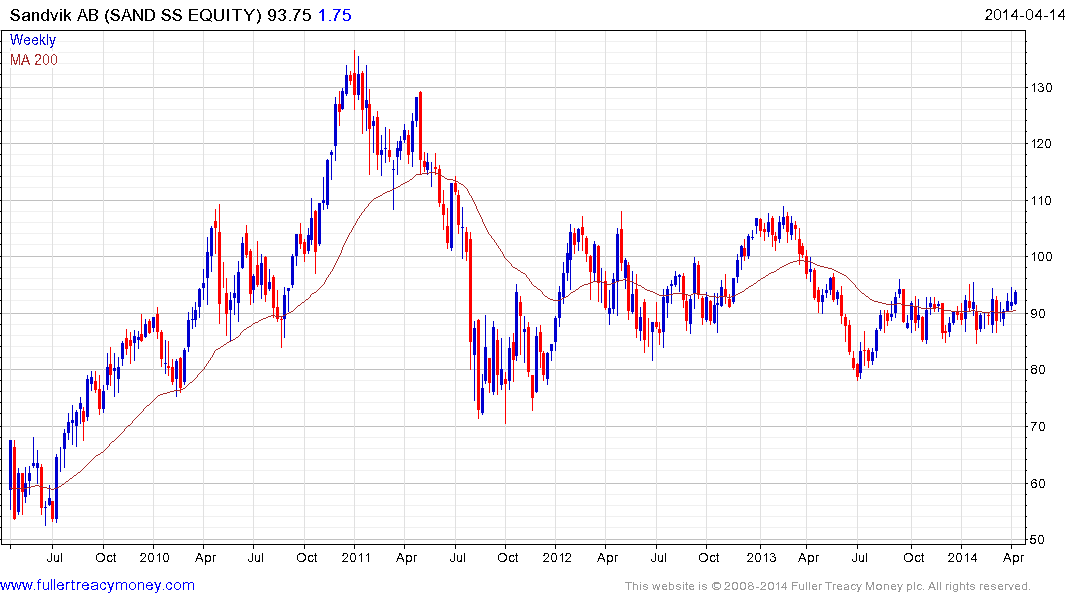 Back to top