Shortages From Chips to Paper Are Threatening Germany�s Recovery
This article from Bloomberg may be of interest to subscribers. Here is a section:
"It's metal products, it's plastic products, paper even. And then it's certainly the pandemic," he said.

Concerns about the outlook come as Germany prepares for next month's elections that will see the winner succeed outgoing Chancellor Angela Merkelafter 16 years in power.

The Bundesbank, Germany's central bank, said this week economic growth this year may be somewhat lower than the 3.7% it had forecast in June. But Fuest said a lot depends on how long supply shortages will last.

"What we see in this month is that in manufacturing, things are actually getting worse rather than better," he said. "If that continues it will be a significant downgrade of the growth outlook."
China locked down half the country to deal with its outbreak of the Delta variant. That stopped people moving from the hinterland to the coast to find work. That has resulted in longer lead times for manufacturing. The temporary and partial shutdown of port facilities in Shenzhen and Ningbo created additional supply constraints with long queues of ships waiting to be loaded. These events have been significant contributions to shortages in Europe.
The good news is Ningbo opened up again today and Shenzhen opened up a few weeks ago. The effectiveness of the lockdowns has also capped the number of new delta variant cases in China which suggests they will allow freer movement of people. That suggests exports will flow again in the next month or two and that should help to alleviate some of the supply pressures.
The ECB has been particularly quiet about any talk of tapering assistance. They clearly intend to lag other central banks in removing the extraordinary measures introduced during the pandemic. That's not bullish for the Euro. The challenge for any central bank at present is there is no country willing to tolerate a strong currency. Any one wanting to devalue runs up against the question "against what". That's a recipe for choppy currency markets for the foreseeable future as we persist in a competitive devaluation environment.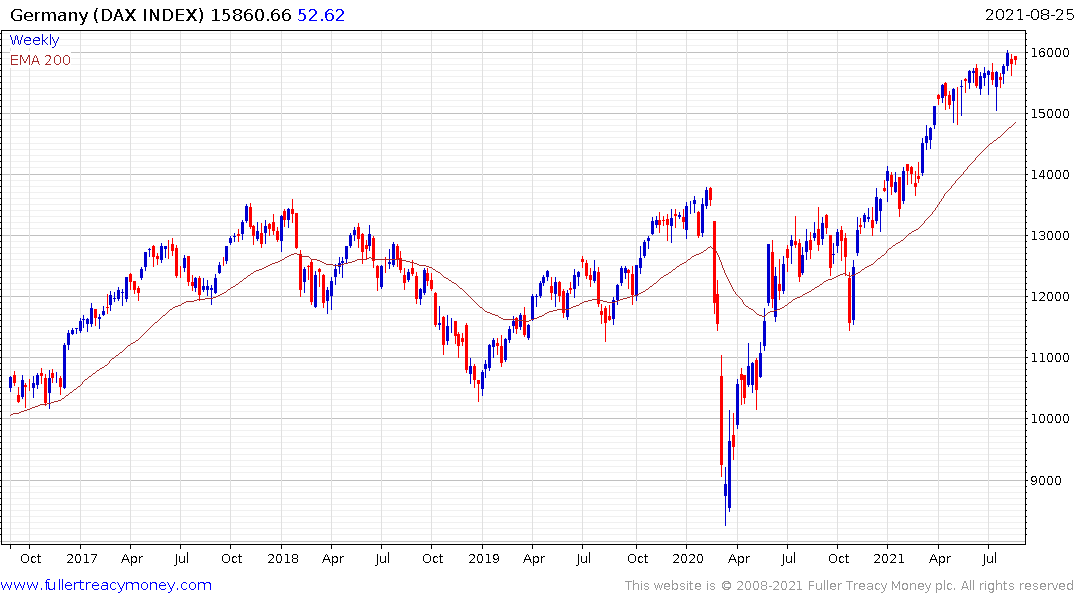 The DAX Index remains in a reasonably consistent uptrend and a sustained move below 14,000 would be required to question medium-term scope for continued upside.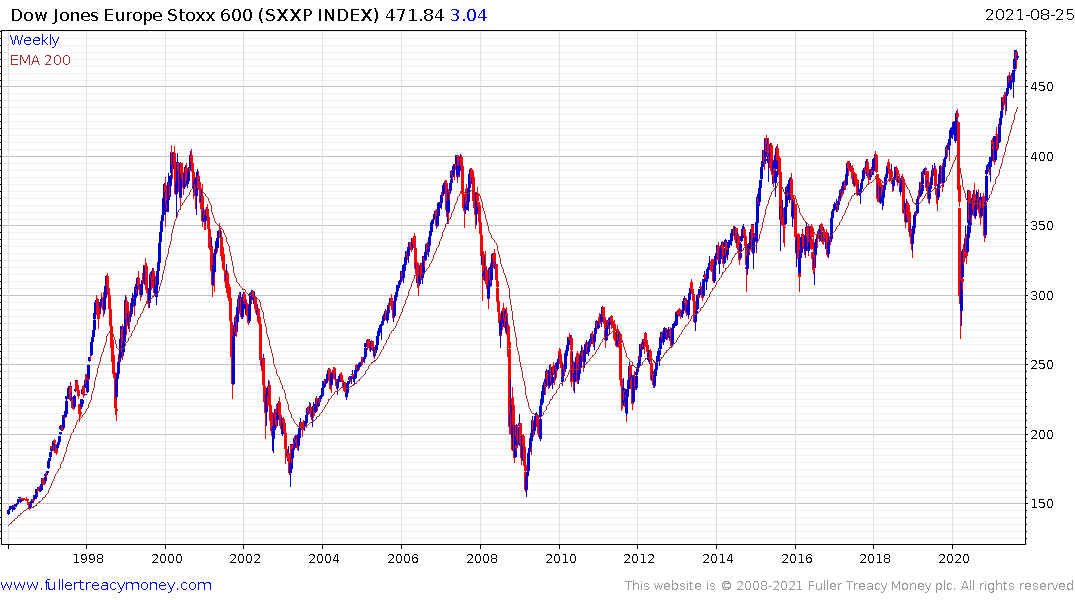 The Europe STOXX 600 completed a 21-year base in June and continues to extend the breakout. Base formation completion is the most reliable indicator of a new bull market for any chart reader so Europe is in a bull market and has ample catch up potential relative to the US.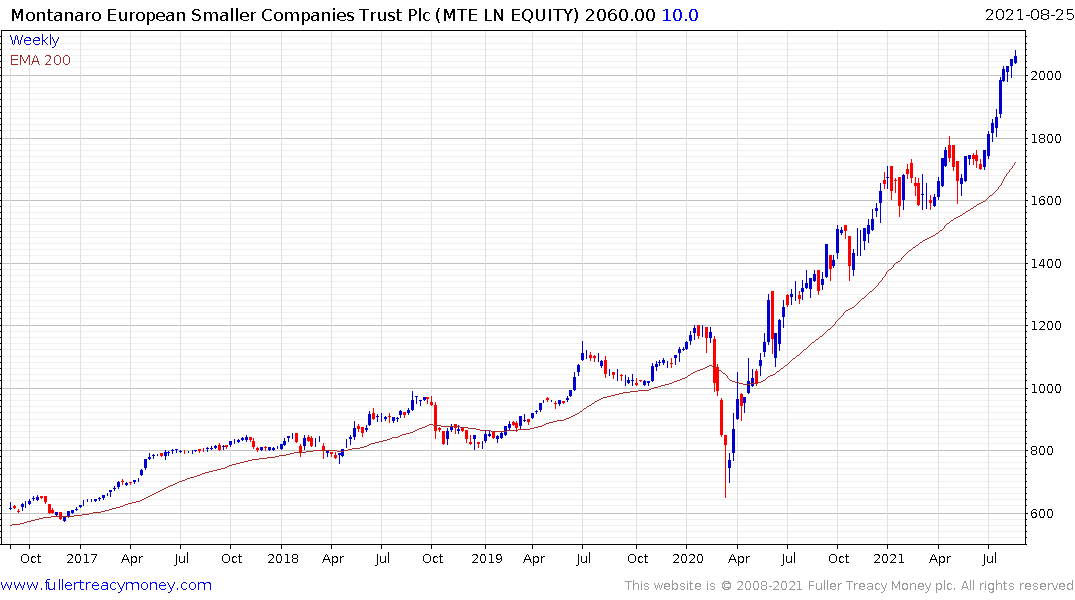 The Montanaro European Smaller Companies Trust has accelerated over the last few months and is now trading at a premium which is not habitual. A wide overextension relative to the trend mean is evident so it would be best bought following a reversion towards the mean.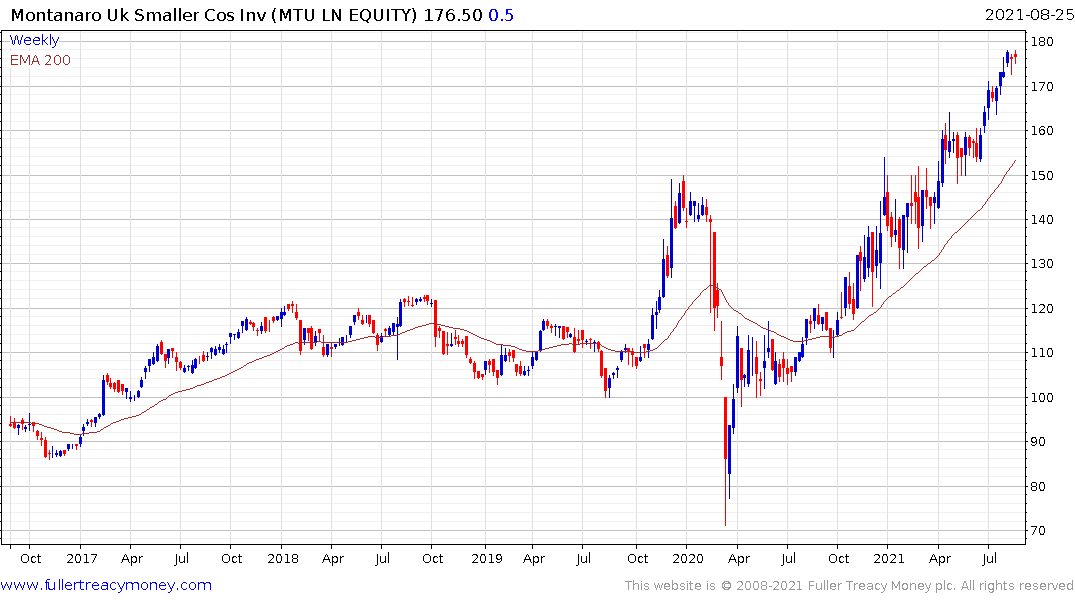 The Montanaro UK Smaller Companies Trust has also rallied impressively of late and is also somewhat overextended relative to the trend mean.
Back to top