Short-Seller Citron 'Walks Away' After 'Angry Mob' Tried to Silence Him on GameStop (GME), Turning Info Over to Feds
This article from StreetInsider may be of interest to subscribers. Here is a section:
GameStop (NYSE: GME) short-seller Andrew Left of Citron Research says an "angry mob" that owns the stock spent the last 48 hours committing multiple crimes against him and his family that he will turn over to the FBI, SEC, and other government agencies.

He said what he experienced is nothing short of "shameful and a sad commentary on the state of the investment community" and he will no longer be commenting on GameStop.

Left said this was not just name-calling and hacking but "serious crimes such as harassment of minor children."

Left said they are "investors who put the safety of family first and when we believe this has been compromised, it is our duty to walk away from a stock."
Crowds all share common characteristics. The most important from the perspective of monitoring markets is that as the crowd grows, only the basest of emotional responses survive. There is no room for equivocation. Only absolutes are acceptable to the mob. Estimates of future potential stretch to infinity as a result.
Crowds are incapable of rationality as they grow. Emotions become dominant. Tolerance for rational argument and debate erodes while discrimination rises. In a bull market, the crowd adopts the view "you are either with us or against us." The internet helps to amplify the voice of the crowd.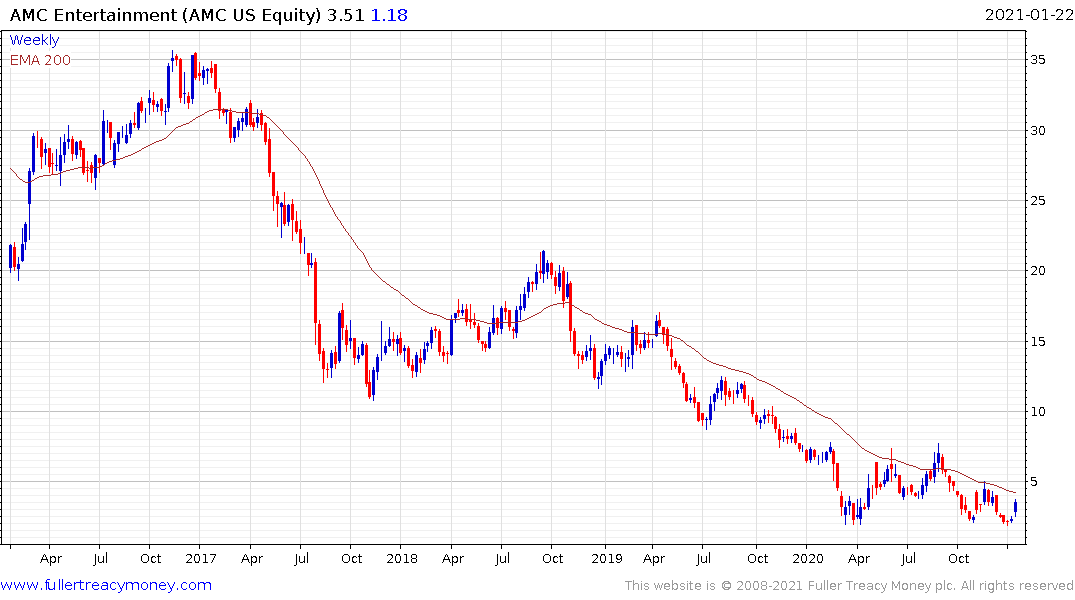 What happened in GameStop today is a perfect example of that. More than anything, it tells us that there is a roaming mob seeking to propel their favoured instruments to the moon. They will vigorously attack anyone who gets in their way.
For a crowd to sustain this kind of emotional energy they require fuel and success. With trading halted in GameStop it will probably retrace most, if not all, of the advance, but the crowd will move onto the next candidate. Base formation completions in smaller companies are being leapt on by day traders. This process can continue as long as financial conditions remain accommodative.
I continue to regard bitcoin as a barometer for speculation. It pulled back to briefly trade below the psychological $30,000 level today. A sustained move below the low would confirm a peak of more than short-term significance.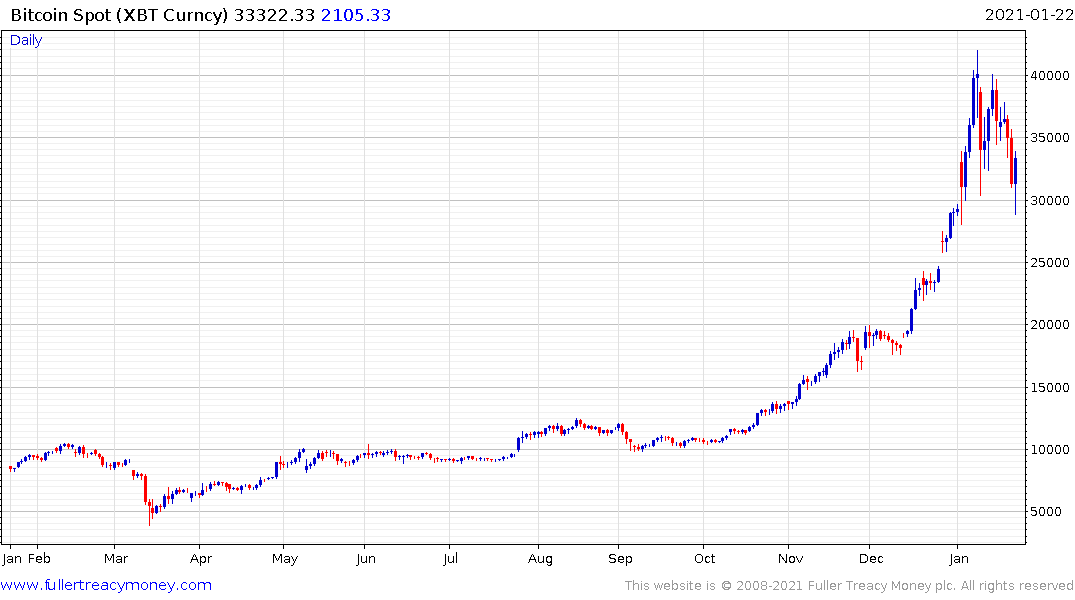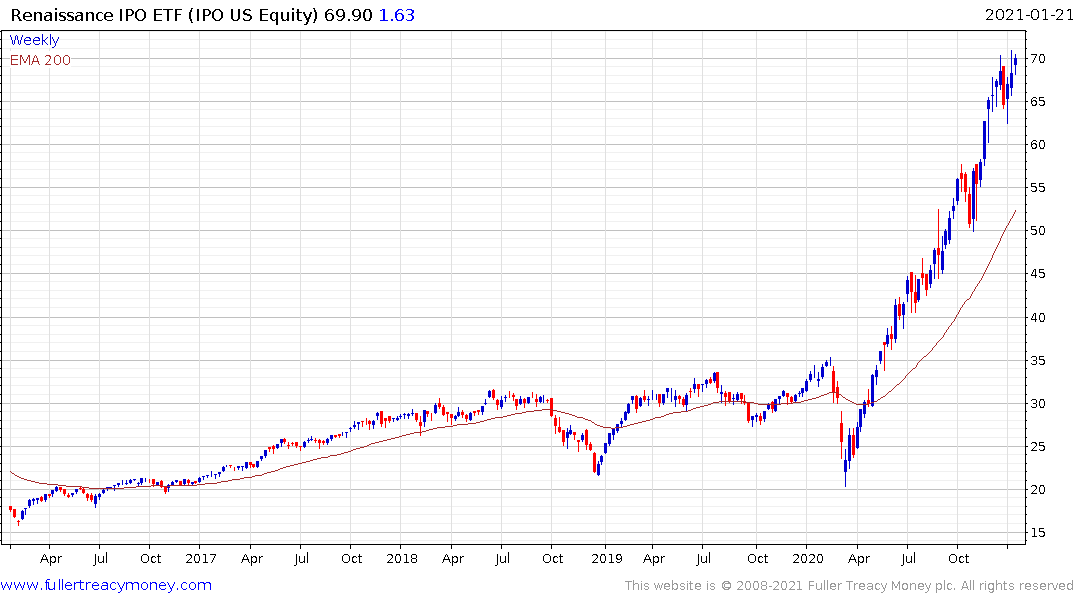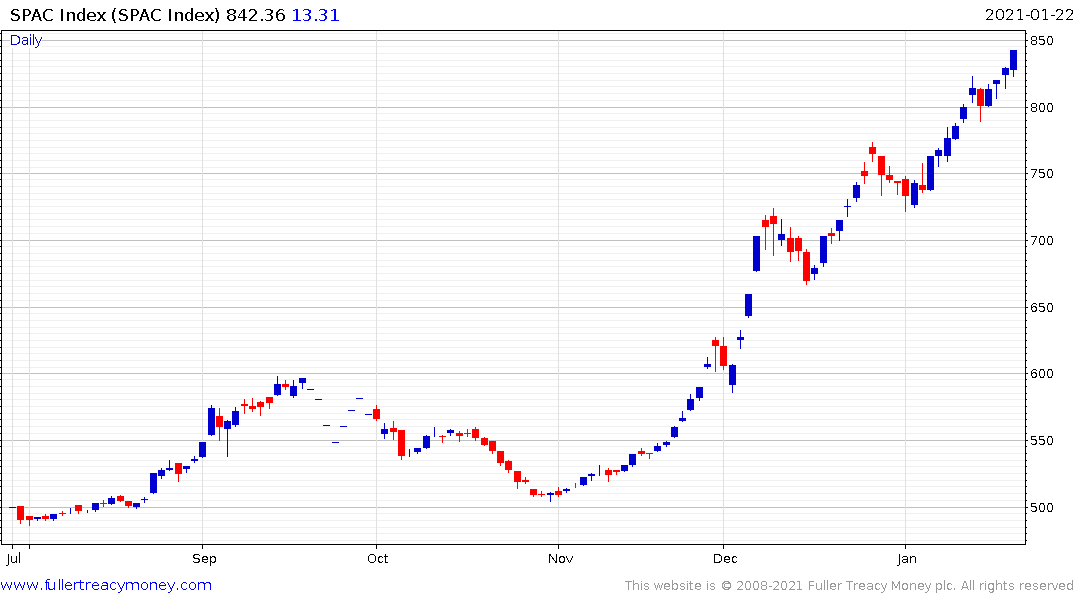 I suspect bitcoin's trend will break before that of the SPAC or IPO ETFs, but they are both also worth monitoring for signs of weakness.
The last indicator to monitor is the Dollar. It's a carry trade funding currency so when it rebounds it puts pressure on leveraged trades everywhere, even if it is in an overall bear market.
Back to top