Shinzo Abe's quiet social revolution
Thanks to a subscriber for this article by Hiroshi Marutani for Nikkei may be of interest to subscribers. Here is a section:
In his second stint as prime minister, Abe seems to have finally understood the secret to the LDP's longevity: an all-engulfing pragmatism. Reality over ideals. This has been clearest in Abe's decision to expand acceptance of foreign workers. Under Abe's administration, the number of foreign workers has almost doubled to 1.3 million. Laborers from China, Vietnam and the Philippines have poured into Japan to fill gaps in the health care, construction "With the economy performing so well, it is becoming apparent that hiring is tight," Abe told Nikkei. "Worker shortages are starting to hamper a variety of fields."

The ills of a shrinking population were hardly noticeable during the country's long deflationary spiral. But after growth returned in 2013, businesses began to shout their concerns about a smaller workforce.

"Nursing facilities, for instance, have a severe lack of hands," said Abe, whose recognition of the issue has been heavily shaped by Yoshihide Suga, his chief cabinet secretary since 2012.

Suga realized the need for more workers in nursing facilities last fall, when local caregivers raised the issue with him and requested foreign staffers. He gathered officials to look into the problem and was told that there was adequate manpower.
The number of foreigners we have encountered in Japan during two trips in the last 18 months was a surprise. The second surprise were the number of women doing jobs that require hard physical labour such as delivering beer kegs or porting luggage. These are just two anecdotal pieces of evidence that highlight how much Japan's society has changed over the last few years under Abe.
The earliest waves of immigrants contribute to economic growth because they tend to be more entrepreneurial but also because they are a new source of young demand that helps to animate consumption while consuming few social resources. Even with immigrants, the labour market is still tight which is the clearest argument for why wages should rise over time.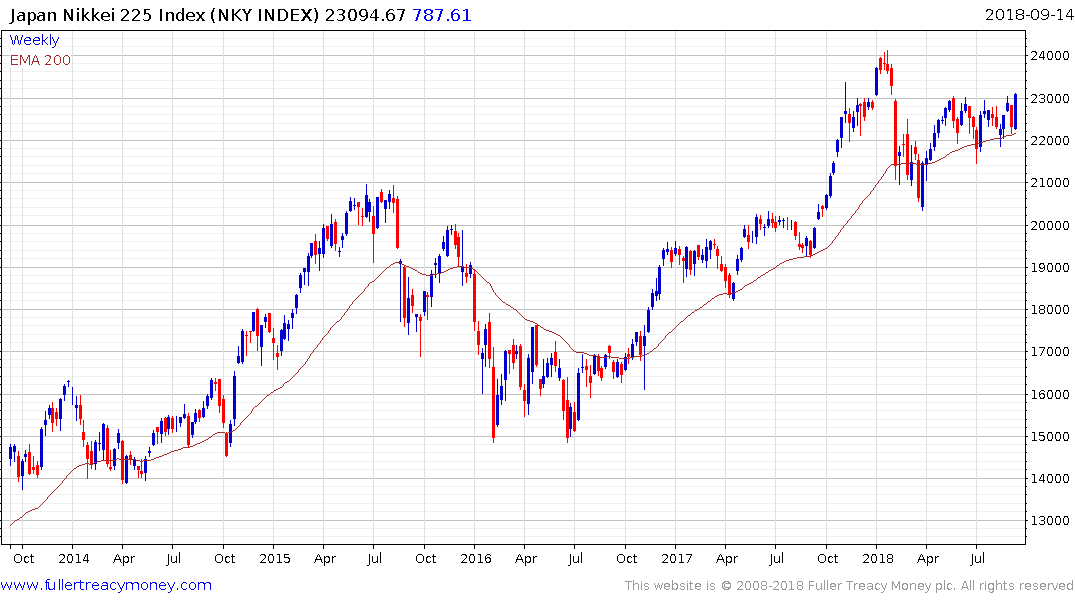 The Nikkei-225, which continues to benefit from central bank buying, broke out to new recovery highs on Friday to cap a strong week of gains which saw an impressive rebound from the trend mean.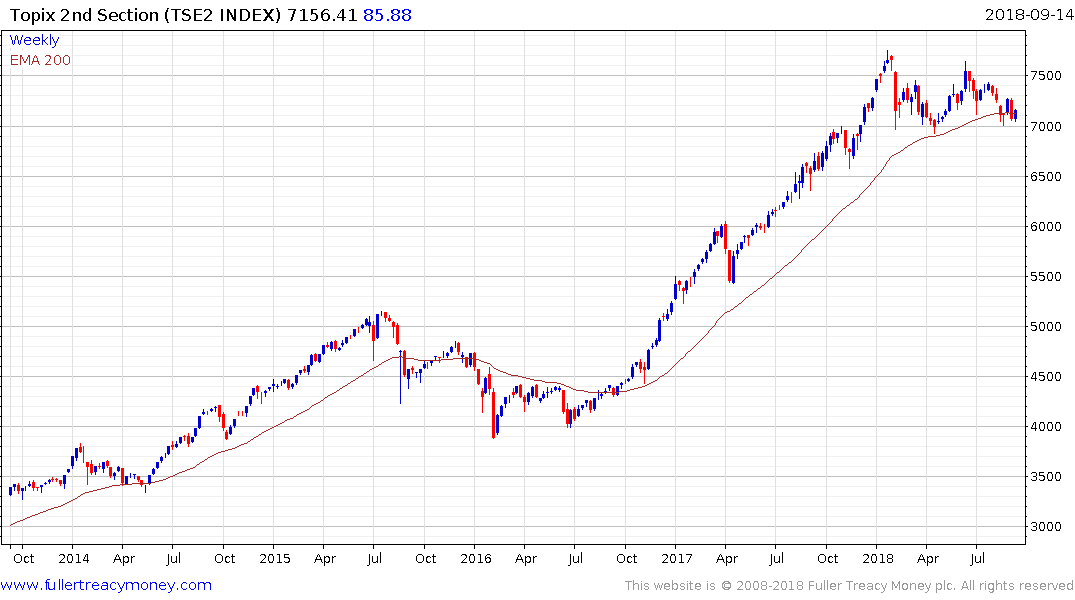 The Topix 2nd Section Index has also bounced from the region of its trend mean.
Back to top