Shell's CEO Worries About a Disorderly Energy Transition: Q&A
This interview of Shell CEO Ben van Beurden for Bloomberg may be of interest. Here is a section:
Assuming you don't get government support to advance research in hydrogen production and carbon capture and storage, what will you have to do to make those viable?

Stay with the program a little bit longer. That's exactly what we're doing. You could take a negative view and say we knew that hydrogen was a good thing and we knew that CCS [carbon capture and storage] was needed, but it hasn't happened. I'm not signing up for that approach. We need a lot of hydrogen in the mix. We need significant CCS. My prediction is that in the next few years you will see CCS projects come off the ground. You will see very large-scale hydrogen projects come off the ground as well. And I hope we will be associated and involved in each and every one of them.
Hydrogen is where traditional oil companies see their future. It does not produce emissions. That ticks a lot of boxes for companies long associated with being among the world's biggest polluters in their own right while also facilitating emissions growth wherever there are internal combustion engines.
Additionally, it is no coincidence that the only major oil companies to have come out with decarbonisation plans are all European. That is where the greatest threat of government intervention and shareholder revolt reside. Most of the European union imports oil and gas. They have a clear interest in reducing that reliance on foreign inputs to economic activity.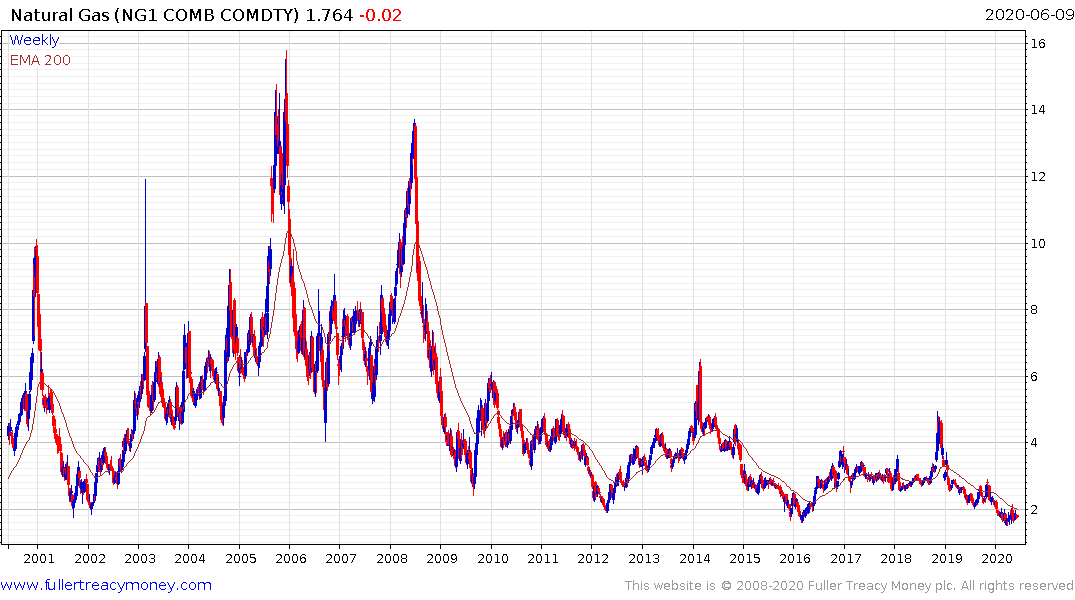 Natural gas is currently the primary feedstock for producing hydrogen. The primary use case for hydrogen is as a range extender for electric vehicle and also for zero emission aircraft. There may be cleaner ways of deploying hydrogen in future but it represents a primary growth market for natural gas over the coming decade.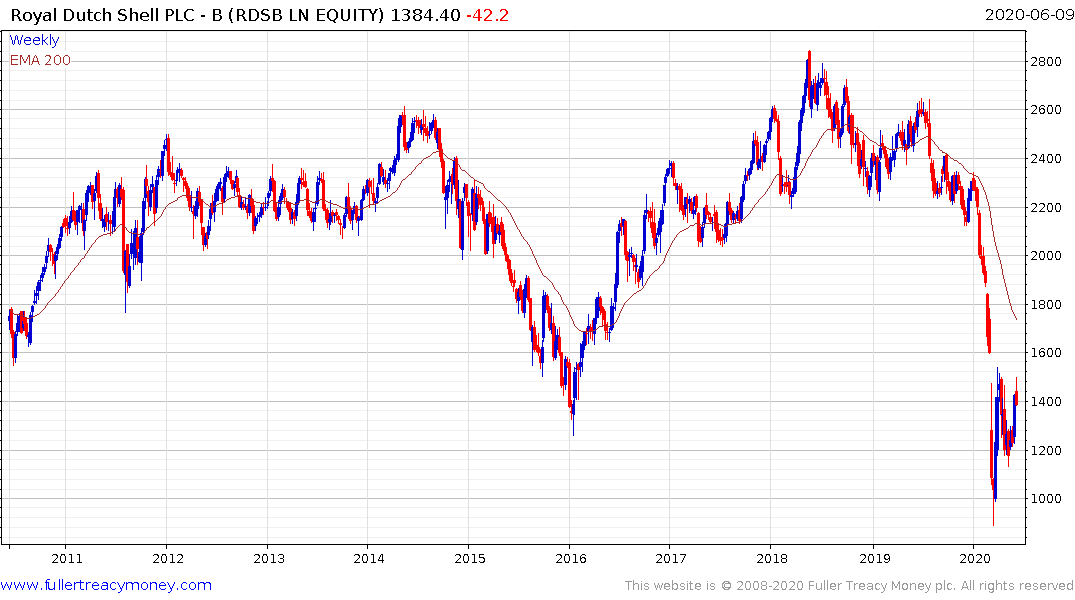 Royal Dutch Shell is pausing at the 1500p level and will need to sustain a move above the trend mean to confirm a return to demand dominance beyond short-term steadying.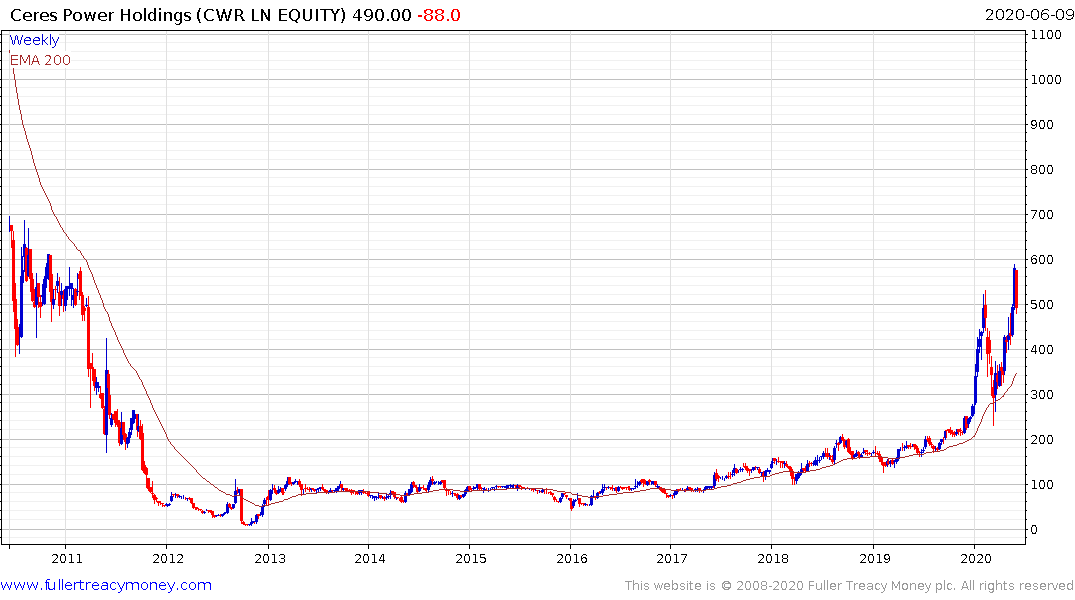 Ceres Power hit a new recovery high on Friday but pulled back sharply over the last couple of days to signal a peak of at least near-term significance.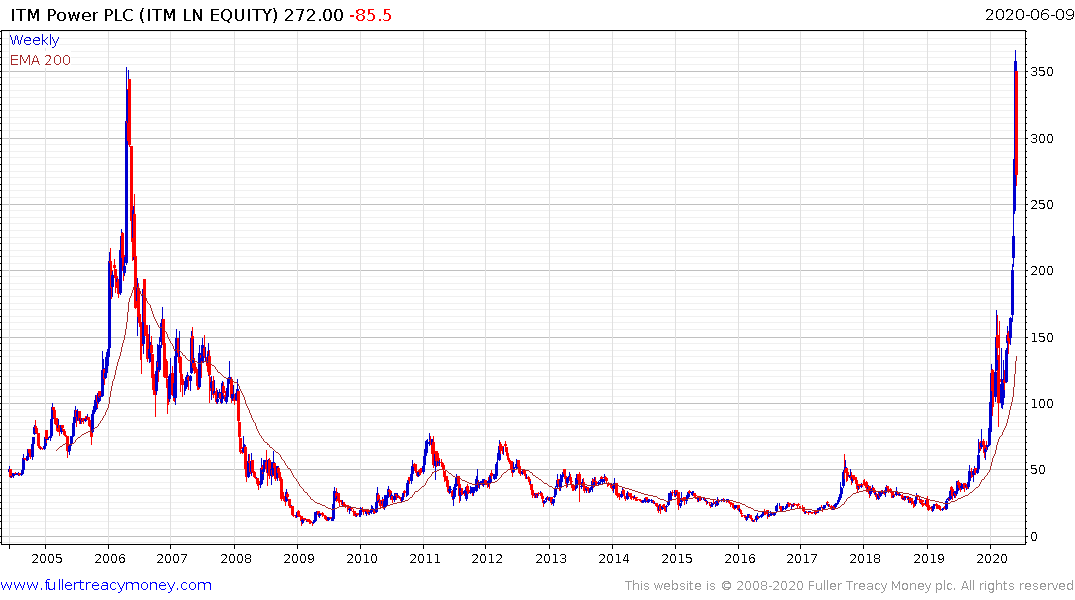 ITM Power encountered resistance in the region of the 2006 peak this week and at least some consolidation of recent powerful gains appears to be underway.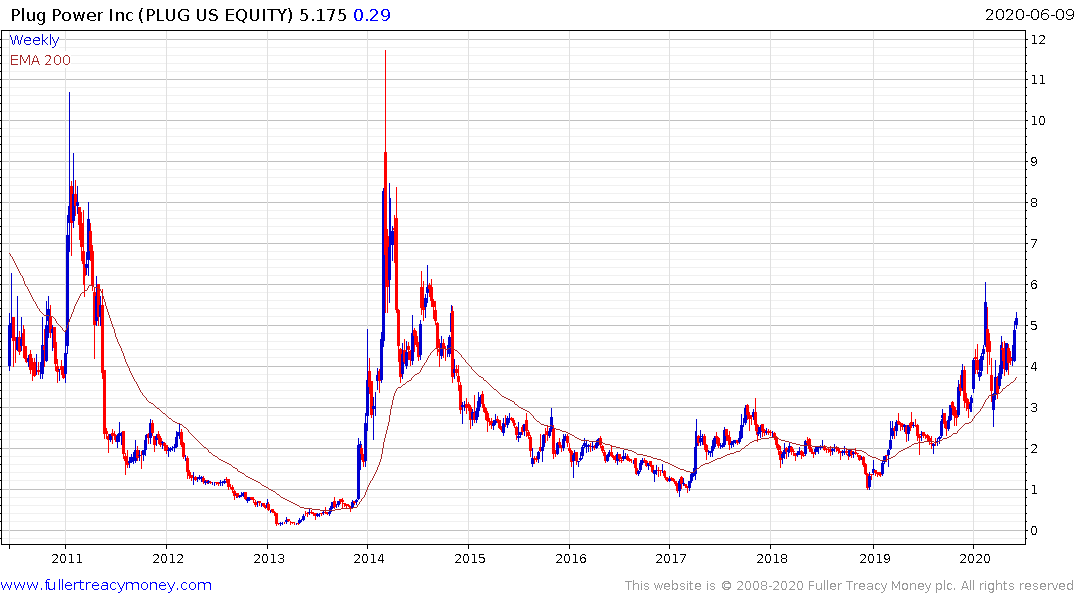 US listed Plug Power is firming from the region of the trend mean.
Back to top