Shell Approves Long-Awaited Canadian LNG Project
This article by Sarah Kent and Sarah McFarlane for The Wall Street Journal may be of interest to subscribers. Here is a section:
Shell and its partners' commitment to the project, which will cost roughly $14 billion to construct, signals growing confidence in global gas markets, as rising demand diminishes the threat that new supplies entering the market will cause a glut. It marks the end of a seven-year effort, blighted by weak prices that pushed back the final investment decision on the project by two years.

The decision suggests the prospects are positive for other large gas-export projects. A cluster of developments are currently vying for approval in Qatar, Russia, Mozambique and the U.S. Yet in the U.S. the outlook is dimming.

Earlier this month, China imposed a 10% tariff on imports of super-chilled gas from the U.S. in retaliation to levies imposed by the Trump administration. China is the biggest source of new global LNG demand and is expected to be a voracious consumer in the coming years as a result of efforts to move away from smog-inducing coal-fired power. Its demand rose around 50% in 2017.

"Right now, this is not very good for American LNG projects working hard to take final investment," said Morten Frisch, a U.K.-based independent gas industry consultant.

More than a dozen LNG projects are awaiting regulatory approval in the U.S., though analysts say only a few are likely to get the go ahead before the end of next year. If Chinese buyers fall away, those projects could become more difficult to finance.
Natural gas is abundant and is the natural alterative to coal as economies develop and urbanisation concentrates demand within cities which are easier to run utilities to. It is the clearest bridging commodity which has any hope of meeting emissions goals before next generation batteries eventually transform the economics of renewables. That could be a decade from now and even then, gas will remain an important resource for cooking, heating and cooling.
This development is a very significant event for Canada, which has been bereft of an alternative outlet for its gas beyond the USA. That should help to close the significant discount Canadian gas trades at which should benefit the finances of both the government and provinces.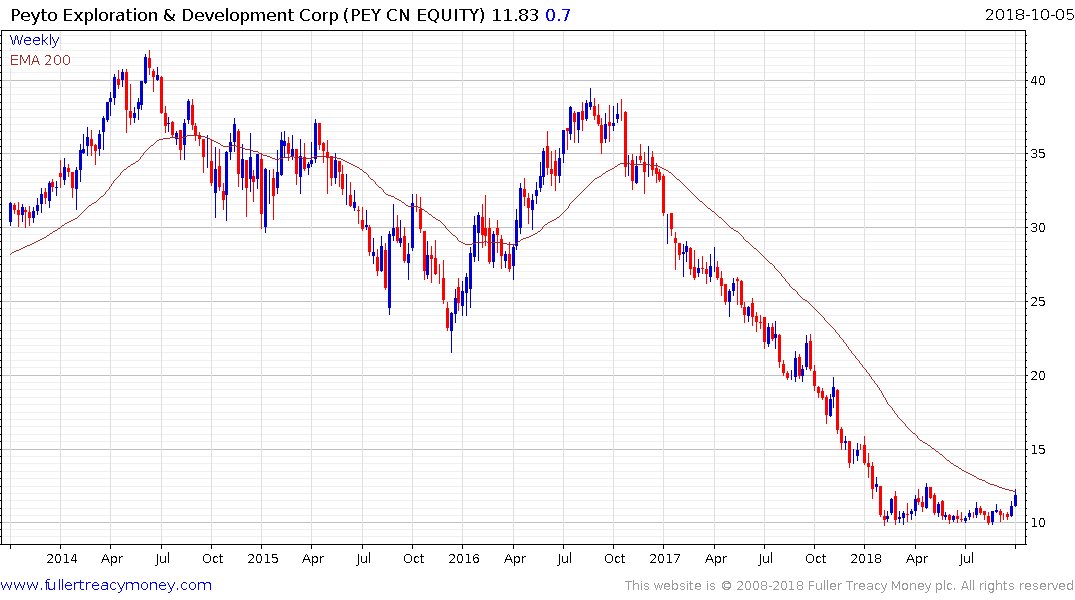 Peyto Exploration & Development rallied to test the upper side of the base that has been under development for most of the year on this news and will need to sustain a move above C$12 to confirm a return to demand dominance beyond the short term.
Back to top