Shadow Lending Slump Shows Deleveraging Picking Up
This note from Fielding Chen at Bloomberg may be of interest to subscribers. Here is a section:
Looking at the details, the composition of lending continued to shift toward on-balance-sheet lending from off-balance sheet:

New bank loans denominated in yuan totaled 1.14 trillion, up slightly from 1.1 trillion in April. The 41.3 billion yuan rise was slightly below the average increase of 98.1 billion yuan recorded in the same month over the past five years.

The stock of shadow bank lending -- entrusted loans, trust loans, and back acceptances -- dropped across the board. The total fell 421.5 billion yuan, the steepest monthly drop in data available back to 2016.

Net financing of corporate bonds contracted by 43.4 billion yuan, after an increase of 377.6 billion yuan in April. Rising defaults have hit sentiment in the bond market. Equity financing was more stable, falling moderately to 43.8 billion yuan from 53.3 billion yuan.

Recent policy moves have been tilted toward support for bank lending. In April, the PBOC cut the reserve requirement ratio for banks. In June, it broadened the types of collateral that could be used against central bank loans.
The Fed is raising interest rates and reducing the size of its balance sheet, the ECB is approaching the end of QE while the Bank of Japan is now yet ready for that step. Against that background the PBoC is engaged in an attempt to bring the shadow banking system out of the shadows.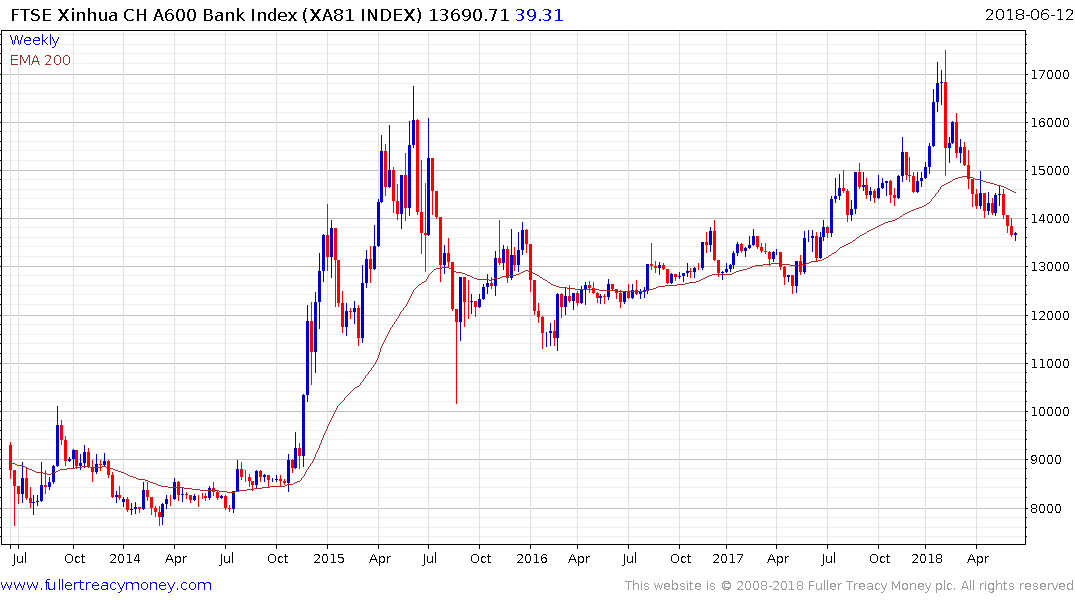 That is potentially beneficial for the listed banking sector but it has shown little sign of break in selling pressure just yet. The FTSE China A600 Banks Index is somewhat oversold in the short-term but a sustained move above the trend mean will be required to begin to question the medium-term downward bias.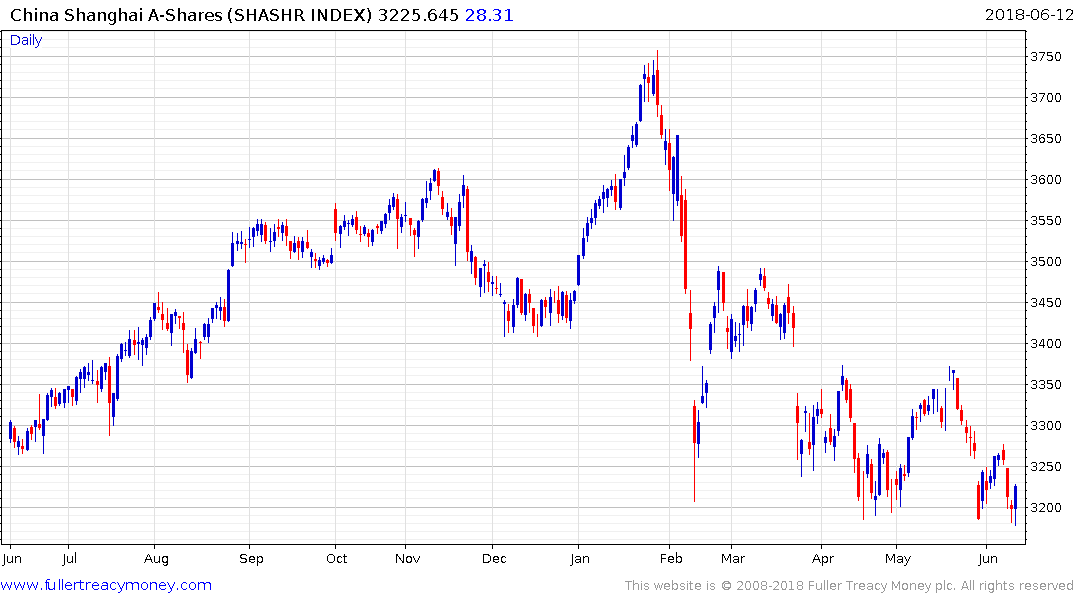 Meanwhile the Shanghai A-Share Index posted an upside key day reversal from the lower side of its four-month range today. Upside follow through tomorrow will be required to confirm support in this area.


The Hong Kong listed China Enterprises Index (H-Shares) continues to pause mostly below 12500 and will need to sustain a move above that level to confirm support in the region of the trend mean.
Back to top