See Food: Why Robots Are Producing More of What You Eat
This article by Natashe Khan for the Wall Street Journal may be of interest to subscribers. Here is a section:
Food manufacturers have been early adopters of new technologies from canning to bread slicers, and vision automation has been used for many years for tasks such as reading bar codes and sorting packaged products. Leaders now are finding the technology valuable because robot eyes outpace the human eye at certain tasks.

For years, Tyson Foods Inc. used sensors to map chicken fillets so they could be cut to the precise specifications required by restaurant customers that need them to cook uniformly. But exposure to the high pressure, high temperature water there kept causing equipment failures.

Now technical improvements, tougher materials and declining prices mean the company can integrate vision technology in facilities including the new $300 million chicken-processing plant in Humboldt, Tenn., said Doug Foreman, who works in technology development at the Springdale, Ark.-based food company. The technology could help optimize the use of each part of the bird, he added.
Robotics, artificial intelligence and computer vision all need to work seamlessly together in order for computers to fulfil the same tasks as humans. Creating systems that work together in such a manner is a time-consuming process but progress has been underway for decades and the breadth of what is now possible has improved considerably.
I've spoken previously about the challenge the automation of manufacturing is likely to have for emerging markets because the basic low-end manufacturing that have historically represented the first rung of development for developing economies are now being automated. When labour costs are no longer the key arbiter for profitability then the requirement to constantly chase low costs around the world is reduced.
This article by Kai-Fu Lee which appeared in Bloomberg may also be of interest. Here is a section:
Artificial intelligence is dramatically accelerating the automation of factories and taking over routine tasks such as customer service or telemarketing. AI does such jobs cheaper than the low-wage workers of the developing world and, over time, will do them better. Robots examining your iPhone for scratches don't take vacations for Chinese New Year; AI customer-service agents don't demand pay raises.

Without a cost incentive to locate in the developing world, corporations will bring many of these functions back to the countries where they're based. That will leave emerging economies, unable to grasp the bottom rungs of the development ladder, in a dangerous position: The large pool of young and relatively unskilled workers that once formed their greatest comparative advantage will become a liability — a potentially explosive one.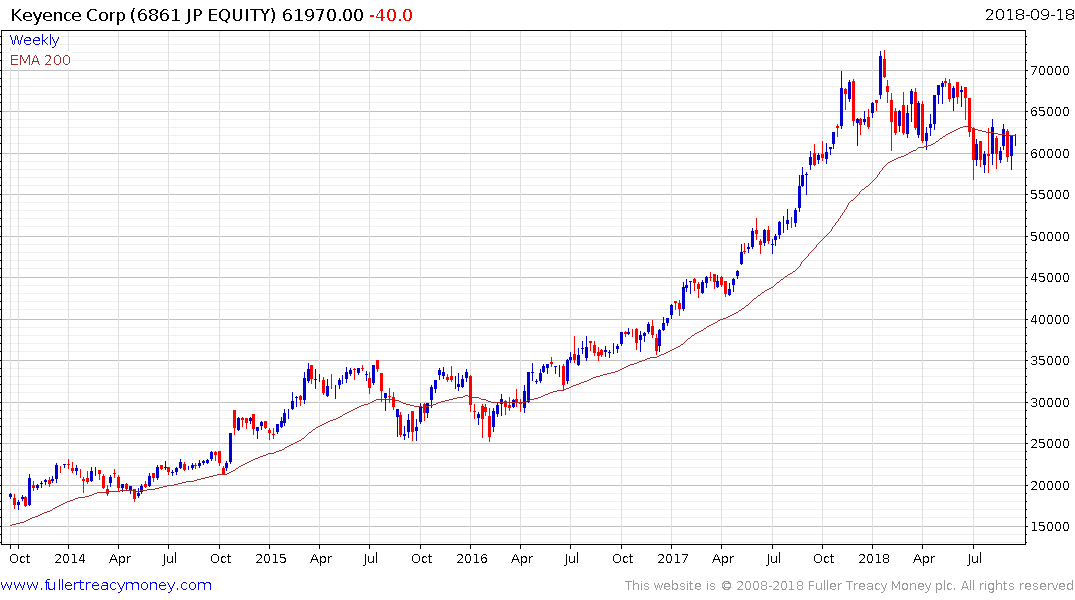 Among the companies mentioned in the above WSJ article focusing on computer vision Keyence performed spectacularly well in 2016 and 2017 but has since lost uptrend consistency. It needs to push back above the trend mean in order to demonstrate a return to demand dominance beyond short-term steadying.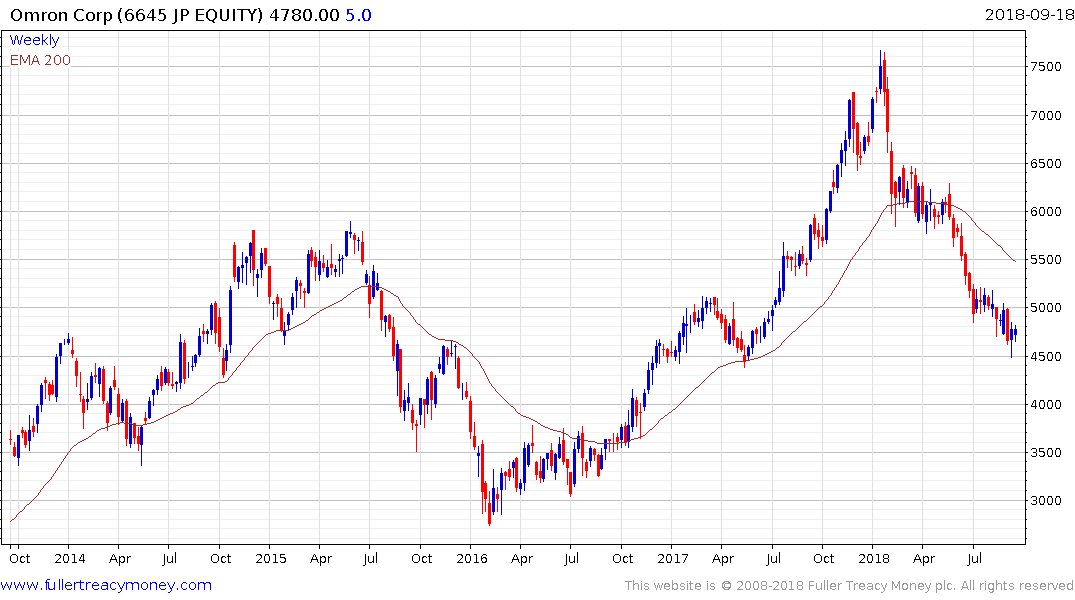 Omron has been trending lower all year and despite a widening overextension relative to the trend mean, a break in the sequence of lower rally highs will be required to check momentum.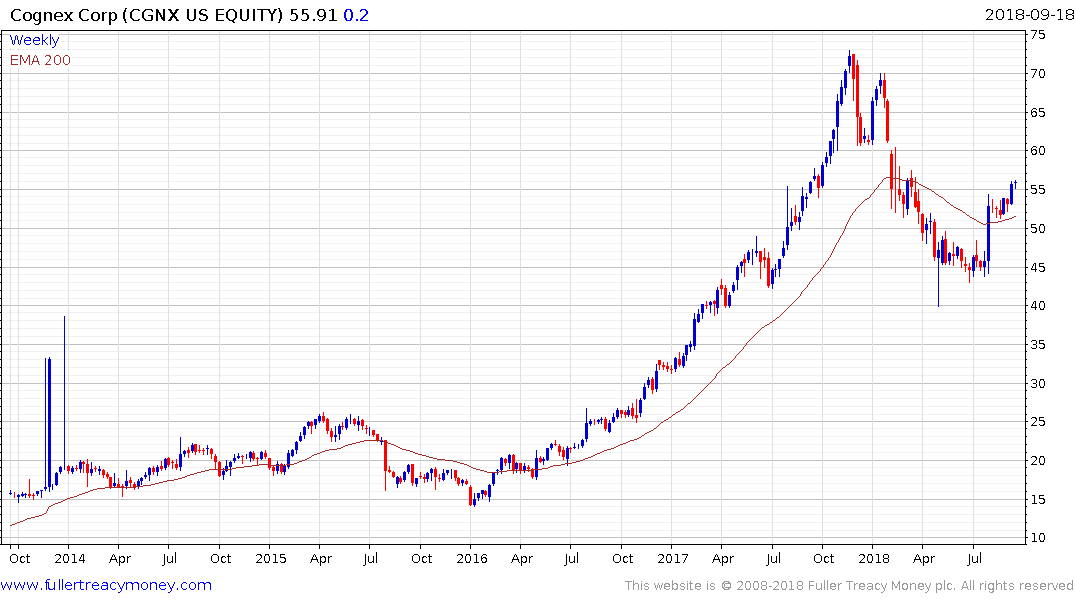 Cognex hit a medium-term peak in December and trended lower until May. It posted a clear upward dynamic in august to break the downtrend and continues to rebound.
Back to top