Saudi Al Dawaa Sees Profit Surge After IPO Draws Strong Demand
This article from Bloomberg may be of interest to subscribers. Here is a section:
Saudi Arabian companies raised almost $9.3 billion from share offerings last year, making Riyadh the most active IPO market in the Middle East and Africa behind Israel, according to data compiled by Bloomberg.

The most recent IPO wave has already seen a digital security firm owned by the kingdom's wealth fund draw about $57 billion in orders from institutional investors. Al Dawaa's IPO attracted demand of more than $25 billion ahead of its retail offering.

The firm operates a network of pharmacies with over 800 outlets across 130 cities in Saudi Arabia. It posted a revenue of about 5 billion riyals ($1.3 billion) and profit of 246 million riyals in 2020 compared with 4 billion riyals and 233 million riyals year ago, respectively.

More from the CEO:

Estimates Al Dawaa's profit to rise by "not less than 15-20% a year" after 2022
​"Will continue paying dividends of around 50%-60% of profit on a continuous basis"
One of the defining characteristics of Middle Eastern stock markets is companies are only allowed to list when they have three-years of continuous profits. When global interest rates are low and investors chase momentum in growth stocks, that's not especially appealing. On the other hand, when rates rise and a premium is put on the predictability of cashflows, those characteristics make some emerging markets more appealing.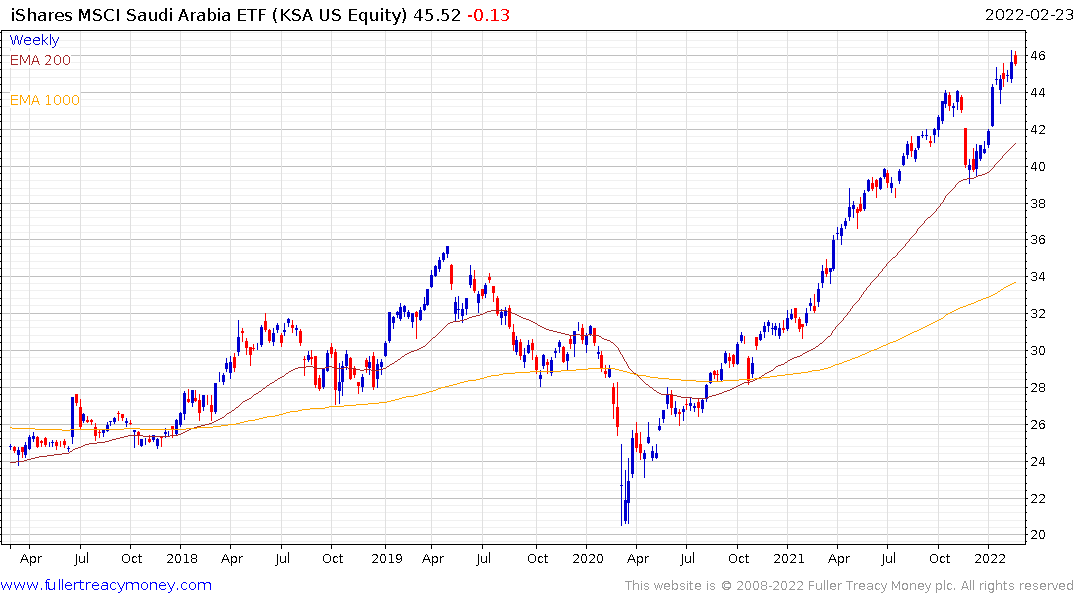 The iShares MSCI Saudi Arabia ETF continues to trend higher in a consistent manner. Most investors associate the market with the oil sector for good reason. Even though banks are the largest sector, their loans are focused on the resources sector. That suggests a reversionary move by oil prices would result in a similar move for the ETF.
This article from the BBC highlighting the 28,000 applications for 30 female train driver positions may be of interest. Saudi Arabia is evolving quickly and the trend to more engagement with the outside world is very much intact. That's in sharp contrast to what we see today in Russia and China.
Back to top