Sanusi Lamido Explodes: How vested interests are killing Nigeria
This transcript of a speech by Sanusi Lamido Sanusi, the governor of Nigeria¡¯s central bank, to TEDxYouth in August and now posted by Premium Times may be of interest to subscribers. Here is a section:
But my experience with the banking reforms, and how it affects the fear of vested interest is as the following.

After we discovered the things that happened in the banks, the critical thing we had to do was to take a decision that would pitch us against powerful political and economic forces.

We were dealing with chief executives that in 2009 had become invincible. They were in the seat of power. They had economic power and they had bought political protection. They were into political parties, they had financed elections of officers and they believed that nobody could touch them.

And every time I said it was time for us to take action, people said to me you can??£¤t touch these people, you'll be sacked. Or you can't touch these people they will kill you. Or you can't touch these people, you can't do that.

And I said you know what? We are going to take them on.

And we took the decision. We're going to remove them. You know what? We removed them and nothing happened.

We're going to prosecute them, we're going to put them in jail. And we put one of them in jail.

And we are going to recover these assets. Because the way the central bank operated in the past, these guys take all this money and the central bank says "the bank has failed".

The banks that we saved had 4.4 trillion naira in deposits. They had eight to ten million customers. But the government and the system has always berthed on the side of the rich people.

Because these eight million customers, the old woman in Gboko or in Yenagoa, or Maiduguri, who has been told to save her money and who??£¤s saved money for 40-50 years wakes up one day and all her savings are gone.

The civil servants who've saved for 35-40 years, kept his pension money in the bank, the school fees of his children, their medical bills, wakes up one day and he finds that his bank is barricaded because the bank has failed.

Banks do not fail.

When people say banks have failed, it''s like saying a man whose throat has been slit and you say the man died. He did not die, he was killed.
Standards of governance enter just about every discussion on Africa. This is not surprising since the level of corruption, political instability and wars are what make the headlines. However, the fact that we are now seeing high profile public officials throwing light on these issues, not as insurmountable but as challenges is noteworthy. Let us then ask ourselves are standards of governance improving or deteriorating? I have to conclude that they are improving, albeit from a very low base.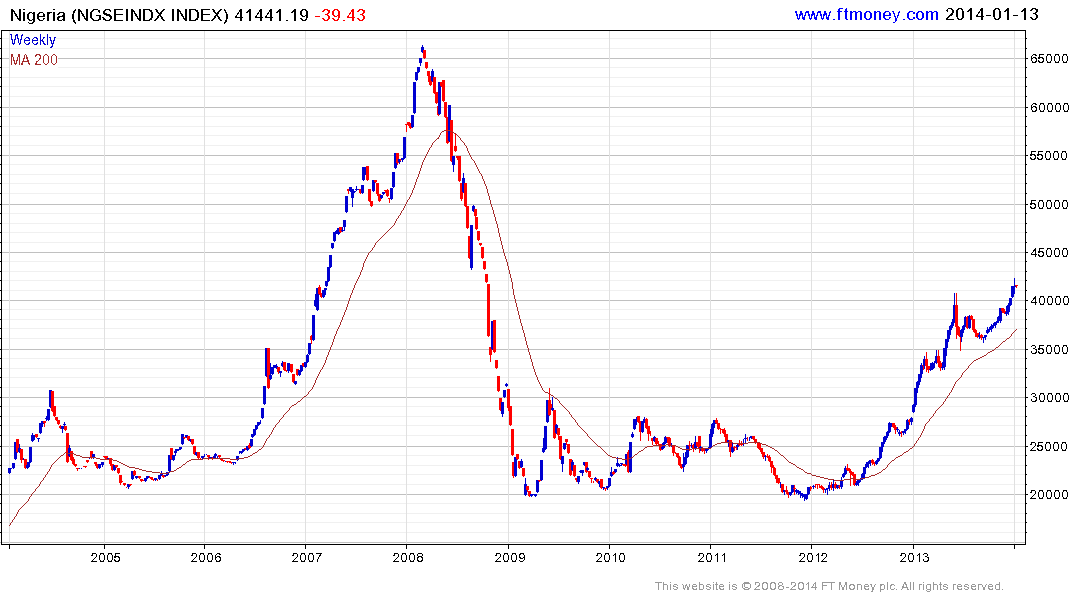 The Nigerian Index completed a five-year base a year ago and continues to hold a progression of higher reaction lows. While some additional consolidation in the region of last year¡¯s peak is a possibility, a sustained move below the 200-day MA, currently near 36,700 would be required to question medium-term scope for additional upside. Concurrently, the Naira has been relatively steady.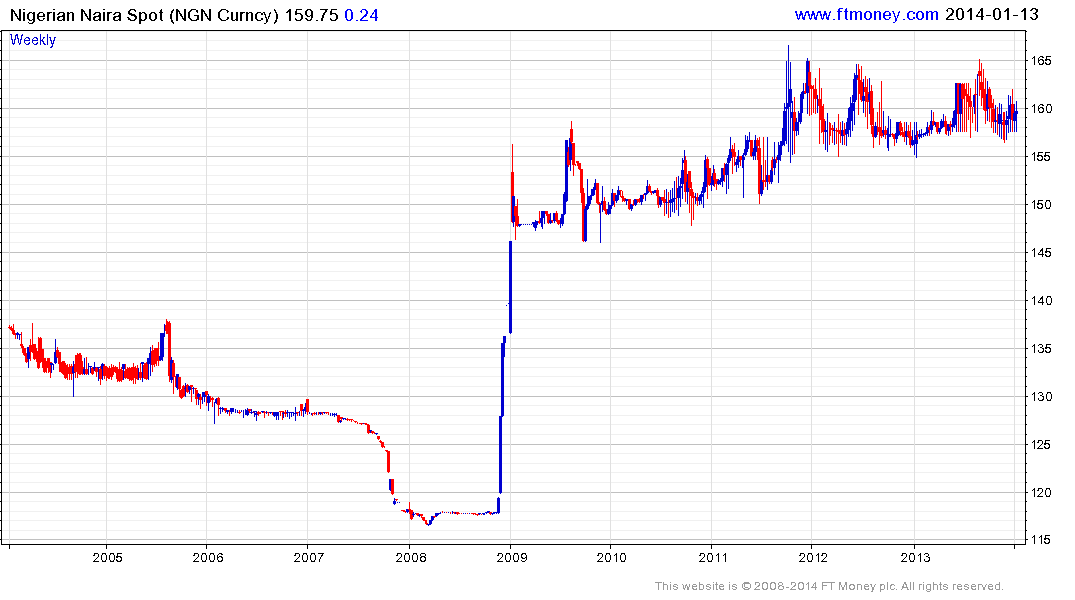 UK listed and US Dollar denominated Guaranty Trust Bank trades with an average volume of 70,000 shares a day. Therefore liquidity, particularly when one comes to sell, is likely to be a challenge. The share has found support in the region of the 200-day MA on successive occasions for nearly two years and is now testing the upper side of a 12-month. A clear downward dynamic would be required to question medium-term scope for additional upside.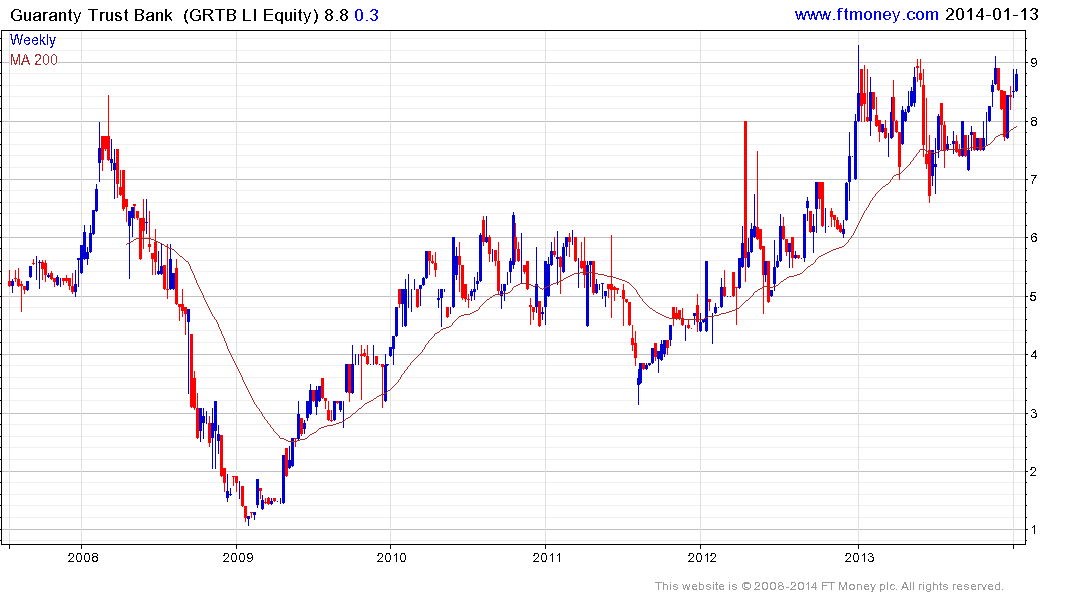 Back to top