Sam Zell on Global Growth: "Where's the Demand?"
Thanks to a subscriber for this article by Julie Hammond for the CFA Institute may be of interest to subscribers. Here is a section:
"Last year, I was saying that the CRE industry was relatively benign and supply and demand was in balance," he said. "In the last 18 months, however, there has been an enormous increase in supply."

Zell is concerned about oversupply in nearly every segment of the real estate market. Growth in multifamily residential units is at an all-time high, he observed, with 380,000 being added in 2017 — a pace not seen since 1972, a time when the sector was the only game in town.

Office space supply is rising when occupancy rates are on the decline. Due to secular shifts in the way we work — towards higher density workspaces and more efficient use of space — occupancy has fallen from 240 square feet per employee to 180 square feet, maybe less.

"We are behind the rest of the world in terms of adapting to shrinking office space," he said. Zell says retail space has a difficult road ahead given excessive supply, though he believes there will always be room for brick and mortar. "Only the very top-end malls and the very bottom ones are doing okay," he said. "Anything in between is obsolete."

Hotels in major cities like New York and Chicago are overbuilt by about 20%, he said. The only segment that has an appeal from a supply-and-demand perspective is mobile homes because of how difficult it is to obtain park permits and because of the "not in my backyard" (NIMBY) stigma associated with them.
When one is shipping to Amazon the last thing you want is to have the name of the factory you are ordering from emblazoned on the container. The number of small businesses Amazon has simply bypassed so it could sell their goods itself is high so caution is warranted. Therefore when Mrs. Treacy is importing her inventory she needs a warehouse for a few days before shipping it to Amazon. This year she used a large public storage locker.

I was chatting with someone at the hardware store where I bought the lock for the temporary warehouse and he mentioned that he used a storage locker for his furniture when he moved home because he thought it would be temporary. He's been at the same address for 3 years and recently just gave away the furniture having spent upwards of $3000 on storing it.

On the one hand, these kinds of businesses are well regarded by investors because of their reliable cashflows and the emotional attachment people have to their possessions. However, they are also representative of the surge in commercial real estate prices and are emblematic of consumer discretionary spending. When times get tough we are much more inclined to ask, "How much stuff do I really need?"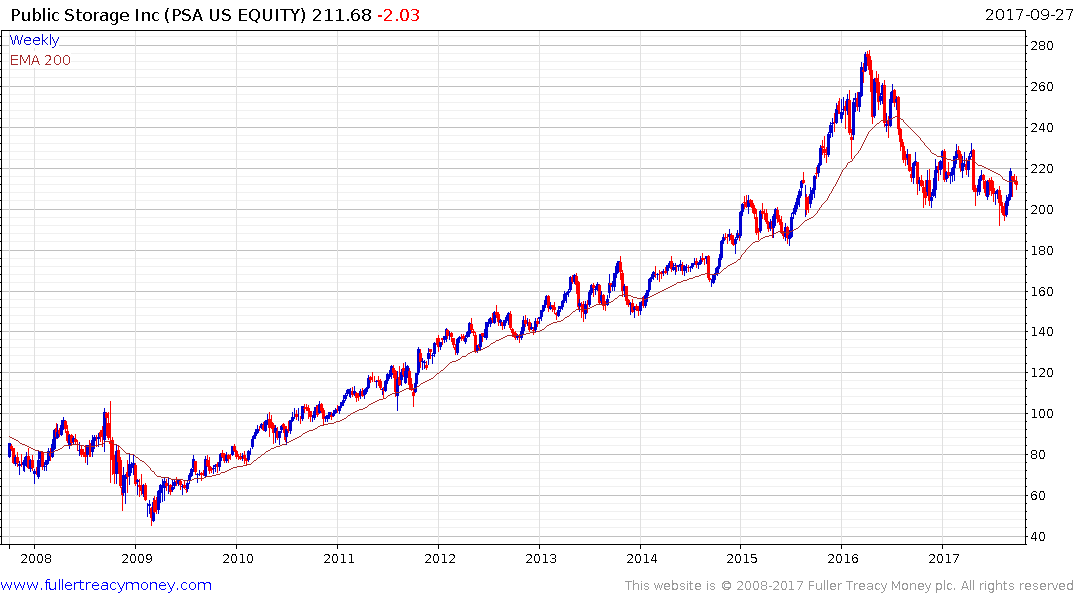 Public Storage trended consistently higher until early 2016 when it experienced a massive reaction against the prevailing trend. It has been ranging mostly below the trend mean since and a sustained move above it will be required to signal a return to demand dominance beyond short-term steadying.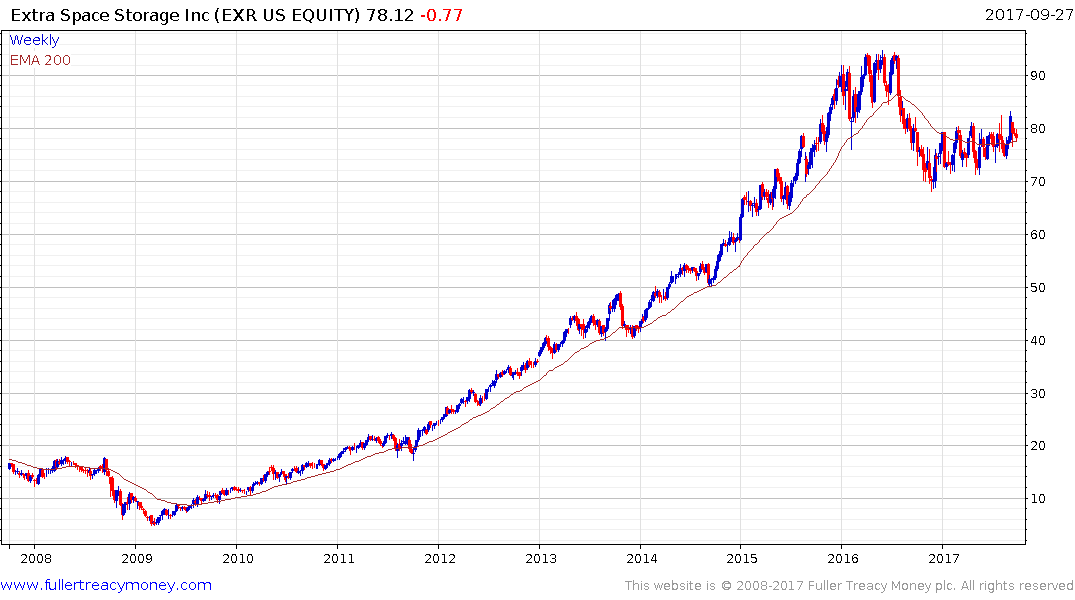 Extra Space Storage has Type-2 top characteristics with right hand extension as taught at The Chart Seminar. A sustained move below $74 would break this year's mild upward bias and confirm a return to medium-term supply dominance.
Back to top