S. Africa Central Bank Governor Sees Room to Keep Rates Low
This article from Bloomberg may be of interest to subscribers. Here is a section:
South Africa's central bank is likely to maintain its accommodative monetary policy stance to support the economy for as long as it has room to do so, according to Governor Lesetja Kganyago.

"As long as inflation is remaining contained, the central bank would have no reason to remove the accommodation that we are currently providing," Kganyago said Thursday in an interview with Bloomberg TV.

The monetary policy committee has cut the benchmark interest rate by three percentage points since the start of 2020, of which 275 basis points of easing was in response to the impact of Covid-19 on the economy. That's taken the rate to a record-low 3.5%. Last month's decision was the first time since the 2020 rate cuts in which no member voted for a reduction and expectations have now shifted to when the first hike will come.

While the implied policy rate of the central bank's quarterly projection model, which the MPC uses as a guide, indicates two rate increases this year of 25 basis points each -- next month and in the fourth quarter -- policy makers see risks to the inflation outlook as balanced and feel that they can continue to offer support to the economy, Kganyago said.
South African government bonds yield 9.08%. Obviously, in a world of ultra-low rates that outlier must exist for a reason. South African growth is expected to be in the order of 3% this year but the big question for investors will be on the trajectory of governance and the speed at which the pandemic can be overcome.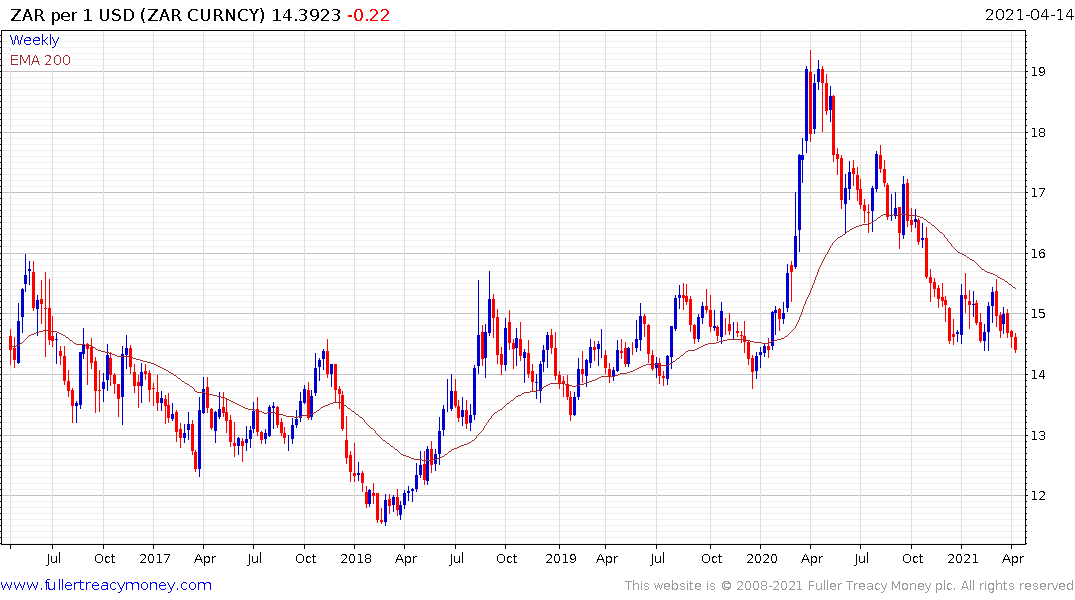 The Rand continues to strengthen and hit a new recovery high today. It is being aided by the high yield and recovery in commodity prices. As a major producer of platinum and other metals the economy should benefit from renewed interest in an industrial metals bull market.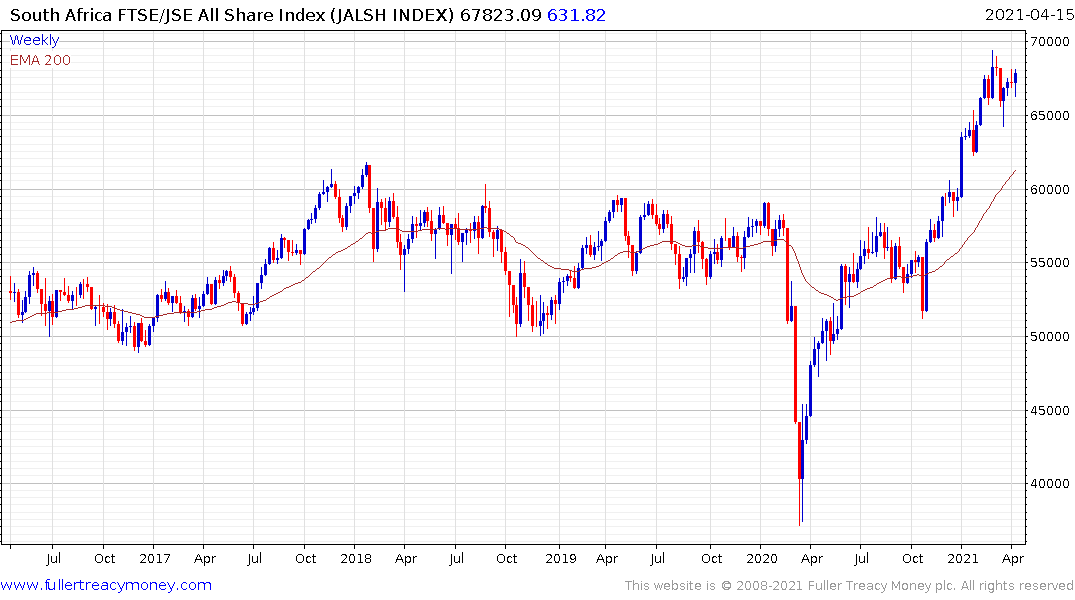 The Johannesburg All Share continues to extend its recovery.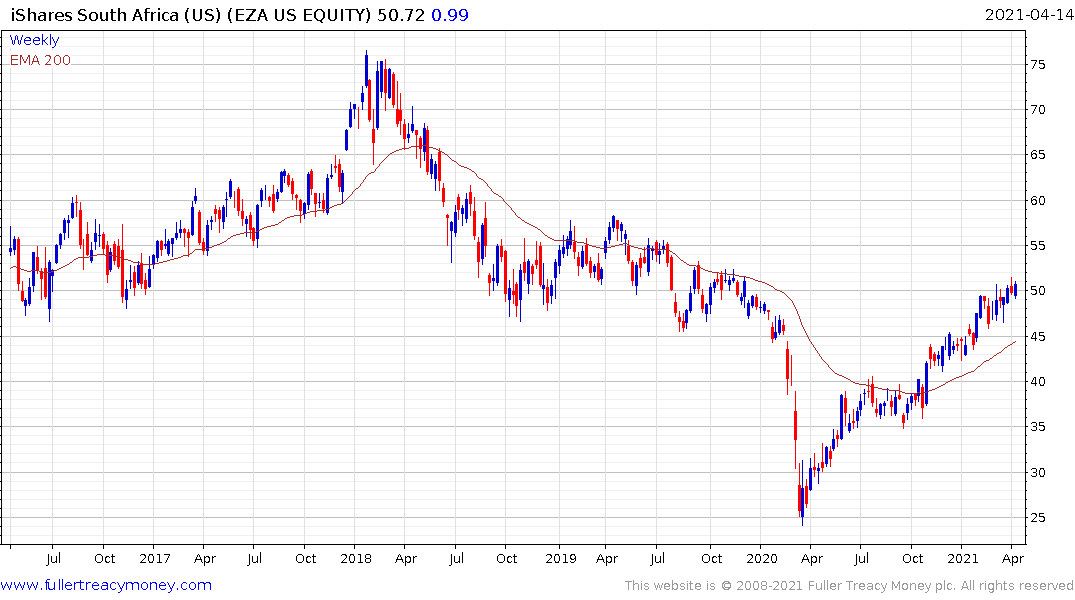 The iShares MSCI South Africa ETF remains on an upward trajectory too.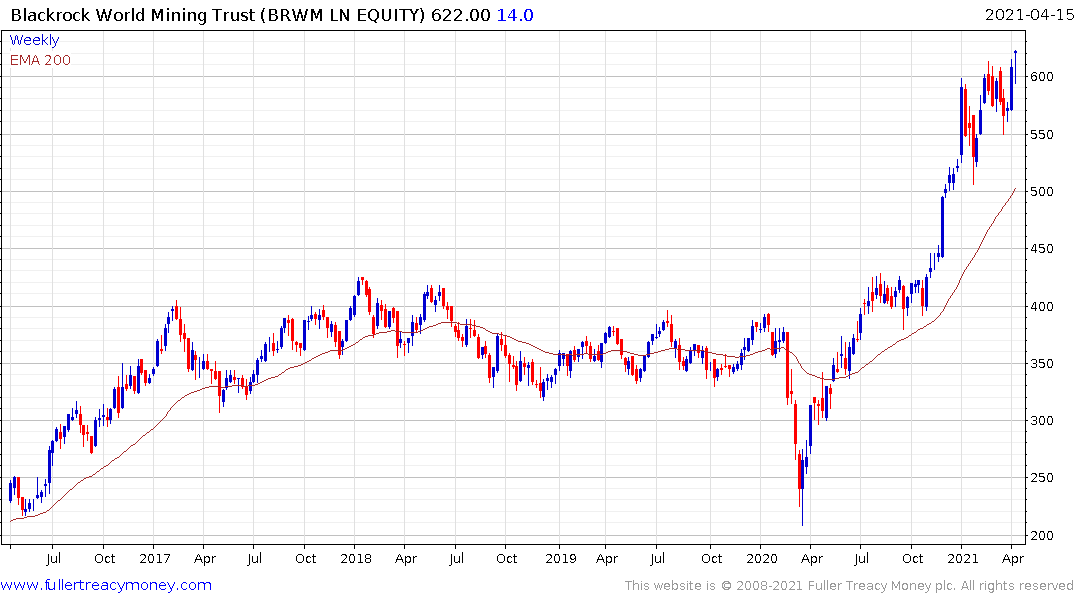 The Blackrock World Mining Trust hit a new recovery high today as well.
Back to top