Russia used Twitter bots and trolls "to disrupt" Brexit vote
This article from The Times may be of interest to subscribers. Here is a section:
Most of the tweets seen by this newspaper encouraged people to vote for Brexit, an outcome which Russia would have regarded as destabilising for the European Union. A number were pro-Remain, however, suggesting that the Russian goal may have been simply to sow division. "This is the most significant evidence yet of interference by Russian-backed social media accounts around the Brexit referendum," said Damian Collins, the Tory MP who chairs the digital, culture, media and sport select committee. "The content published and promoted by these accounts is clearly designed to increase tensions throughout the country and undermine our democratic process. I fear that this may well be just the tip of the iceberg."

On Monday Theresa May accused Moscow of using fake news to "sow discord" and of meddling directly in elections. President Trump has said that he believes Mr Putin's denial that Russia interfered in the American presidential race.

The Swansea and Berkeley paper says that a "massive number of Russian-related tweets was created a few days before the voting day, reached its peak during the voting and the result and then dropped immediately afterwards". Tho Pham, one of the paper's authors, said that "the main conclusion is that bots were used on purpose and had influence".
Russia and China invest significant sums in attempting to influence Western public opinion whether it is to co-opt university professors, fund socialist/communist/reactionary/militant organisations, create so-called Confucius Institutes and more recently Twitter and Facebook posts.

They probably, correctly, conclude that the widening fissure between the haves and have nots represents a gap into which they can wade to further the cause of weakening Western resolve to temper their international expansionism. One can only conclude that based on the evidence such as it is that while the West is beginning to wake up to the realities of tampering, for Russia and China it is part of a long-term agenda. However I believe it would be a mistake to think Twitter campaigns were a significant influence on the Brexit vote not least because many of the people who ended up voting for it do not use Twitter.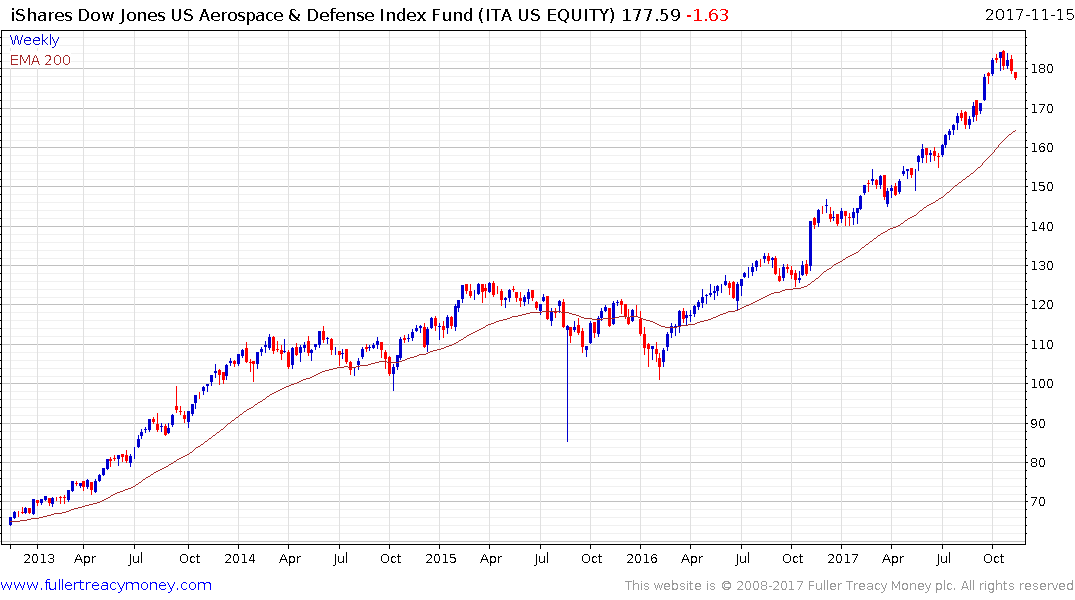 The iShares Dow Jones US Aerospace & Defense Index Fund's uptrend has paused and the risk of a reversion back towards the mean has increased but a sustained move below it would be required to question medium-term uptrend consistency.
Back to top